Trump Hasn't Filed His Taxes Yet & It's Not The First Time He Needed An Extension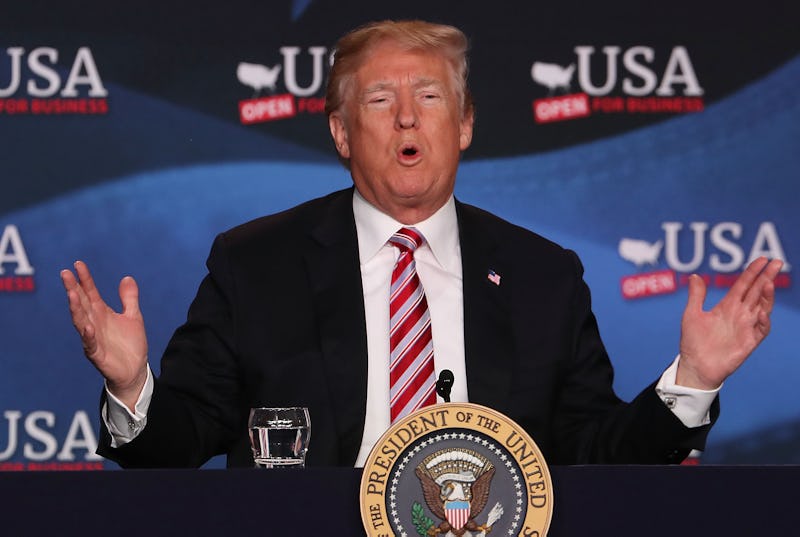 Joe Raedle/Getty Images News/Getty Images
Tuesday was the deadline for Americans to file their 2017 taxes, but the president has requested a little more time to complete his own. President Trump filed an extension for his 2017 taxes, White House Press Secretary Sarah Huckabee Sanders told reporters. The fact that the former real estate mogul has kept his tax returns private this whole time is something that continues to worry congressional Democrats.
"The president filed an extension for his 2017 tax return, as do many Americans with complex returns," Sanders told reporters on Tuesday. "He will file his tax return by the extension deadline of Oct. 15, 2018."
Trump actually filed for an extension last year, too. Both then and now, the White House did not make it clear why he needed the extension.
Trump said during the 2016 campaign that he would release his tax returns after an ongoing audit came to an end, but he still has yet to do so. In January 2017, White House counselor Kellyanne Conway claimed voters didn't care about Trump's taxes. "They voted for him, and let me make this very clear: Most Americans are — are very focused on what their tax returns will look like while President Trump is in office, not what his look like," she said in an interview with ABC's This Week.
Trump is bucking presidential tradition by refusing to release his tax returns. The previous transparency allowed voters to evaluate whether or not the president had any conflicts of interest or was pushing legislation that benefited his personal bank account. Multiple polls from fall 2016 showed that a majority of voters either wanted Trump to release his tax returns or suspected that he was hiding something.
The new GOP tax plan that will affect next year's taxes raises questions about whether or not Trump will benefit financially. Although Trump told a Missouri crowd in December, "This is going to cost me a fortune, this thing, believe me. This is not good for me," NBC News concluded that the legislation will save Trump roughly $20 million based on his 2005 tax returns. It's possible that number is even higher, since no one's seen more recent tax returns from the president.
The New York Times' Andrew Ross Sorkin wrote in December that "the tax bill soaks some of rich Americans — but it does not soak the richest." Bloomberg estimates Trump's net worth is $2.86 billion, making him a part of the "ultra rich" who will reap the benefits of the Republican tax code. "Private equity and real estate executives, as has been well documented, will make out like bandits under the new system," Sorkin wrote.
Democrats in Congress could request Trump's tax returns through the House Ways and Means Committee or the Senate Finance Committee, but that's unlikely to happen while Republicans control both the House and the Senate. Even if that were to happen, Congress would still need the president's permission to make the documents public. Nonetheless, Congress knowing the president's finances would at least create more transparency than no one knowing how much money he's making and how.
In 2016, Trump assured Good Morning America's George Stephanopoulos that there was nothing to worry about regarding his tax returns:
I do not have Swiss bank accounts. I don't have offshore — I really have a very, very clean company. And believe me, if I didn't, it would have been reported by 200 groups because there's nobody that has more reporting or more scrutiny than I have.
He also added that he fights "very hard to pay as little tax as possible."
Exactly how "little" he pays in taxes remains to be seen, but it's clear he won't make the April 17 deadline this year.