The 2018 State Of The Union, As Told By Trump's Awkward Handshakes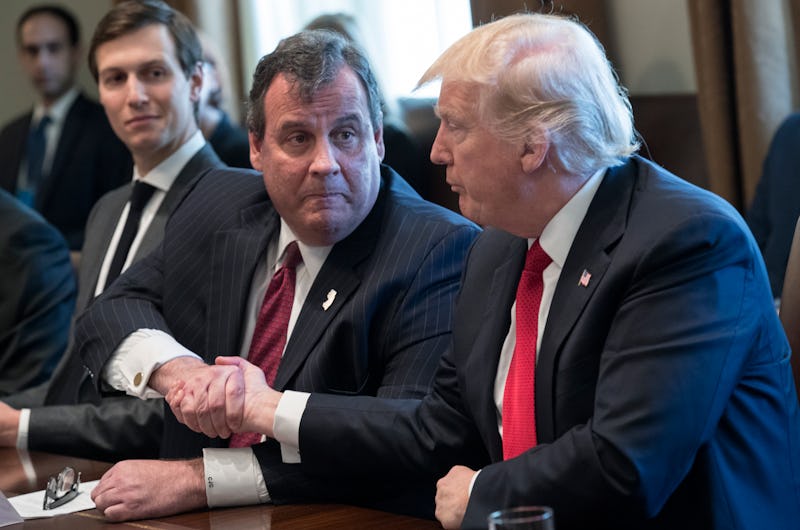 Pool/Getty Images News/Getty Images
Among the oddities that Trump has become known for since he threw himself into the political sphere, his handshakes with other politicians and heads of state have consistently captured the public's attention. Sometimes too long, often too forceful, and occasionally entirely rejected, it seems that they never disappoint. At his inaugural State of the Union (SOTU) address, this legacy continued. Before he even got to the microphone, photos of Trump's awkward SOTU handshakes took off across social media.
The president's habit of overzealously shaking hands with other dignitaries has launched a thousand think-pieces. Among the most famous examples are his handshake with French president Emmanuel Macron, Supreme Court Justice Neil Gorsuch, and Japanese Prime Minister Shinzo Abe. (That last one lasted a whopping 19 seconds.) It's not entirely clear whether Trump executes these handshakes intentionally, or whether he actually has no idea how strange they appear.
As for the SOTU, shaking hands on the way into the congressional chamber is not unusual — in fact, it's tradition. Presidents on their way to address a joint session of congress always stop to pay homage to the lawmakers there to listen. But as traditional as it is, Trump managed to make it look like an exercise in uncomfortable touching. Here are some of the best (or worst) moments.