If You Cared About Kavanaugh, Trump's Picks For This Lower Court Deserve Your Attention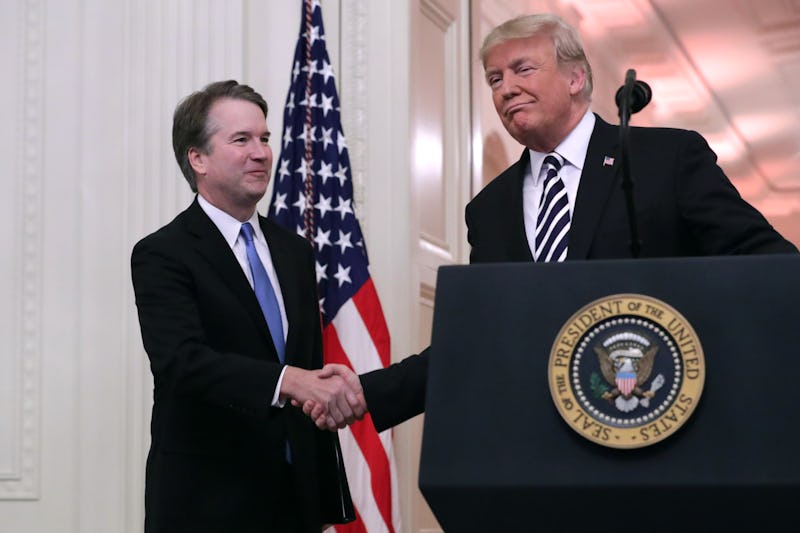 Chip Somodevilla/Getty Images News/Getty Images
Less than a week after Brett Kavanaugh was sworn in as the newest Supreme Court justice, President Trump announced another batch of judicial nominations. Although progressives probably won't be especially fond of any of them, Trump's nominations to the 9th Circuit Court of Appeals were especially alarming to Democrats, as they could have the potential to make one of the most liberal courts in the country fundamentally more conservative for decades to come.
With jurisdiction over 9 U.S. states, plus Guam and the Northern Mariana Islands, the 9th Circuit Court of Appeals is the largest and busiest appeals court in the country. It's also emerged as a sort of judicial epicenter of the resistance against Trump's presidency; with its left-leaning judges, the 9th Circuit has blocked several of the president's signature policy initiatives, including his attempts to defund sanctuary cities and ban citizens of some Muslim-majority countries from entering the United States. As such, the San Francisco-based court has become a source of hope for Trump's opponents and, conversely, a thorn in the side of the president and his supporters.
On Wednesday, the White House announced that Trump will nominate three judges to fill vacancies on the court: Patrick Bumatay, Daniel Collins, and Kenneth Kiyul. All three have worked for Republican administrations and are members of the conservative Federalist Society, according to Business Insider. Their appointments would be for life, and as such, could fulfill the longtime Republican dream of tilting one of the most powerful appellate courts in the nation in a more conservative direction.
Trump's decision to nominate Bumatay, Collins, and Kiyul to the 9th Circuit angered Democratic Sens. Kamala Harris and Dianne Feinstein, both of whom are from California and sit on the Senate Judiciary Committee. In a press release, Feinstein said that she and Harris had objected to two of Trump's nominees in talks with the White House over the summer, and criticized the president for going ahead with the nominations without heeding their objections.
"I repeatedly told the White House I wanted to reach an agreement on a package of 9th Circuit nominees, but last night the White House moved forward without consulting me, picking controversial candidates from its initial list and another individual with no judicial experience who had not previously been suggested," Feinstein said. "I met with [White House Counsel] Don McGahn on June 27 to discuss the vacancies and explained that Senator Harris and I strongly opposed Daniel Collins. I also told him Kenneth Lee had problems because he failed to disclose to our judicial selection committees controversial writings on voting rights and affirmative action."
McGahn disputed this characterization. In a letter to Senate Judiciary Chair Charles Grassley, McGahn claimed that the White House had "spent nearly two years attempting to engage constructively with the Senators regarding the growing number of judicial vacancies tied to California," but had "received no meaningful feedback on the White House's proposed nominees" from Feinstein. Harris, McGahn claimed, "has refused to engage with the White House at any level, whatsoever on the issue."
Harris and Feinstein's objections are significant in that they both come from California, where the 9th Circuit is based. Under a longstanding Senate tradition known as the "blue slip" policy, senators have been allowed to effectively veto the nominations of judges to courts in their home states, regardless of party. However, Grassley stopped honoring this policy once Trump took office, and several of Trump's judicial nominees have been confirmed despite objections from home state senators.