Here's What Mike Pence Really Thought About Trump's 'Access Hollywood' Tape — REPORT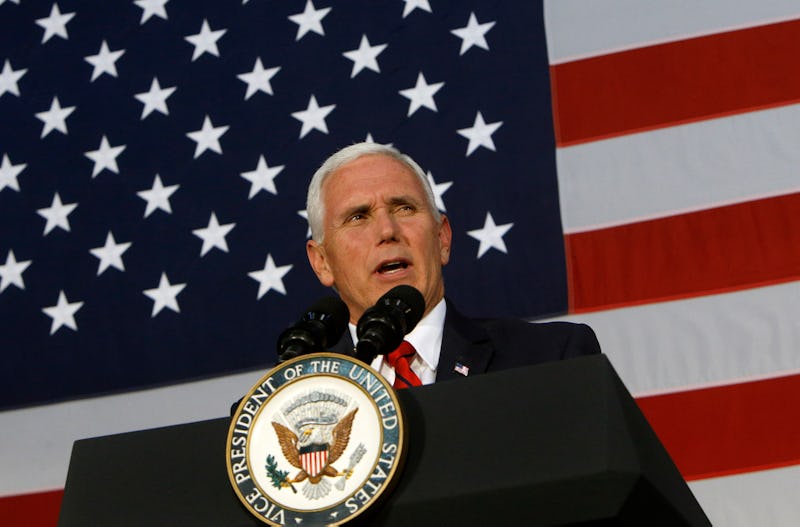 Hal Yeager/Getty Images News/Getty Images
The release of the Access Hollywood tape weeks before the 2016 election could have been the breaking point for Donald Trump's presidential bid. Republicans, including Trump's running mate, were forced to reckon with their nominee bragging on tape about sexual assault. According to The Atlantic, Mike Pence was considering a coup to oust Trump as the Republican nominee after hearing him talk about grabbing women "by the pussy."
The New Yorker previously reported that Pence and his wife Karen were "horrified" by Trump's words and initially refused to take the Republican presidential nominee's calls. The same report said Pence told Trump in a letter last October he was offended by the tape and needed to make an "assessment" about whether he could still run for office alongside him.
Pence's official statement a few days after the nation heard Trump's vulgar comments confirmed that he was offended "as a husband and a father."
I do not condone his remarks and cannot defend them. I am grateful that he has expressed remorse and apologized to the American people.
Pence ultimately stuck with the Trump campaign, allowing him to become vice president, but a new report asserts that he was angling to take Trump's position as the 2016 nominee. Within hours of the tape coming out, "Pence made it clear to the Republican National Committee that he was ready to take Trump's place as the party's nominee," The Atlantic reports.
The days following the release of the Access Hollywood tape were hectic for the RNC, to say the least. Republican leaders such as House Speaker Paul Ryan and Senate Majority Leader Mitch McConnell carefully disavowed their nominee's words without actually calling for him to step aside. According to The Atlantic, lawyers tried to figure out a way to kick Trump off the GOP ticket, while a group of wealthy donors devised a plan to "buyout" Trump for $800 million, though it's unclear if Trump was ever offered the money.
Although The Atlantic further reports that then-RNC chair Reince Priebus (Trump's former chief of staff) told Trump in a damage control meeting that Pence was "ready to step in," a Pence aide denied that Trump's running mate was trying to edge his way into the big seat.
Numerous reports of Pence's reaction to the Access Hollywood tape paint a picture of an evangelical politician genuinely troubled by Trump's remarks, and sources claiming he planned a coup also said it wasn't "just an act of political opportunism." Prior to the tape, Trump had reportedly convinced Pence — a devoted Christian — that he was a God-fearing man. However, Trump's 2005 comments about women's body parts revealed on the tape told a different story.
The reported coup obviously didn't work out, as Trump and Pence continue to work together as president and vice president, but rumors of hostility have swirled since they took office. The White House has denied previously reported tensions between their two staffs, and Pence's press secretary told The Hill it's "simply not true" that their respective employees were "walled off."
The investigation into potential collusion between the Trump campaign and Russia during the 2016 election has also caused reported stress on the president and vice president's relationship. NBC News reported in May that Pence wasn't told about former national security adviser Michael Flynn's alleged misdeeds (Flynn pleaded guilty to lying to the FBI on Friday).
Nevertheless, Pence continues to publicly stand by the president and tout the administration's agenda focused on curbing illegal immigration, repealing Obamacare, and overhauling the tax code. News of the vice president's reported coup, however, could further complicate the duo's working relationship.