The FBI Reportedly Wanted Receipts On *That* Access Hollywood Tape & We NEED To Know Why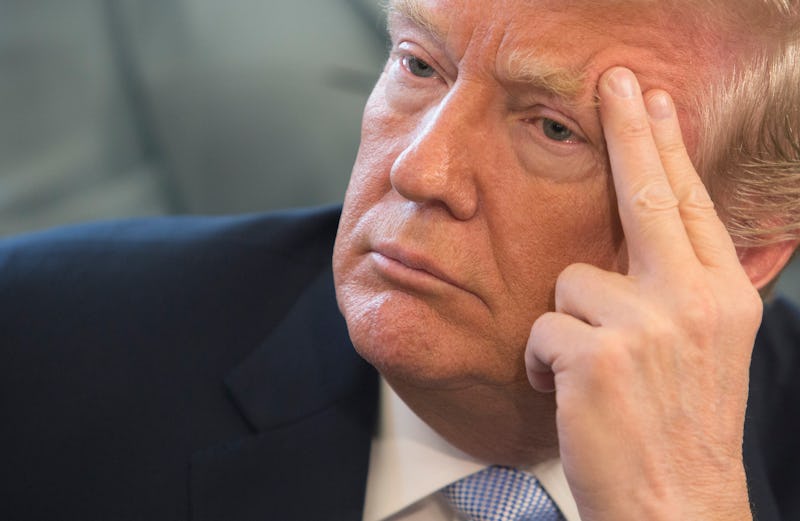 Pool/Getty Images News/Getty Images
The FBI raided the home, office and hotel room of President Trump's personal lawyer Michael Cohen on Monday, and reportedly seized a wide range of documents on various topics. Now, the New York Times reports that the FBI raid sought documents related to Trump's Access Hollywood tape, in which he is heard boasting about his ability to commit sexual assault with impunity, that leaked during the 2016 election.
It had been previously reported that the FBI raid had targeted, among other things, records involving a $130,000 payment that Cohen made to adult film star Stormy Daniels in the last weeks of the election. Daniels claims that she had sex with Trump in 2006 and that Cohen paid her to keep quiet about it; Cohen acknowledges having paid Daniels, but claims it was his own money and won't say what it was for. Cohen and the White House deny that Trump had sex with Daniels, though Trump himself hasn't publicly addressed the allegations.
It's unclear what Access Hollywood-related documents the FBI reportedly sought in its raid, or whether it actually seized any. But sources told the Times Wednesday that the federal search warrant used in the Cohen raid specifically sought all records related to the Access Hollywood tape, as well as any evidence of Cohen attempting to suppress damaging information about Trump ahead of the 2016 election.
In the raid, which was carried out by the U.S. attorney's office for the Southern District of New York, agents seized privileged communications between Trump and Cohen, and specifically sought information about two payments to women who claim they had extramarital affairs with Trump: Daniels and Karen McDougal, a former Playboy model.
McDougal says she and Trump had an ongoing relationship for roughly a year in 2006, and that she was paid $150,000 in 2016 for the exclusive publishing rights to her story in 2016 by American Media, which owns the National Enquirer. But American Media, whose CEO is a longtime personal friend of Trump, never published the story. The White House says that Trump denies having had an affair with McDougal, though as with the Daniels allegations, Trump himself hasn't publicly denied it.
In March, McDougal sued American Media, arguing that the contract they signed is invalid and that she ought to be allowed to speak publicly about her alleged affair with Trump. In that same lawsuit, she claimed that Cohen was secretly involved in the negotiations with her and American Media.
According to the Times, prosecutors are investigating whether the payments to Daniels or McDougal amount to illegal campaign contributions to Trump. The FBI raid on Cohen also sought records of "deals with other women" in addition to Daniels and McDougal, the Times also reproted, though it's unclear who these women are.
The now-infamous Access Hollywood tape from 2005, which surfaced in the last weeks of the 2016 presidential election, Trump is heard telling the show's host that, because he's a celebrity, he can kiss and grope women without asking them first.
"When you're a star, they let you do it," Trump tells host Billy Bush in the video. "You can do anything. Grab 'em by the p*ssy. You can do anything."
It's unclear what involvement, if any, Cohen had with the release of the Access Hollywood tape, which was ultimately unearthed and published by the Washington Post's David Fahrenthold.
In comments to reporters after the Cohen raid, Trump appeared enraged, claiming that the federal government's execution of the search warrant was "an attack on our country." Trump also said that agents "broke into the office" of Cohen, although Cohen later told CNN that the agents in question "were extremely professional, courteous and respectful."