Trump Just Gave A Former 'Fox & Friends' Host A Promotion In His State Department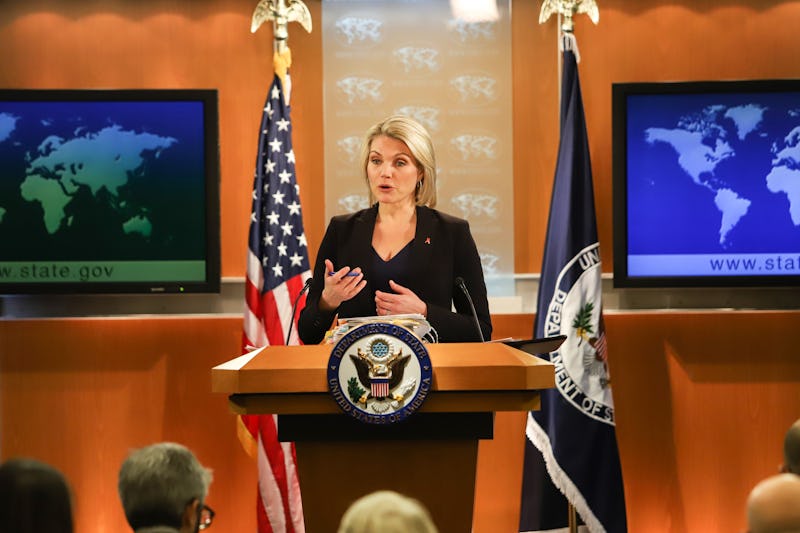 Alex Wroblewski/Getty Images News/Getty Images
On Tuesday evening, reports came out that the White House will appoint Heather Nauert as the acting under secretary for public diplomacy. Nauert will be replacing former under secretary of public affairs Steve Goldstein after a particularly eventful day at the White House that saw the president basically fire Secretary of State Rex Tillerson on Twitter.
Nauert is more of a media figure than she is a diplomat; she has no diplomatic experience, and much of her professional experience comes from working for Fox News. In fact, she has never worked for a Secretary of State under any other administration in her life. Since 2012, Nauert worked for Fox and Friends as a host. That changed in April 2017 when Trump's administration took her on as a spokeswoman for the State Department.
Still trying to figure out who she is? You may not remember Nauert but here's an incident that might jog your memory. In February, Nauert was the State Department spokeswoman who told a reporter, "I don't know what some of you expect us to do" after she was asked what Trump's administration intended on doing to address civil unrest in Syria.
A media figure holding a diplomatic position may be peculiar to some observers but it's not out of the ordinary for Trump. Time and again, media analyses has pointed out that Trump seems to have a highly friendly relationship with Fox News. So, it isn't surprising that the president tapped a Fox News figure like Nauert to fill a federal role in his administration. According to Axios reporter Jonathan Swan, a White House insider told him, "Heather is the only one at [State Department] we trust."
Nauert's new job title arrives after a day of upheaval at the White House. On Tuesday, Trump abruptly removed Tillerson from his position as Secretary of State. Steve Goldstein, who worked for Tillerson, came under fire after he contradicted the White House narrative on Tillerson's ousting.
Here's how it went down: On Tuesday morning, Donald Trump tweeted about the change, writing, "Mike Pompeo, director of the CIA, will become our new Secretary of State. He will do a fantastic job! Thank you to Rex Tillerson for his service! Gina Haspel will become the new director of the CIA, and the first woman so chosen. Congratulations to all!"
Shortly after Trump's tweet went up, Goldstein offered a different story. In Goldstein's account of Tuesday morning, Tillerson had no idea that today would be his last day as the Secretary of State in Trump's administration. The former aide said, "The Secretary had every intention of remaining because of the tangible progress made on critical national security issues." He also said that Tillerson had not spoken to Trump on Tuesday morning and "is unaware of the reason, but he is grateful for the opportunity to serve, and still believes strongly that public service is a noble calling and not to be regretted."
Goldstein's contradiction cast doubt over what Trump said. According to Trump, Tillerson knew his last days were around the corner. CNN reported on Tuesday that Trump said, "Rex and I have been talking about this a long time."
Trump pointed to difference in opinion as the main reason for parting ways. "We were not really thinking the same," the president explained.
Once Goldstein's narrative entered national media, the former aide was fired and soon after that, Nauert was announced as his replacement. Though Nauert has mostly laid low during her time in the State Department, that wasn't necessarily so during her time with Fox and Friends; Nauert once pointed to a YMCA offering girls-only swim classes to young Muslim girls as evidence of Sharia law.
The White House did not say if it would soon appoint a permanent acting secretary.