Trump Blamed The California Wildfires On Poor Forest Management & The Backlash Was Swift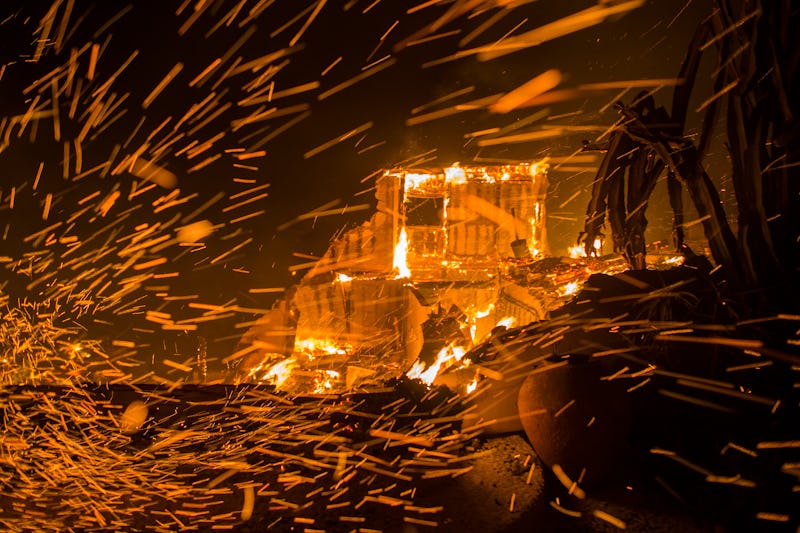 David McNew/Getty Images News/Getty Images
As wildfires continue to ravage both Northern and Southern California, President Donald Trump is in Paris to commemorate the 100th anniversary of the end of World War I. However, being on another continent did not stop the president from addressing the wildfires; on Saturday, Trump blamed the California wildfires on "poor" forest management, and threatened to revoke federal aid to the state.
"There is no reason for these massive, deadly and costly forest fires in California except that forest management is so poor," Trump tweeted on Saturday. "Billions of dollars are given each year, with so many lives lost, all because of gross mismanagement of the forests. Remedy now, or no more Fed payments!"
As the San Francisco Chronicle pointed out, Trump's response to the California wildfires did not mention the at least 11 people who have been killed or the thousands of people whose houses have been destroyed. Trump's comments about forest management are also inaccurate, the Los Angeles Times reported, as the Woolsey Fire currently making its way around Southern California did not actually start in a forest. Nor did the Camp Fire, which devastated the Northern California town of Paradise earlier this week.
Experts told the Los Angeles Times that thinning forests would therefore not have stopped the Woolsey or Camp Fires. The Camp Fire was able to travel rapidly over dry grass, while the Woolsey Fire was an "urban interface" fire, per the Pasadena Fire Association. In the case of the Woolsey Fire, this means that the fire spread through suburban communities that are in an area prone to wildland fire. As Vox noted, wildfires have consequently become more damaging— because properties are built in harm's way.
Trump's suggestion that poor forest management escalated the California wildfires quickly triggered backlash on Twitter, with many Twitter users criticized him for a lack of compassion.
The New York Times' Kendra Pierre-Louis, meanwhile, suggested that Trump's remarks are a thinly-veiled attempt to defend logging interests. Pierre-Louis, as well as many environmentalists, also pointed out that human behavior and climate change both aggravate wildfires.
California Rep. Ted Lieu responded to Trump's remarks by drawing attention to the president's past requests to slash forest management budgets. According to The Sacramento Bee, Congress has largely ignored these requests.
Actress Patricia Arquette went a different route, and suggested that California residents withhold their federal taxes to make a point.
This is not the first time that Trump has blamed California wildfires on the state's environmental policies. Back in August, as wildfires grew deadly across the state, Trump advocated for tree-clearing to stop the fire from spreading, and accused California of "foolishly" diverting "vast amounts of water from the North" into the Pacific Ocean. Then, during an October cabinet meeting, Trump reportedly described California as "a mess," and suggested that California was draining federal resources in its fire-fighting efforts.
According to the Los Angeles Times, Trump has also threatened to revoke federal aid to California in the past, though he has never been very specific. Even as Trump makes these threats, the Woolsey and Hill Fires in Southern California have forced hundreds of thousands of people to evacuate, prompting celebrities like Katy Perry and John Legend to denounce the president's remarks.