Trump Just Blamed The Raging California Wildfires On "Bad Environmental Laws"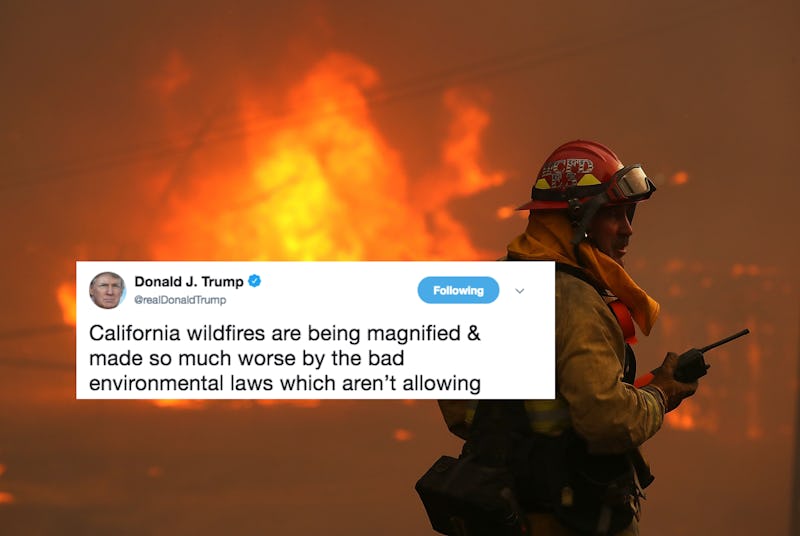 Justin Sullivan/Getty Images News/Getty Images
As firefighters battled at least 18 large fires burning across California on Sunday, the president tweeted about a rather bizarre theory Trump blamed California's wildfires on "bad environmental laws" and suggested the state was diverting usable water into the Pacific Ocean.
"California wildfires are being magnified [and] made so much worse by the bad environmental laws which aren't allowing massive amount of readily available water to be properly utilized," Trump tweeted Sunday. "It is being diverted into the Pacific Ocean." The president also called for clearing trees, arguing that it would stop wildfires from spreading.
Trump didn't elaborate as to the basis of his claim that California diverts "readily available water" into the Pacific Ocean, so it's unclear exactly what might have prompted it. However, one possibility is that Trump has seen reports from 2016 that noted some California reservoirs were releasing a portion of their water in an effort to prevent possible flooding during winter storms. Or perhaps he read a recent op-ed in the Washington Examiner that argued that the discontinuation of logging was part of the problem behind California's wildfires.
Another possibility put forth by Raw Story is a 2015 interview Forbes conducted with Andy Lipkis, the founder of the environmental nonprofit Tree People. In that interview, Lipkis criticized California for "throwing away" rainwater by letting it "drain into the sea" rather than collecting it. He argued that states could save water by routing drainage ditches and other avenues of rainwater collection into local water treatment facilities.
BuzzFeed's Chris Geidner has suggested that Trump's claim may stem from California Republicans' recent collaboration with the Trump administration to block a series of recently proposed changes regarding how the state allocates its water. According to the Sacramento Bee, California's State Water Resources Control Board recently proposed allocating less water for farms and cities in order to leave more water in the state's rivers for fish, some of which state regulators fear are nearing extinction.
But the Trump administration has previously announced plans to "maximize water deliveries" to California's Central Valley farmers, putting it in direct opposition to state regulators' proposed changes. And according to a Herald and News report Geidner flagged on Twitter, California GOP Rep. Jeff Denham has spoken with Ryan Zinke, Trump's interior secretary, about "the administration's potential role in improving water infrastructure and protecting Valley water rights."
Trump's tweet came hours after he'd declared the fires, which have so far killed at least seven people and burned more than more than 550,000 acres of land, to be a "major disaster" in California. The president ordered federal funding be made available to boost recovery and relief efforts in the state. In a statement released Sunday, the White House announced Trump had "ordered Federal assistance to supplement State, tribal, and local recovery efforts in the areas affected by wildfires and high winds beginning on July 23, 2018 and continuing."
On Saturday, California Gov. Jerry Brown formally called on the president to issue a Presidential Major Disaster Declaration as a means of assisting residents affected by the fires. As of Sunday evening, Brown had not responded to the president's claim that the magnitude of California's wildfires was the result of the state's "bad environmental laws." In the past, however, Brown has stood up to Trump's attacks on California's fuel-economy standards, which are meant to fight climate change.