Trump's DACA Decision Means "Dreamers" Are Safe, At Least For Now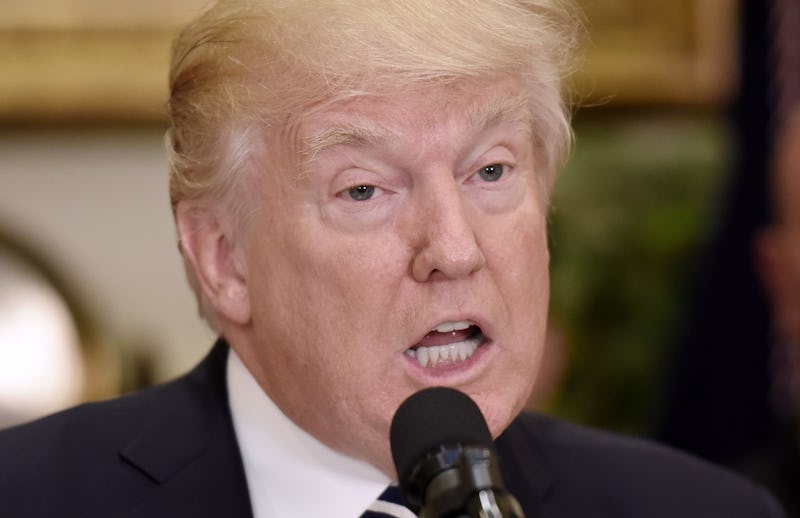 Pool/Getty Images News/Getty Images
On Thursday night, The New York Times reported that President Trump would not immediately eliminate protections for "Dreamers," marking a significant reversal of his campaign promise to terminate the Deferred Action for Childhood Arrivals (DACA) program. This is according to a memo from the Department of Homeland Security stating that DACA, which allows undocumented immigrants who were brought to the U.S. as children to stay in the country, will remain in effect.
Thursday's memo — which was released on the fifth anniversary of DACA — specifically pertained to the official rescission of the Deferred Action for Parents of Americans and Lawful Permanent Residents (DAPA) program. On Friday morning, officials from both the White House and the DHS clarified that the memo's statements were only intended to indicate that the more than 750,000 immigrants currently enrolled in DACA would not be affected by the DAPA decision. According to The New York Times, officials also emphasized that the president's decision to keep DACA in place may be temporary, and that he may still decide to revoke work permits from or deport Dreamers.
"There has been no final determination made about the DACA program, which the president has stressed needs to be handled with compassion and with heart," Jonathan Hoffman told the Times. Hoffman, who is the assistant secretary for public affairs at the DHS, also said that DHS Secretary John Kelly "has noted that Congress is the only entity that can provide a long-term solution to this issue."
DACA has been a point of contention for Trump ever since he took office. Shortly after his inauguration, Vox published the leaked draft of an executive order that would have prevented any new undocumented immigrants from enrolling in DACA. The order would have also prevented Dreamers already participating in the program from renewing their enrollment. But Trump never signed that order, despite signing others clamping down on immigration in his first weeks in office.
Trump's reluctance to disband DACA, combined with DHS' latest memo, might actually strengthen the protections DACA offers in the short term. However, this reluctance can also be attributed to some problematic messaging that attempts to characterize Dreamers as "good immigrants" who are distinct from all other undocumented immigrants.
This messaging poses a problem because it implies that other undocumented immigrants who did not grow up in the U.S., or who did not receive an education here, do not merit the same opportunities to live and work here. This is harmful rhetoric and there needs to be a reframing of the discussion around DACA and immigration. And yet, as a result, it seems that this is what has led to Trump inadvertently retaining the protections in place for so many Dreamers.
The Trump administration's decision on Thursday effectively draws a line in the sand between who deserves to stay and who does not. Even if Dreamers are safe from deportation for the moment, other undocumented immigrants remain at. For example, people who would have benefited from DAPA — which was never actually implemented, meaning that the Trump administration was quick to rescind a program already blocked by a federal judge — did not sway the Trump administration.
Anti-immigration critics applauded the Trump administration's decision to officially rescind DAPA, and urged the president to follow up by rescinding DACA as well. But although DHS officials made it clear that Trump could change his mind at any time, it appears that DACA will remain in place for now.