Trump Apparently Doesn't Care What Black Members Of Congress Think — And Said So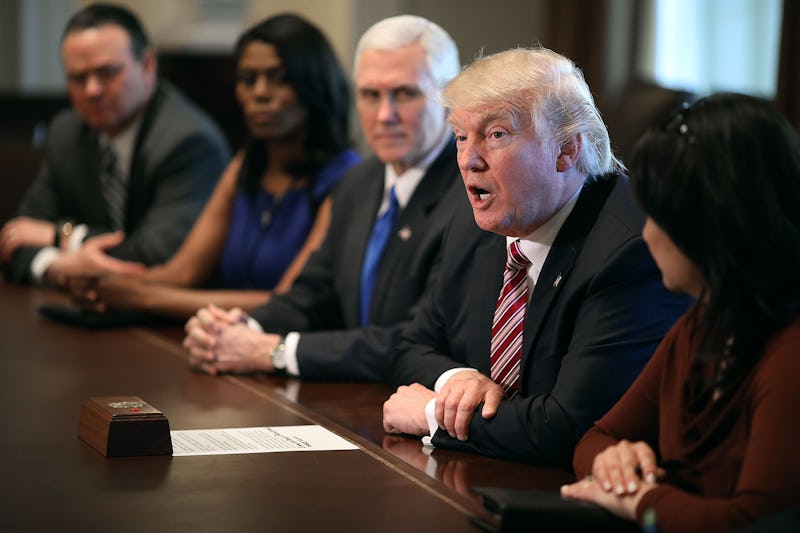 Chip Somodevilla/Getty Images News/Getty Images
During the now infamous immigration meeting, in which the president reportedly referred to Haiti and African nations as "shithole countries," Donald Trump dismissed black congress members, saying he does "not particularly care" what they think when it comes to DACA negotiations.
Trump rejected calls by Democratic Sen. Dick Durbin to listen to concerns of the Congressional Black Caucus (CBC), the Washington Post reported. The CBC is a political organization made up of the African-American members of the United States Congress.
Durbin advised Trump that the CBC would be more supportive of legislation if they had a say in which countries were selected for proposed immigration protections. The president was "curt and dismissive," according to a source familiar with the meeting, and said he "did not particularly care about that bloc's demands." Trump reportedly said he wouldn't alter policy based on the desires of the CBC. One adviser described the reaction as, "You've got to be joking."
Trump had been convinced by his advisers that the bipartisan bill Durbin and Republican Sen. Lindsey Graham were presenting was going to be unpopular with his base, sources told the Post. The deal was meant to help immigrants who were brought to the United States illegally as children.
What Trump did think would win over the base, however, was the "shithole" comment. (Or "shithouse," according to some reports.) Conservative columnist Erick Erickson claims Trump even called his friends after the meeting to brag about the remark, thinking it would play well with the #MAGA audience.
After the meeting, Trump tweeted that "Senator Dicky Durbin totally misrepresented what was said at the DACA meeting." He seemed to be angry that Durbin had betrayed his trust. "Deals can't get made when there is no trust! Durbin blew DACA and is hurting our Military."
He also later blamed the failed immigration meeting on Democrats. "DACA is probably dead because the Democrats don't really want it, they just want to talk and take desperately needed money away from our Military," the president tweeted.
There has been talk of a possible government shutdown, for which Republicans are now placing the blame on Democrats. However, Republicans currently hold all three branches of government. According to CNN, there's less than five days until the government will run out of the money needed to operate unless Republicans and Democrats can find a resolution.
These newly surfaced comments about the CBC are adding fuel to the backlash Trump has faced for his "shithole countries" remarks. He was reportedly referring to Haiti, El Salvador, and nations in Africa, adding that he'd prefer immigrants from countries like Norway. Trump has been widely accused of being racist after his words from the meeting leaked.
"When a president insists that our nation needs more citizens from white states like Norway," Martin Luther King III said on MLK Day, "I don't even think we need to spend any time even talking about what it says and what it is."
Following the reports of Trump's comments in the meeting, CNN's Don Lemon opened his show by saying: "Donald Trump is a racist." He spoke with New York Times columnist Charles Blow who said Trump "continuously over and over reveals the true nature of himself." He added that he knows Trump harbors racist beliefs because "he has never once apologized for it, he's never repented, he's never asked for absolution, in fact, the exact opposite is true, he's doubled down and defended it."
The CBC is currently pursuing a censure resolution for Trump, which is an action by the House of Commons or the Senate rebuking the actions or conduct of an individual. "The president is the commander in chief and this is what we call conduct unbecoming of an officer," Rep. James Clyburn, a member of the CBC, told CNN, "and if a general or some other line officer in the military were to say something like this, he [or she] would be censured. I think it should occur here, with the commander in chief, at a minimum."
Neither Trump nor the CBC has released statements regarding his reported dismissal of the group during the DACA meeting.