Trump's New Executive Order On Migrant Families Won't End His "Zero-Tolerance" Policy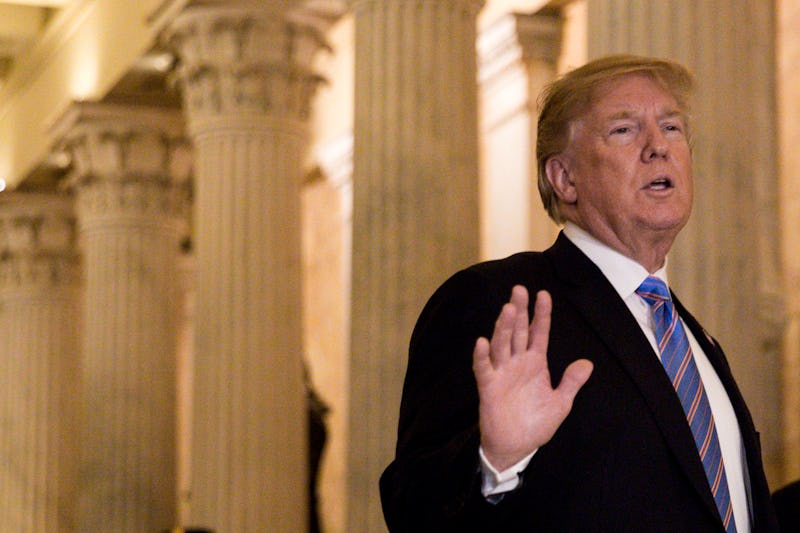 Alex Wroblewski/Getty Images News/Getty Images
After receiving significant backlash, the Trump administration's policy of separating families at the southern border may be coming to an end. On Wednesday, President Trump signed an executive order to keep families together at the border, but his administration will continue its "zero-tolerance" immigration policy, which has already resulted in thousands of migrant children being taken away from their parents at the border.
As he signed the order in front of the press, Trump declared, "Nobody's had the political courage to take care of it, but we're going to take care of it." Trump also said that his order "will solve that problem."
But his executive order does not change the administration's "zero-tolerance" immigration policy. To put it simply, Trump's order will only result in migrant families being detained together. Instead of separating children from their parents, families will be taken to federal prison together. But his administration will continue to prosecute illegal border crossings, and there's no definitive word on the rights of asylum seekers.
The zero-tolerance policy Trump mentioned was implemented earlier this year in an effort spearheaded by Attorney General Jeff Sessions. Under the new policy, all adult immigrants who crossed into the U.S. without the necessary documents faced criminal charges and were subsequently sent to federal jails — and they could not keep their children with them. As a result, housing facilities operated by the Department of Health and Human Services are running out of space for all the migrant children separated from their families.
Everyone from human rights advocates to Silicon Valley CEOs have criticized the policy as both inhumane and cost-ineffective, prompting Trump to blame Democrats for the separation of migrant families. On Saturday, Trump suggested that Democrats were the only ones who could fix the problem of family separation because "that's their law," but as The New York Times pointed out, there is in fact no law requiring that children be taken away from their parents at the border.
Prior to signing the executive order, Trump said on Wednesday morning that he would "be signing something in a little while that's going to" end the policy of family separation. He also appeared to take another indirect jab at Democrats by suggesting that his actions were "somewhat preemptive," and that they would "ultimately be matched by legislation."
For weeks, Trump has refused to accept responsibility for the zero-tolerance policy, and he has insisted that it is a product of Democratic legislation and the Obama administration's policies. Trump has described Democrats as "weak and ineffective with border security and crime," and urged them to "change the laws." In signing an executive order to end his own administration's family separation policy, Trump appears to be portraying himself as the solution to the problem — rather than the cause.
In 2014, the Obama administration came under fire for placing many immigrant families in detention centers as the number of unaccompanied minors crossing the border surged. However, the key difference between the Trump administration's current zero-tolerance policy and the Obama administration's policy back in 2014 is that families were permitted to stay together, and unaccompanied migrant children were released to relatives in the U.S.
It is significant to mention here that the executive order seems superfluous. After all, some may remember that about a week ago, on Friday, Trump claimed, "You can't do it through an executive order."
The president did not need to sign an order to stop family separations. He didn't even need to seek Congress' help. These shocking and traumatizing separations could have been stopped earlier if Trump simply ordered Sessions to stop enacting the family separation policy as a supposed deterrent.
Now that Trump has signed the executive order, the key difference will only be that instead of children — including incredibly young infants — and parents being detained separately, these migrant families will be detained in the same centers. As Rewire reported, this order does not answer whether the rights of asylum seekers will be secured or what will now happen to the detained families. From the looks of it, Trump's executive order has left plenty of lingering questions.
Additional reporting by Mehreen Kasana,