The Scary Smart Reason Trump's New FDA Chief Is All About Vaping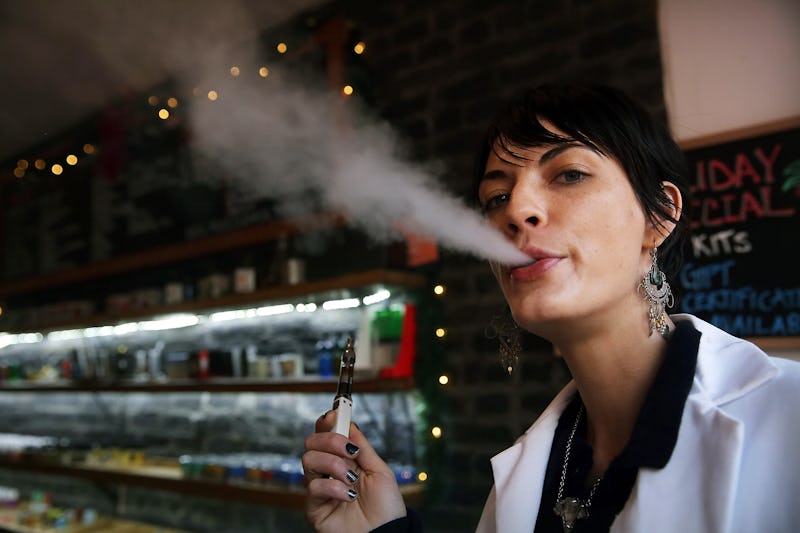 Spencer Platt/Getty Images News/Getty Images
In 2009, President Barack Obama gave the Food and Drug Administration (FDA) control of regulating tobacco. But despite being touted as an initiative that would rein in Big Tobacco, the policy resulted in the freezing of competition by new product regulation. According to Slate, an opaque regulation system made it all but impossible for e-cigarettes and other vaping products to break through the market. Announced on Friday under new leader Scott Gottlieb, the FDA is pausing market safety reviews on e-cigarettes, as well as working to lower nicotine levels in cigarettes to non-addictive levels.
Gottlieb and the FDA are hoping that by lowering nicotine levels and providing a market for e-cigarettes, more Americans will quit smoking.
By delaying the review of e-cigarettes for safety, it will open up competition in the newer form of tobacco products. The FDA stated in a press release that it is looking to "strike an appropriate balance between regulation and encouraging development of innovative tobacco products that may be less dangerous than cigarettes."
Under Obama-era FDA regulations, e-cigarette products made after 2007 were subject to a retroactive pre-market review. The problem was that nearly all of them were made after 2007, and thereby depended on review. Testing e-cigarette and vapor products was costly, and was also a vague process. According to Slate, makers had to prove that the product was beneficial to the health of the population, but wouldn't make smokers quit or non-smokers start.
Those that didn't get market approval were taken off the market, and e-cigarette users were left to either find another product or possibly switch to cigarettes.
Now, vapors and e-cigarettes might largely be unregulated, for better or worse. Generally, e-cigarettes are considered less dangerous than combustible cigarettes. According to the Royal College of Physicians of London, the health risk of using e-cigarettes is unlikely to exceed 5 percent of the health risk combustible cigarettes cause.
According to The Verge, although the FDA can't ban nicotine from cigarettes, it can set the maximum amount cigarettes can hold, which is how they may reduce nicotine to the "non-addictive" levels they cite in the announcement.
However, the level in which nicotine is "non-addictive" in a cigarette is up for debate. University of Pittsburgh professor Eric Donny, who has studied the regulation of tobacco, told The Verge that in order for nicotine levels to become "non-addictive," or less addictive than they are currently, the FDA would likely have to cut it by 85-95 percent.
The FDA has yet to release plans on how the proposal will be carried out, but expect some changes in nicotine levels in the future.