Trump's Financial Disclosure Clears The Air On That Stormy Daniels Payment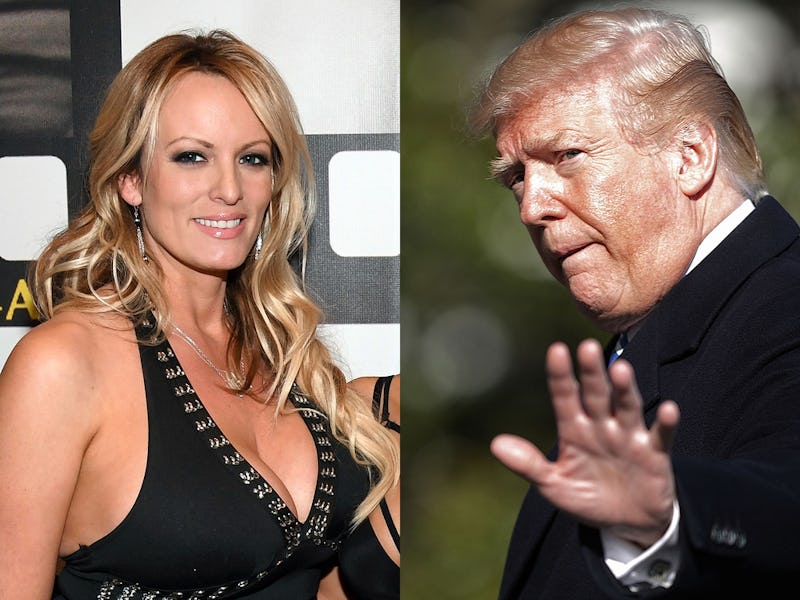 Ethan Miller/Getty Images Entertainment/Getty Images; Chip Somodevilla/Getty Images
President Trump snuck a bombshell into what's normally a dull financial form. Trump's financial disclosure acknowledged the Stormy Daniels payment "in the interest of transparency." Trump told reporters in April that he had no knowledge of a non-disclosure agreement signed by Daniels nor a $130,000 payment Daniels received from Trump's personal lawyer.
"Expenses were incurred by one of Donald J. Trump's attorneys, Michael Cohen," a footnote included in the president's 2018 disclosure reads. "Mr. Cohen sought reimbursement of those expenses and Mr. Trump fully reimbursed Mr. Cohen in 2017." The footnote doesn't specify the exact amount Cohen was reimbursed, but indicates that it was between $100,001 and $250,000.
Cohen acknowledged earlier this year that he paid the adult film star $130,000 as part of an agreement that she wouldn't publicly voice her allegation that she had an affair with Trump in 2006. Trump has repeatedly denied the affair, as well as any knowledge of Cohen's payment to Daniels. However, Trump's newest lawyer, Rudy Giuliani, caused a stir earlier this month by revealing that the president didn't just know about the payment, but fully reimbursed Cohen in monthly installments. Giuliani told BuzzFeed News that Trump's $35,000 payments to Cohen were spread out over 2017 and have since stopped.
Trump filed this year's financial disclosure on Tuesday, and it was released to the public by the Office of Government Ethics (OGE) on Wednesday. Because Giuliani had previously told reporters that Trump reimbursed Cohen for the $130,000, there was speculation about whether or not Trump would disclose the payment. He didn't have much wiggle room in that regard, though.
Walter Shaub, former OGE director, and Adav Noti, senior director for the Campaign Legal Center, explained in a USA Today op-ed that Trump was legally obligated to include the payment in the form. But Shaub and Noti also explained that Trump will need to explain why he didn't include it in last year's financial disclosure, since it was a debt he incurred in 2016.
"Disclosing it now means acknowledging that he should have disclosed it last year," they wrote. "Disclosure may also lead to damaging revelations if he omitted other liabilities from any past financial disclosure reports or incurred new ones since June. As a result, the president's team could be looking for a way to justify the omission."
Earlier this month, the nonprofit watchdog group Citizens for Responsibility and Ethics in Washington filed a complaint asking the Office of Government Ethics, the Department of Justice, and the Southern District of New York to investigate whether Trump "knowingly and willfully failed to report" the reimbursement last year. "If it was a loan, President Trump likely violated federal law by failing to disclose it as a liability on his OGE 278 report, filed in June 2017 and covering liabilities incurred in 2016 like this $130,000 payment," the complaint reads.
When Giuliani revealed the reimbursement, he referred to it as an expense. "I'm almost certain that there wasn't an itemized bill," he told BuzzFeed. The footnote acknowledging the payment mimicked Giuliani's description, claiming the reimbursement was "not required to be disclosed as 'reportable liabilities.'"
Still, Shaub and Noti said the payment legally needed to be included in the financial disclosure. "Even ignoring the disingenuousness of calling the payment an expense, however, there is no exception for expenses," they wrote.
Regardless of how the payment should be classified, Giuliani's comments and Trump's financial disclosure raise a large question about what happened during and immediately after the 2016 election. Giuliani told The New York Times earlier this month that Trump paid Cohen a total of $460,000 or $470,000 in reimbursements after the 2016 election, which included money for "incidental expenses." Trump only disclosed reimbursements in the range of $100,001 and $250,000, however.
If the figure Giuliani gave is correct, Trump's financial disclosure contains a large discrepancy. It's also unclear why Trump would need to reimburse Cohen so much cash — and what Cohen was doing to rack up so many expenses.