Trump's Foreign Policy Team Is Mostly White Men — Here's How That Hurts Him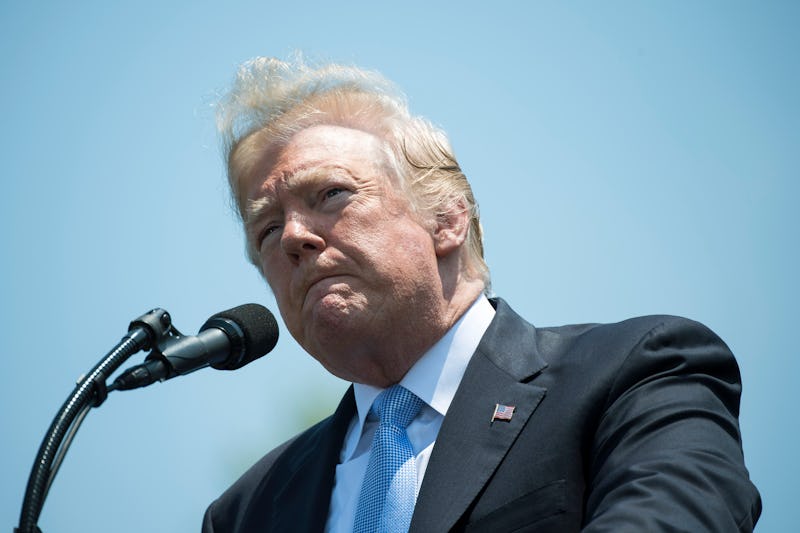 Pool/Getty Images News/Getty Images
President Donald Trump is upending the international status quo. From his decision to scrap the Iran nuclear deal, to his upcoming summit with North Korean leader Kim Jong-un, to the violence that accompanied the opening of the U.S. embassy in Jerusalem, Trump's decisions are dominating headlines across the world. But they're also prompting criticism; experts say that the president just doesn't have enough talented personnel on hand to navigate these geopolitical hot spots — especially because Trump's foreign policy and national security teams don't have enough women at the table.
"If you look at the pictures of the Trump cabinet, they're basically all old white males," Barbara Slavin, director of the Future of Iran Initiative at the Atlantic Council, tells Bustle. "This is one of the least diverse cabinets in recent history. I think that has something to do with the bad decisions they make."
Slavin is the author of a book about the U.S.-Iran relationship called Bitter Friends, Bosom Enemies, and she argues that Trump's decision to leave the nuclear deal negotiated by President Obama's administration and international partners will damage American credibility for years to come — and will harm the upcoming negotiations with North Korea.
Why Women Are Needed At The Negotiating Table
"Why would anybody believe American promises?" Slavin says. "Why would anybody believe that the U.S. could sign an agreement and it would last beyond one president?"
While Trump's campaign promise to rip up the Iran deal earned him cheers from supporters and scorn from critics, Alexandra Bell, Senior Policy Director for the Center for Arms Control and Non-Proliferation, says that the lack of women in high-ranking foreign policy and national security roles in Washington isn't due to political leanings.
"Why would anybody believe that the U.S. could sign an agreement and it would last beyond one president?"
"Half the population are women and the experiences that they have bring important insight into any negotiating process," Bell says, arguing that there are plenty of women that might support the president's agenda. "I think you're just hobbling yourself and your own abilities to succeed when you're leaving out half the population."
Despite a revolving door of key administration officials over the past 16 months, Trump's closest advisers are perennially male: John R. Bolton was picked to replace Lt. Gen. H. R. McMaster as national security adviser in March, and former CIA Director Mike Pompeo has transitioned to head of the State Department, replacing Rex Tillerson.
"Donald Trump is being advised by a group of men with extremely hawkish views on North Korea, some of whom have openly advocated for illegal, preventative war," says Kelsey Davenport, Director of Nonproliferation Policy at The Arms Control Association. "Trump is not drawing on a diversity of views and opinions as he approaches this summit [with North Korea]. And I think that weakens his hand."
"Donald Trump is being advised by a group of men with extremely hawkish views on North Korea, some of whom have openly advocated for illegal, preventative war."
The organization Women's Action For New Directions (WAND) sent Trump a letter last month highlighting the need for more women in diplomatic and nonproliferation roles, and including a list of "well-qualified women" for Trump to consider hiring. "Statistical analysis... shows that when women participate in peace processes, peace is more likely to endure," signatories from 17 organizations wrote in the letter.
Slavin points out that women are "extremely good negotiators" with "an ability to listen. "I think they have less ego in the game. They're looking for general compromise," she says.
"I think it's been proven over and over that a more diverse group comes up with better solutions to challenging problems and there are no more challenging problems in the world being faced today than those being posed by weapons of mass destruction," Corey Hinderstein, Vice President of International Fuel Cycle Strategies at the Nuclear Threat Initiative, says.
A Handful Of Women Shaping Trump's International Agenda
President Trump's administration does feature a handful of high-ranking women in national security and foreign policy positions. The U.S. Ambassador to the U.N., Nikki Haley, has put her own stamp on the organization, speaking out against Iran and taking aim at Russian involvement in Syria. Yet, she's appeared out of the loop at times, including when she announced a new round of sanctions against Russia that the White House declined to implement.
Homeland Security Secretary Kirstjen Nielsen is only the second woman ever named to the top post at DHS; she succeeded her former boss, John Kelly, after he became White House Chief of Staff. In the course of the past week, it was reported that Nielsen considered resigning after Trump berated her in front of his cabinet over what he perceived as weak immigration enforcement at the U.S.-Mexico border.
Now, Gina Haspel is poised to become the first-ever woman to lead the CIA. And Ivanka Trump has taken an unofficial but highly visible role on behalf of the Trump administration on the world stage. She and her husband, Jared Kushner, attended the opening of the U.S. Embassy in Jerusalem on Monday, and Ivanka traveled to South Korea during the Winter Olympics last February.
While Trump's cabinet members and advisers are helping him pursue his "America First" campaign promise, experts point out that the president prefers to make his own decisions.
"Frankly, I'm not convinced having women (as women) in senior positions would make a huge difference," says Amanda Sloat, a former U.S. State Department official and senior fellow at the Brookings Institution. "Trump... appears to have his mind made up on policy with little influence from any of his advisors or foreign leaders."
Sloat points out that "State is lacking personnel period, including Senate-confirmed Assistant Secretaries for Asia and the Middle East." According to the federal business news website Government Executive, the State Department lost 12 percent of its foreign affairs specialists during the first eight months of the Trump presidency. That includes people who work on thorny international negotiations.
Transforming Trump's Cabinet From The Inside Out
"I think administrations in recent history have been making strides in women in leadership positions, both Republican and Democratic administrations," Bell says, pointing out that the last two nuclear negotiations were negotiated by women on the U.S. side, with numerous female counterparts on the European side.
"There are just huge amounts of women experts in nuclear policy, but somehow that's not apparent, at least as far as the public-facing advisors to President Trump on these issues," Bell says.
"There are many excellent grey-haired white men, but they're' not the only people who can contribute."
Women who work on nonproliferation issues in the U.S. told Bustle they frequently hear that the biggest contributor to a lack of diversity in leadership roles is a lack of women in the field.
"There are many excellent grey-haired white men," Hinderstein acknowledges, "but they're' not the only people who can contribute."
"The community is full of smart, talented, women and if you don't see that, it's because maybe people aren't looking hard enough," Hinderstein says.