Trump's Fourth Of July Message On "Sharing" The Nation Will Leave You With One Question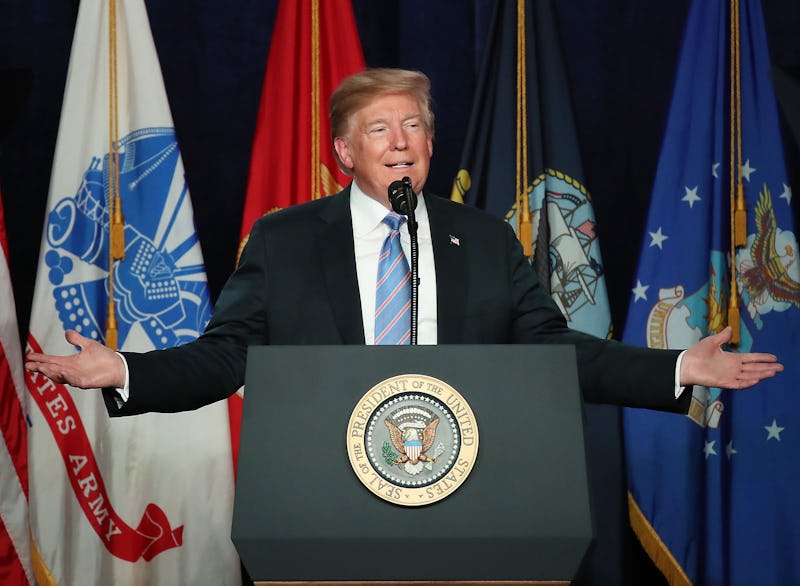 Mark Wilson/Getty Images News/Getty Images
It's tradition for the president to honor members of the United States military on Independence Day. But Trump's Fourth of July message about sharing "the heart of our nation" raises questions about whether Trump will acknowledge undocumented military families. Some people join the military with the hopes of one day becoming a U.S. citizen, while other service members have spouses or other family members currently facing deportation.
"Let us share the grateful heart of our nation with every veteran and member of the United States Armed Forces — truly special people," Trump said in his video address. "We are in awe of their courage and we are eternally in their debt. Together we honor their noble sacrifice by pledging our love and loyalty to our country, our flag, and our fellow citizens."
The Trump administration's immigration policy has made it much harder for those migrating to the United States to gain legal status, however. The non-profit immigration advocacy group American Families United estimated in April that 11,800 current service members have a family member who is facing deportation. There isn't more recent data, but White House efforts to decrease the number of people immigrating to the United States has only ramped up in the past few months.
Loretto Dalmazzo Sullivan, the wife of a Navy Officer, told The Military Times in March that she was scared she would be deported back to Ecuador. Although the couple is married, Sullivan was initially denied U.S. citizenship because she reportedly previously lied about her immigration status on a job application.
"It's this constant fear that someone is going to show up at your door and take you away," Sullivan told The Military Times.
She's been protected by the Deferred Action for Childhood Arrivals (DACA) program since 2014 because she came to the United States with her parents when she was still a minor, but the future of DACA has been up in the air since Trump said he wanted to end it in September. Despite the fact that three federal judges have ruled against Trump's decision to rescind DACA, Congress has yet to pass legislation ensuring people like Sullivan can stay in the country.
Defense Secretary Jim Mattis said in February that active service members protected by DACA won't be deported unless they have committed a "serious" felony or a federal judge has signed deportation orders.
"We would always stand by one of our people, and I have never found the Department of Homeland Security unwilling to take any call from anyone on my staff if we in fact found someone who had been treated unjustly," Mattis told reporters at the time. He did not guarantee the same for the family members of those serving in the military.
Military families spoke out about the deportation of veterans and their families outside the Capitol earlier this year. Estela Juarez, the 8-year-old daughter of a decorated former Marine sergeant, begged Trump to stop the scheduled deportation of her mother.
"I ask President Trump to please let my mom stay because she is a great mom and I don't understand why we have to leave her," Estela said, according to NBC News. "She has been there every day of my life and I can't imagine leaving her. Please, President Trump, I ask that you let her stay."
The mother's attorney, Stacey Bradbury, told NBC News that Estela's mom deserved the stay in the country because she looked after a Marine sergeant's home and family while he served overseas. "When she married her husband, he was a military person and she maintained a home while he did his tour. Someone has to recognize this is what spouses do," Bradbury said.
Trump's message about sharing the "grateful heart of our nation" with every veteran and service member didn't acknowledge those with undocumented family members. As the president cracks down on illegal immigration, thousands of military families face fears of being split up.