How Trump's 'Fox & Friends' Interview Came Back To Bite Him Real Quick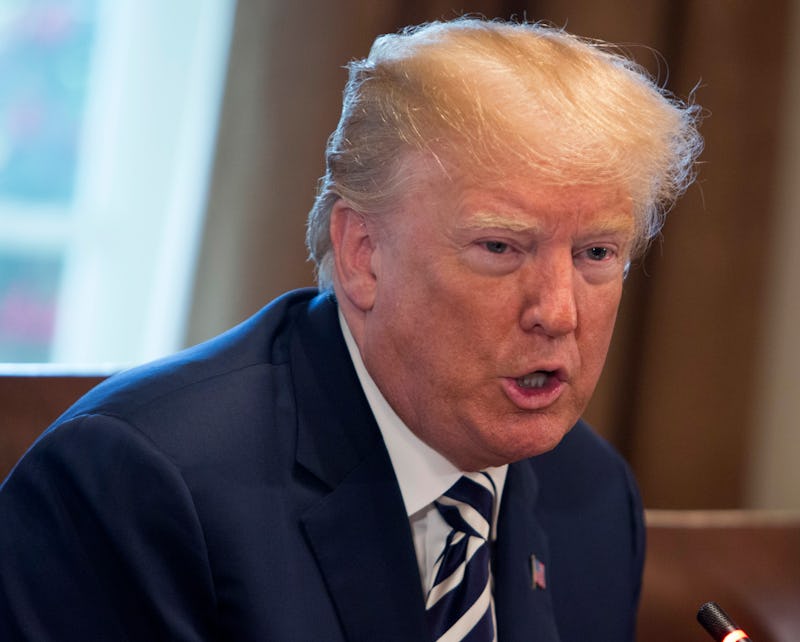 Pool/Getty Images News/Getty Images
President Trump called his favorite morning show and talked nearly nonstop for 30 minutes. And now, it seems Trump's Fox & Friends interview has already been used against him in court.
Federal prosecutors in New York quoted the president's interview in a filing with regards to the items taken from Trump's sometimes attorney Michael Cohen. The FBI raided his office, home, and a hotel room earlier in April.
In the interview, Trump downplayed their legal relationship. That's what the prosecutors seized on in the court filing, arguing that the seized items are not subject to attorney-client privilege.
"President Trump reportedly said on cable television this morning that Cohen performs 'a tiny, tiny little fraction' of his overall legal work,'" Assistant U.S. Attorney Tom McKay wrote in the papers that filed in Manhattan Federal Court on Thursday.
Cohen, in order to keep prosecutors from having full reign to review the seized documents, had argued that most of them had to do with three of his current clients. Trump's interview will hurt that legal argument.
Trump's dismissal of their legal relationship was brought up in the filing, as was that of Fox News host Sean Hannity, the second of Cohen's three named clients.
The filing quotes Hannity's statement on Cohen after the raid. "Sean Hannity has since said that 'Michael Cohen has never represented me in any matter. I never retained him, received an invoice, or paid legal fees,'" the filing reads.
The U.S. Attorney ultimately argues that Trump and Hannity's statements together "suggest that the seized materials are unlikely to contain voluminous privileged documents."
The third client Cohen has represented recently is Republican fundraiser Elliott Broidy, as was learned in the last hearing on the seized items.
As for the interview, it seems that Trump was trying to distance himself from Cohen, who is reportedly under investigation for possible bank fraud, wire fraud, and campaign finance violations.
On the show, Fox & Friends co-host Brian Kilmeade noted that Cohen will be invoking the Fifth Amendment in the Stormy Daniels court case filed against the president. Kilmeade asked Trump for a reaction given that the president has worked "with him for a couple of decades." Trump tried to argue that Cohen isn't even primarily a lawyer:
Michael is in business. He's really a businessman, and a fairly big business as I understand it — I don't know his business. But this doesn't have to do with me. Michael is a businessman; he's got a business. He also practices law. I would say probably the big thing is his business, and they're looking into something that has to do with his business. I have nothing to do with his business.
And to the extent that he is a lawyer, he's not an important one to Trump, the president implied. "I have many attorneys. I have attorneys — sadly, I have so many attorneys you wouldn't even believe it," Trump told the co-hosts.
Then Steve Doocy interjected. "How much of your legal work was handled by Michael Cohen?" Doocy asked.
"As a percentage of my overall legal work, a tiny, tiny little fraction," Trump responded, giving the federal prosecutors their quote.
The president didn't end there. "Michael would represent me and represent me on some things," Trump said. "He represents me, like with this crazy Stormy Daniels deal, he represented me. And you know, from what I see, he did absolutely nothing wrong. There were no campaign funds going into this."
That last admission, that Cohen did represent Trump in the Daniels matter could be legally problematic for Trump as well. Stormy Daniels' lawyer Michael Avenatti said on MSNBC's Morning Joe that it was a "gift from the heavens."
"That's a hugely damaging admission by the president, because according to what he said on Air Force One a few weeks ago, he didn't know anything about the agreement," Avenatti said on the show. "He's now just admitted, and he tripped himself up, he's just admitted that in fact Michael Cohen's represented him in connection with the Stormy Daniels situation."
That may take a little longer to make it into a court filing, but it seems the Fox & Friends interview may cause the president a fair share of grief.