Trump Just Seriously Doubled Down On His Description Of Hurricane Florence As "Wet"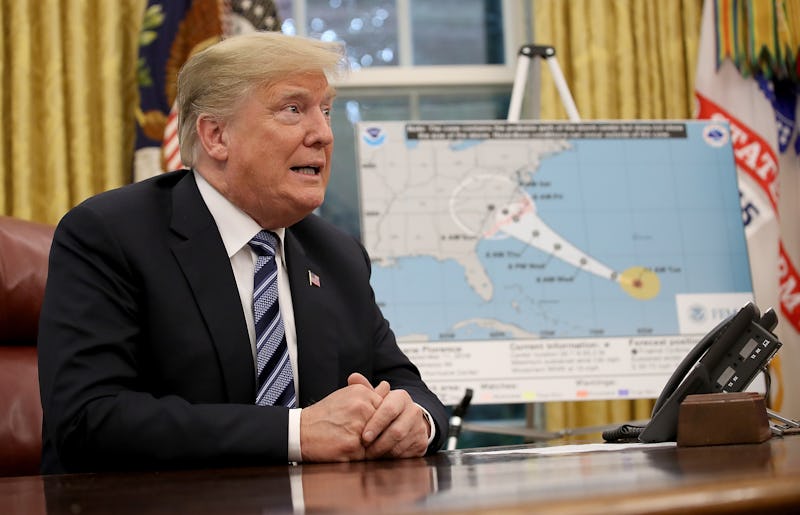 Win McNamee/Getty Images News/Getty Images
As Hurricane Florence — which turned into a tropical depression after making landfall — unfurled across the Carolinas, President Trump was quick to retweet updates and advice from FEMA, the National Weather Service, and local emergency authorities. On Tuesday, the president posted a video to his Twitter account to address the impact of the storm. In Trump's Hurricane Florence video, he points out the storm was "one of the wettest" from the "standpoint of water," prompting a flurry of mockery on social media.
"I just want to thank all of the incredible men and women who have done such a great job in helping with Florence," Trump began in the video. "This is a tough hurricane. One of the wettest we've ever seen from the standpoint of water."
The president continued on, praising the survivors and expressing his sympathies for the devastation left by Florence. "Rarely have we had an experience like it, and it certainly is not good, but the people of North Carolina, South Carolina, Virginia, all of the areas affected — you've ben incredible. There's been a loss of life and may God be with them and their families. That's a tough one. It's tough to understand but this has been a really difficult period of time for a lot of people."
Trump's remarks seemed to beg for a bit of dry humor. A professor at Claremont McKenna College in Southern California had a lighter touch, adding Trump's remarks as one of his top examples of redundancy.
Trump also spent part of the video thanking the efforts of first responders and emergency officials, something he did frequently on Twitter as the storm wreaked havoc over the weekend. The president mentioned FEMA, the Coast Guard, the military, and law enforcement agencies, calling their coordinated efforts and successful water rescues "really something special."
"I just want to thank everybody for doing such a great job with a very difficult situation," Trump said, before going on to address the imminent danger from rising floodwaters and upriver runoff. "Florence has been a nasty one, a big one, like that area has certainly never seen before. So the waters are still rising. Listen to your state and local authorities. Be patient, be alert, and God bless you."
As of Tuesday evening, at least 35 people have died so far from Florence and the ensuing floods, according to The Hill. More than 300,000 people across North Carolina were without power on Tuesday, USA Today reported, with more widespread damage expected; more than a dozen North Carolina rivers are likely to reach their highest points this week.
Trump's video comes right before his planned trip to North Carolina, where he's expected to take a look at areas that have been devastated by Florence. After his widely decried 2017 visit to Puerto Rico in which he tossed paper towels to Hurricane Maria relief workers, this North Carolina trip could be a chance for Trump to show the empathy that critics accused him of lacking last year.