A Reporter Asked If Trump Regrets Insulting The Bushes — And His Response Was Awkward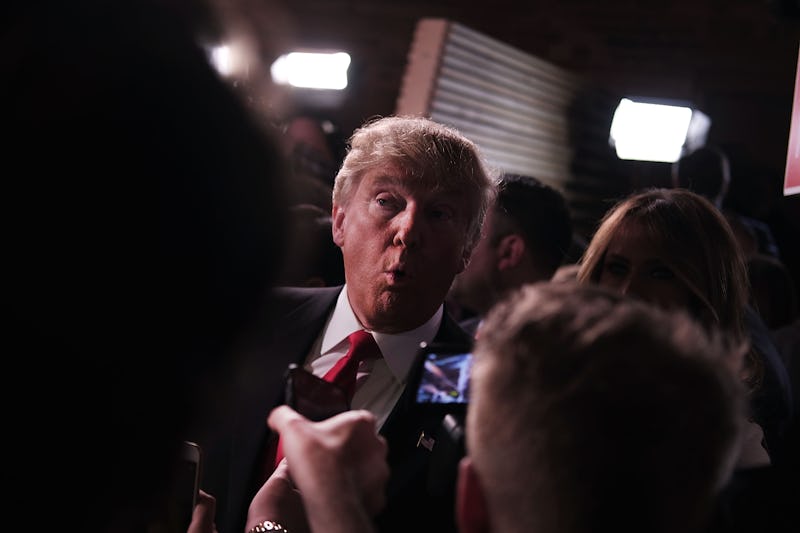 Spencer Platt/Getty Images News/Getty Images
Over the weekend, President Trump attended the G20 summit in Buenos Aires, Argentina, where he was asked a question about the Bush family. Long story short, it didn't seem like he wanted to answer. Trump's previous insults toward the Bush family were the focal point of the question — and the president's evasive response was telling.
Yahoo! reported that, as Trump was seated next to German Chancellor Angela Merkel at the summit, a reporter asked him, "Do you regret any of your comments about George H.W. Bush or the Bush family?" In response, Trump appeared to completely dodge the question, immediately responding, "Thank you very much everybody."
In the wake of former President George H.W. Bush's death on Nov. 30, Trump has offered heavy words of praise for one of his predecessors. Indeed, a statement from Trump and his wife, Melania, commended Bush for his commitment to public service and strong leadership throughout his lifetime. Trump also declared Dec. 5, the day of Bush's state funeral, a national day of mourning.
However, Trump's praise for Bush stands somewhat in contrast to his previous comments about the Bush family. For example, as the HuffPost reported, in July Trump pointedly mocked a phrase used by Bush to champion volunteerism during his 1988 Republican National Convention speech.
Indeed, during a speech at a campaign rally in Montana, Trump characterized the well-known Bush phrase as non-sensical, exclaiming (via RealClearPolitics):
The thousand points of light, what the hell was that by the way? Thousand points of light, what did that mean, does anyone know? I know one thing, Make America Great Again we understand. Putting America first, we understand. Thousand points of light, I never quite got that one. What the hell is that? Has anyone ever figured that one out? And it was put out by a Republican, wasn't it?
Ironically, as Yahoo! pointed out, Trump cited the "thousand points of light" quote in his tribute to Bush, but this time used the quote as a matter of praise for the former president. Trump has also previously criticized other members of the Bush family, including Jeb Bush, the 41st president's son and former governor of Florida. Trump and Jeb ran against each other in the 2016 Republican presidential primary — and Trump had very harsh words for his former Republican rival.
For example, as Business Insider reported, Trump once called Jeb an "embarrassment to his family" during a debate. He also lambasted the former governor on CNN during an interview in February 2016, saying:
He's a desperate person. … He's a desperate person. He's a sad and he's a pathetic person ... He doesn't even use his last name in his ads. He's a sad person who has gone absolutely crazy. I mean, this guy is a nervous wreck. I've never seen anything like it.
Despite this history of tension between Trump and the Bushes, though, Politico noted that Bush was reportedly adamant that Trump should be free to attend his funeral. As the outlet described, the Bushes have reportedly always been very respectful of the office of the president — and felt it fitting and appropriate for a current president to attend the funeral of one of his predecessors.
Trump clearly does not wish to discuss his past animosity with the Bush family as the country is mourning the death of the 41st president. The president briefly paid his respects to Bush today by visiting his casket lying in state at the Capitol Rotunda. Trump will also attend Bush's state funeral at the Washington National Cathedral on Wednesday.