Trump's "Made In America" Week Makes Him A Target For Ridicule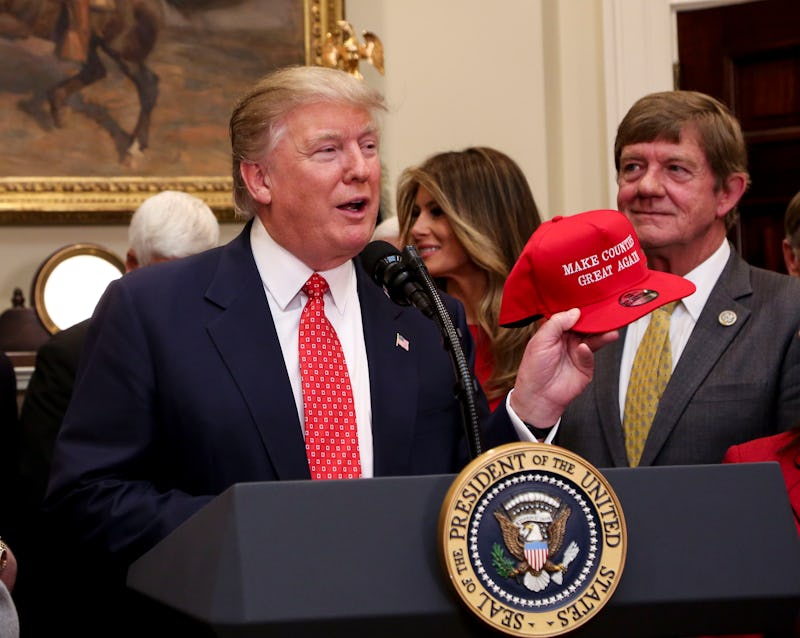 Pool/Getty Images News/Getty Images
Following a week where Russia revelations and criticism of Senate Republicans' efforts to repeal and replace Obamacare dominated the headlines, the White House hoped to change the narrative by declaring a "Made in America" week. Well, change the narrative they did as the Trump administration's announcement of a "Made in America" week drew questions as to whether Trump or his daughter would mark the event by bringing the manufacturing of their own products back to American soil.
To celebrate "Made in America" week, White House Director of Media Affairs Helen Aguirre Ferré announced Sunday that Trump would sign a proclamation extolling the importance of producing American-made goods on Wednesday. The president is also expected to host a "Made in America" product showcase at the White House on Monday to show off products produced domestically. But don't expect to see Trump's signature products or pieces from Ivanka Trump clothing line on display — despite Trump's continued admonishment of companies that send manufacturing jobs abroad, those products continue to be made overseas.
By now, it's well-known that many of the products marketed by the Trump family are manufactured overseas. In August 2016, The Washington Post compiled a detailed list of Trump products and their known origins of manufacturing. They found that while some products like, the "Success by Trump" cologne or Trump Natural Spring Water are produced in America, the majority are not. Moreover, a more recent investigation by The Washington Post, found that the clothing line baring Ivanka Trump's name "relies exclusively on foreign factories employing low-wage workers in countries such as Bangladesh, Indonesia, and China."
When asked Sunday by a reporter if Ivanka Trump would bring the production of her clothing line to American soil as part of "Made in America" week, a spokesperson for the White House said evasively, "We'll get back to you on that."
The president of Ivanka Trump's brand, however, told The Washington Post that while they were exploring methods for bringing "some production" stateside, "to do it at a large scale is currently not possible."
Social media users were quick to point out the irony of Trump hosting a "Made in America" week. "Ironic that @realDonaldTrump is having made in America week when he was made by Russia," wrote Twitter user Joe Scutella.
Twitter user Tony Posnanski wrote:
Although Trump has often campaigned on a platform that berated companies that moved production overseas, many people believe "Made in America" seems like an odd theme for a man unable, or perhaps simply unwilling, to see that his own products are produced on American soil.