Trump's MLK Day Message Touted His Own Criminal Justice Reform & The Economy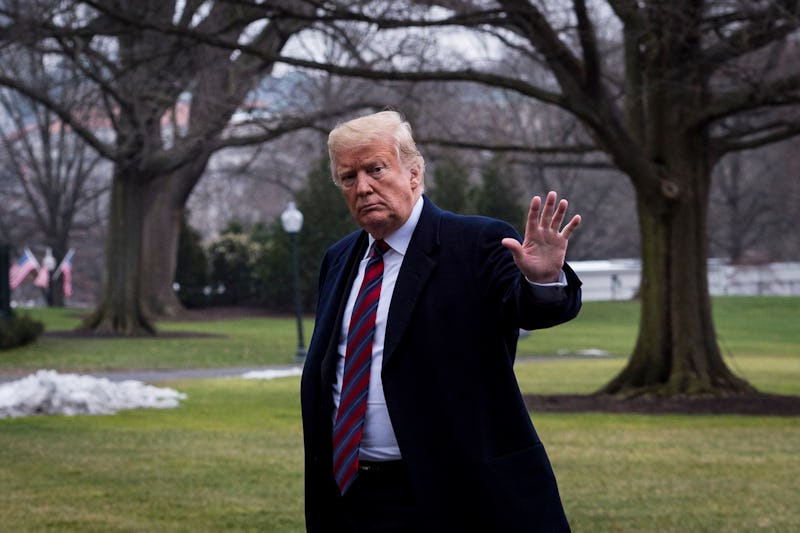 Pete Marovich/Getty Images News/Getty Images
When Martin Luther King Jr. Day rolls around every January, it's expected that the president will do something to commemorate the birthday of the slain civil rights leader whom the holiday celebrates. President Donald Trump's Martin Luther King Jr. Day message recognizes the holiday, but his detractors are still criticizing the fact that he's not doing anything else to honor King and what he stood for.
Trump marked the holiday by posting the link to his presidential proclamation on Martin Luther King Jr. Day on Twitter, along with a message to his followers.
"Today we celebrate Dr. Martin Luther King, Jr. for standing up for the self-evident truth Americans hold so dear, that no matter what the color of our skin or the place of our birth, we are all created equal by God," Trump's tweet read.
"Today, as we pause to mark the life and legacy of Dr. Martin Luther King, Jr., we recommit ourselves to the advancement of equality and justice for all Americans, and to the full realization of his worthy dream," Trump's MLK Day proclamation read. He used it to highlight economic figures from his administration, like the unemployment rate for African Americans, and the work that his administration has done on criminal justice reform with the First Step Act.
"We have also made great strides as a Nation, but we acknowledge that more work must be done for, in the words of Dr. King, 'justice to roll down like waters and righteousness like a mighty stream,'" said the proclamation. "May the memory of Dr. Martin Luther King, Jr., and the efforts we have made to fully effectuate his dream, remind us that faith and love unite us together as one great American family."
Besides the proclamation, though, the White House schedule showed that Trump doesn't have any plans for MLK Day, as The Daily Beast noted on Sunday. This isn't necessarily normal behavior for a president, but it's not the first time for Trump; in 2018, as CNN reported, Trump went golfing on MLK Day. Now, the absence of any official White House event to honor the day has drawn the attention of Trump's critics on Twitter and elsewhere.
The Rev. Al Sharpton, for example, criticized Trump at a National Action Network breakfast in King's honor.
"This is an insult to the American people that the president of the United States does not officially recognize or give any ceremony for Dr. King," Sharpton said, according to the New York Post.
"Trump celebrating MLK Jr Day by doing nothing," wrote journalist Judd Legum on Twitter. "He still hasn't address comments about white supremacy by Steve King, one of his strongest allies in Congress."
According to the pool report, Trump did visit the MLK Memorial to leave a wreath, but he spent about two minutes there and only greeted the assembled reporters before leaving again. He posted a short video of this visit to the MLK Memorial on Twitter. Vice President Mike Pence also made headlines on Sunday by using a Martin Luther King Jr. quote to defend Trump's wall, which the NAACP quickly called "an insult to Dr. King's Legacy" in a tweet.
Even if Trump doesn't have any official White House events planned, he did already return to Twitter after posting the MLK Day proclamation.
"Democrats campaigned on working within Washington and 'getting things done!'" Trump tweeted, along with the hashtag "2020 take back the House" in all caps. "How is that working out?"