Trump Justified A New Family Separation Policy In The Most Confusing Way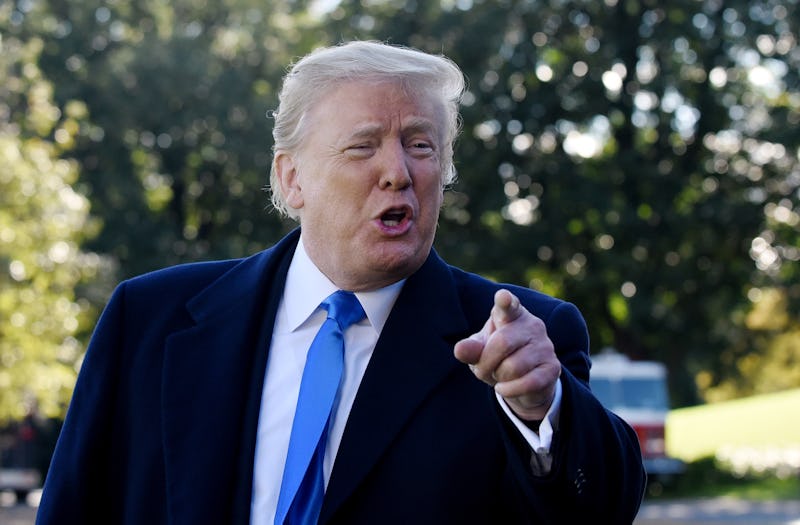 Pool/Getty Images News/Getty Images
President Donald Trump has confirmed that his administration is mulling over a new policy of separating families at the border, saying he thought family separation was an effective means of deterring illegal border crossings. But that's apparently not the only reason behind Trump's new family separation policy. While speaking to reporters outside the White House on Saturday, Trump implied, without providing evidence, that illegal border crossings encouraged child abduction.
"You know, in the old days, when the country wasn't doing well, it was a lot easier," The Washington Post reported Trump said while speaking to reporters before boarding Marine One for Kentucky on Saturday. "Now everybody wants to come in, and they come in illegally, and they use children. In many cases, the children aren't theirs. They grab them, and they want to come in with the children."
The president described how he believed individuals seeking to get into the United States were abducting children as a means of gaining entry. "You have really bad people coming in and using people," Trump said. "They're not their children. They don't even know the children. They haven't known the children for 20 minutes. And they grab children and they use them to come into our country."
On June 20, nearly two months after his administration began separating immigrant children from their families as part of his new "zero tolerance" immigration policy, Trump signed an executive order to officially end the practice amid mounting criticism and public outrage. But while the policy was in place, thousands of children were taken from their parents and held in detention facilities. Numbers reported by the Department of Homeland Security show that from April 19 to May 31 nearly 2,000 children were separated from their parents with another 2,342 separated between May 5 and June 9.
What's more, the Trump administration has had trouble reuniting immigrant children with their parents, missing multiple court deadlines to do so. According to CNN, more than 600 children remained separated from their parents in early September.
But while speaking to reporters on the White House's South Lawn on Saturday, Trump claimed family separation works. "We have people that are trying to get into our country because of how well our country is doing," he told reporters. "If they feel there will be separation, they won't come."
However, the president wouldn't go so far as to say that his administration had already committed to a new family separation policy, stressing instead that it was simply under consideration. "We're looking at a lot of different things having to do with illegal immigration," he said, per Reuters. "We're going to do whatever we can do to get it slowed down."
According to The Washington Post, the Trump administration is reportedly considering, among other things, a policy in which immigrant families seeking asylum are detained together for a maximum of 20 days. Parents would then be given the choice of keeping their children with them in detention until their immigration case is completed — a process The Post reports could take months or years — or voluntarily sending their children to a government shelter where a relative or guardian could seek custody.