Trump's Comment About His Nobel Peace Prize Nomination Is Pure Donald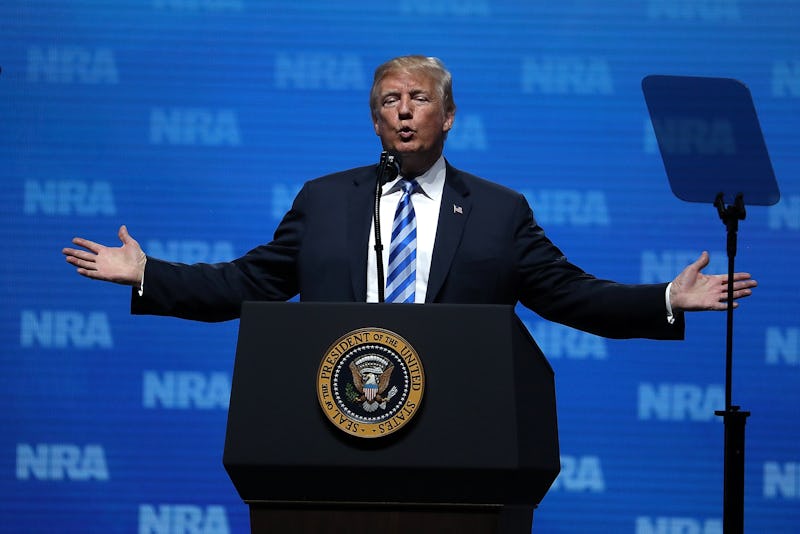 Justin Sullivan/Getty Images News/Getty Images
In a meeting with reporters Wednesday, President Trump said "everyone thinks" he deserves a Nobel prize, but declined to weigh in on whether he himself thinks that he's worthy of the award. The president added that the "the only prize" he wants is "victory for the world."
"Do you deserve a Nobel [Peace] Prize?," a reporter asked the president at the White House.
"Everyone thinks so, but I would never say it," Trump said, chuckling. "You know what I wanna do? I wanna get it finished. The prize I want is victory for the world. Not for even here. I want victory for the world. 'Cause that's what we're talking about. So that's the only prize I want."
Trump's comments came after South Korean President Moon Jae-in said that Trump should win the Nobel Peace Prize for his attempts to broker a peace deal between North and South Korea. The two countries appear to have had a diplomatic breakthrough in recent weeks, including an historic summit between Moon and North Korean President Kim Jong Un and some symbolic concessions by both sides.
It's unclear what role Trump has played in any of this. However, U.S. Secretary of State Mike Pompeo has gone to North Korea twice (once in his previous position as CIA chief), and a face-to-face meeting between Trump and North Korean President Kim Jong-un is reportedly in the final planning stages. On Wednesday, North Korea released three U.S. citizens that it had been detaining, possibly in a show of good faith ahead of the Trump-Kim summit.
It was Moon who initially suggested that Trump win the Nobel Peace Prize, reportedly telling aides flatly that "Trump should win the Nobel Peace Prize." Shortly thereafter, 18 House Republicans sent a letter to the Nobel committee formally nominating Trump for the prize (Any federal lawmaker in any country is eligible to nominate somebody for the award, per Nobel rules). On Wednesday, British Foreign Secretary Boris Johnson also floated the idea, although he added that Trump should only be nominated for the award if he salvages the Iran nuclear deal.
From the standpoint of Trump and Moon, the goal of peace talks with North Korea would be complete denuclearization of the Korean peninsula — that is, convincing North Korea to give up its nuclear weapons. There has been some progress on this front, as North Korea announced in late April that it will freeze its nuclear tests and close a nuclear testing facility.
However, some have cautioned against celebrating prematurely. The two countries are still technically at war, and although the peace talks appear promising, no formal treaty between the two countries has yet been struck.
"I'm very cautious here," Rep. French Hill told reporters in late April. "[Denuclearization] is the goal, and what a remarkable achievement it would be. But let's make sure that we can get there, and let's not oversell it. It's a hopeful situation."
In an interview with TIME, South Korean Deputy Minister of Foreign Affairs and Ambassador for Public Diplomacy Enna Park said that, in a hypothetical peace treaty, the North would agree to complete denuclearization while in exchange for "regime security." Park said that this would involve the U.S. lifting the economic sanctions it has imposed on North Korea, and could also include the North and South merging into a single economic market.
Another potential sticking point is the 28,500 American troops currently stationed in South Korea, which the North has long opposed. However, U.S. Secretary of Defense James Mattis said Wednesday that the removal of those troops is not "on the table in the initial negotiation."
According to the Nobel committee, 216 people and 114 organizations have been nominated for the 2018 Peace Prize. The names of the nominees won't be released for another 50 years, per Nobel rules.