The Reason Trump's Charity Bought His Portrait For $10,000 Is So Perfectly Trumpian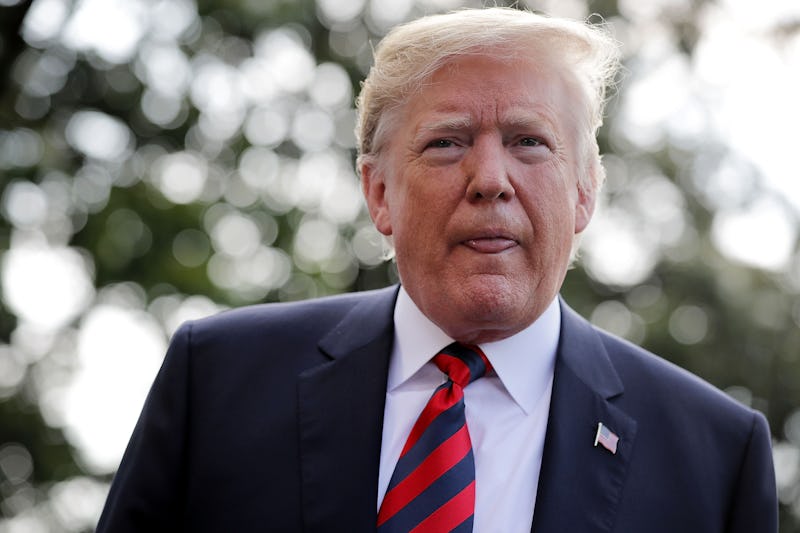 Chip Somodevilla/Getty Images News/Getty Images
In 2014, Donald Trump spent $10,000 of his charitable foundation's money to buy a six-foot-tall painting of himself. The reason, the president's lawyer explained in court Thursday, is that Trump's oil portrait had no bidders at an auction it was being offered at, and so Trump ponied up his charity's money to "get the bidding started" on the painting.
But according to Trump's attorney Alan Futerfas, the portrait received no further bids at the 2014 auction, leaving Trump "stuck with the painting" of himself.
The revelations were made in a Manhattan courtroom Thursday as a part of New York state's lawsuit against Trump and his charity, the Donald J. Trump Foundation. New York Attorney General Barbara Underwood sued the foundation in June, alleging "a pattern of persistent illegal conduct, occurring over more than a decade, that includes extensive unlawful political coordination with the Trump presidential campaign, repeated and willful self-dealing transactions to benefit Mr. Trump's personal and business interests, and violations of basic legal obligations for non-profit foundations."
But Futerfas argued on Thursday that Trump's use of charitable funds to buy a painting of himself — just one of many purchases under scrutiny in the lawsuit — had an innocuous explanation, and that the lawsuit against the foundation should be thrown out.
In addition to claiming that Trump didn't use charitable funds on personal luxuries for himself, Futerfas attempted to argued that Underwood's lawsuit against Trump was political. In his motion to dismiss the lawsuit, he accused Underwood of filing the lawsuit because she wants to "lead the resistance" against Trump.
According to Reuters, however, New York Supreme Court Justice Saliann Scarpulla cut Futerfas off as he was making that point in court on Thursday, and dismissed his claims.
"I know you all are arguing about political bias," Scarpulla said. "I don't want to get involved with that."
Scarpulla didn't throw out the lawsuit on Thursday, as Trump's team had wanted. But she didn't agree not to throw it out, either; rather, Scarpulla said that she won't make a determination one way or another until a different appeals court rules on whether a sitting president can be sued in a civil lawsuit, according to CNN.
Scarpulla noted, however, that even if that appeals court rules in Trump's favor, she won't necessarily toss Underwood's lawsuit entirely. Rather, Scarpulla said, she might simply ask Underwood's office to modify the case to remove Trump personally as a defendant. Currently, the lawsuit names not only the foundation and Trump himself, but also Ivanka Trump, Eric Trump, and Donald Trump Jr., all of whom had a hand in running the foundation.
Much of Thursday's hearing centered on a televised fundraiser for veterans that Trump held in Iowa in January 2016, just days before that state cast its votes in the Republican presidential primary. The fundraiser brought in $2.8 million, and Underwood's office argues that the money was then used by Trump campaign officials — specifically, former campaign manager Corey Lewandowski, who isn't a defendant in the lawsuit — for political purposes.
Assistant Attorney General Yael Fuchs said on Thursday that the Trumps were "completely conflating the identity of the foundation with the identity of the campaign."
"They say that the foundation was a passive recipient of the transactions," Fuchs said on Thursday. "To use the modern parlance, that's not a thing."