Trump Reacts To The Manafort Indictment With Tweets About Hillary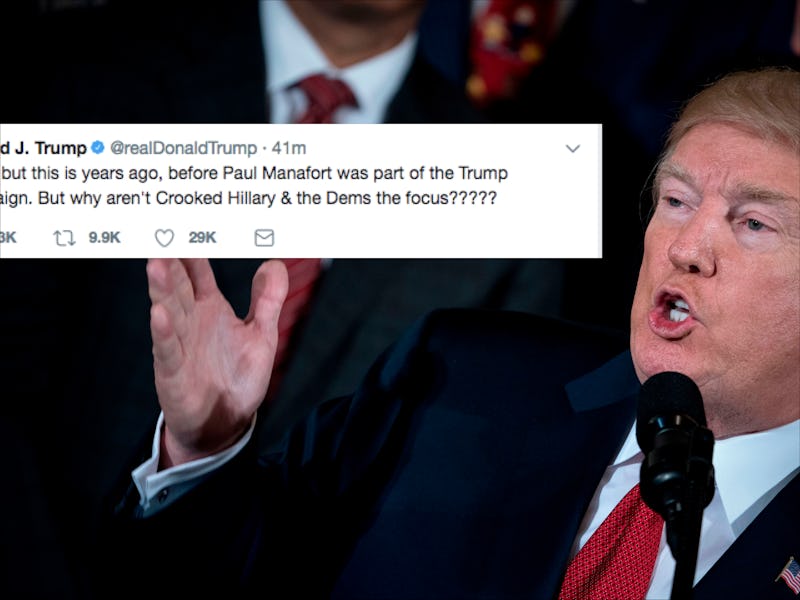 In his first public comment following the charges brought against his ex-campaign chairman, Trump spoke out regarding Manafort on Twitter Monday morning: "Sorry, but this is years ago, before Paul Manafort was part of the Trump campaign. But why aren't Crooked Hillary & the Dems the focus?????" adding in a second tweet: "....Also, there is NO COLLUSION!"
Trump's knee-jerk response — to accuse critics of not treating his once-rival in the same way that they treat the now-president — shouldn't come as a surprise. Last month, Trump criticized Clinton for "allowing North Korea to research and build" nuclear weapons; last week, members of the GOP declared they would open an investigation into the FBI's probe of Hillary Clinton's emails. The president is clearly aware that attacks on his former presidential rival play well with his base and within his party, and have for a long time — after all, a longtime chant during Trump's campaign was "Lock her up!" in regard to Clinton.
Even before Mueller announced that charges would be brought against Manafort and his business associate Rick Gates, Trump was seeking to deflect attention away from himself and his party. Clinton and the Democrats were the obvious target, as Trump wrote on Twitter Sunday:
There is so much GUILT by Democrats/Clinton, and now the facts are pouring out. DO SOMETHING!
This is not a new tactic for the Trump administration regarding Manafort. Corey Lewandowski, who was Trump's campaign manager before he was fired in favor of Manafort, told Fox & Friends over the weekend that the press should focus on "the Clinton administration" instead.
"What we should be focusing on are the continued lies of the Clinton administration, the continued fallacies that they perpetuate," he noted.
To be clear: Trump won the 2016 election. There is no Clinton administration.
Even last week, when The Washington Post reported that the Clintons and the DNC may have helped fund the infamous "dossier" that some believed would bring down Trump's campaign, in a conversation with reporters, Trump made sure to highlight Clinton's potential role.
I understand they made a tremendous amount of money, and Hillary Clinton always denied it, the Democrats always denied it. And now only because it's going to come out in a court case they said, yes, they admitted it and they are embarrassed by it. I think it's a disgrace, it's a very sad commentary on politics in this country.
When another reporter asked about Jeff Flake, Trump once again used his former campaign rival to congratulate himself and the Republican Party:
There is great unity. If you look at the Democrats with Bernie Sanders and Hillary Clinton, that's a mess. There's great unity in the Republican Party.
To be clear: Clinton has noted that, as of her loss in November, she will never run for political office again.
Republicans' reliance on critiquing Clinton to offset blame has inspired observers to ask, in parody, if her opponents believe that Clinton is president. As Taylor Link wrote in Salon:
From her stance on the NFL protests, to her response to the Harvey Weinstein scandal, Fox News has reacted to Clinton's every move as if she were the leader of the free world and the beacon of Americanism.