People In Pittsburgh Made It Clear They Don't Want Trump To Visit After The Shooting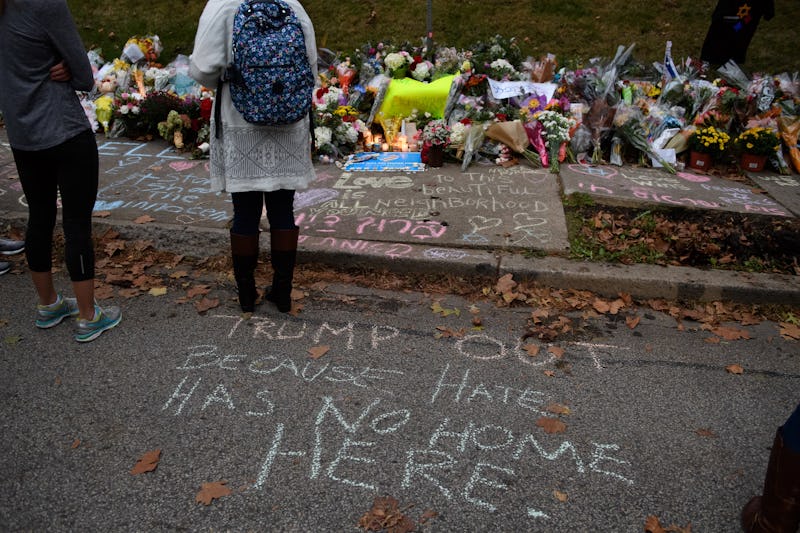 Jeff Swensen/Getty Images News/Getty Images
Days after a gunman shot and killed 11 Jews at a synagogue in Pittsburgh, President Trump and his family will pay a visit to the grieving city. But Trump's post-shooting Pittsburgh visit is being criticized by state, national and local politicians, as well as local Jewish leaders and an additional 75,000-plus people who've signed an open letter urging him not to come.
Saturday's shooting in Pittsburgh was the deadliest attack on a Jewish community in U.S. history, according to the Anti-Defamation League. The suspect, who is in custody and has been charged with 29 felonies, posted anti-Semitic threats online prior to the shooting and told police, "I just want to kill Jews," according to CBS News.
Senate Majority Leader Mitch McConnell, House Speaker Paul Ryan, Senate Minority Leader Chuck Schumer, and House Minority Leader Nancy Pelosi were all invited to join Trump in Pittsburgh, CNN reports. However, each one of them declined. So did Pennsylvania Sen. Pat Toomey, Gov. Tom Wolf, Pittsburgh Mayor Bill Peduto, and Pittsburgh County Executive Rich Fitzgerald, according to The Washington Post and CNN. Peduto told CNN that Trump should "choose a different time" to visit, while Fitzgerald said that "if the President wishes to come next week, or the next, that's something we can look at."
Meanwhile, leaders from the Pittsburgh branch of Bend the Arc, a progressive Jewish group, penned a letter to Trump telling him he's "not welcome" in the city until he "fully denounce[s] white nationalism." Trump was accused of using anti-Semitic dog whistles at several points during his presidential campaign, and faced heavy criticism in 2017 for saying that a group of neo-Nazis and white supremacist protesters in Charlottesville, Virginia, included some "very fine people." At one point, he refused to condemn former Ku Klux Klan leader David Duke, who endorsed him for president.
"For the past three years your words and your policies have emboldened a growing white nationalist movement. You yourself called the murderer evil, but yesterday's violence is the direct culmination of your influence," Bend the Arc's Pittsburgh Steering Committee wrote. "Our Jewish community is not the only group you have targeted. You have also deliberately undermined the safety of people of color, Muslims, LGBTQ people, and people with disabilities. Yesterday's massacre is not the first act of terror you incited against a minority group in our country."
As of this writing, over 75,000 people have signed the letter.
Trump will make the visit in between the many campaign rallies he's holding for the GOP in the last week before the 2018 election. The president plans to hold 11 rallies in eight states in the final six days before the midterms, according to The Hill, to stump for Republican candidates in battleground states. According to CNN, there were talks in the White House about rescheduling Trump's Pittsburgh stop for Wednesday or Thursday, but aides ultimately decided that visiting a grieving community on the same day as a campaign rally wouldn't create good optics for the president.
The Washington Post reports that Trump didn't invite several local Democrats to join him in Pittsburgh, including Sen. Bob Casey, Rep. Conor Lamb, and Rep. Mike Doyle.