Trump Opened Up About His Relationship With "Darling" Melania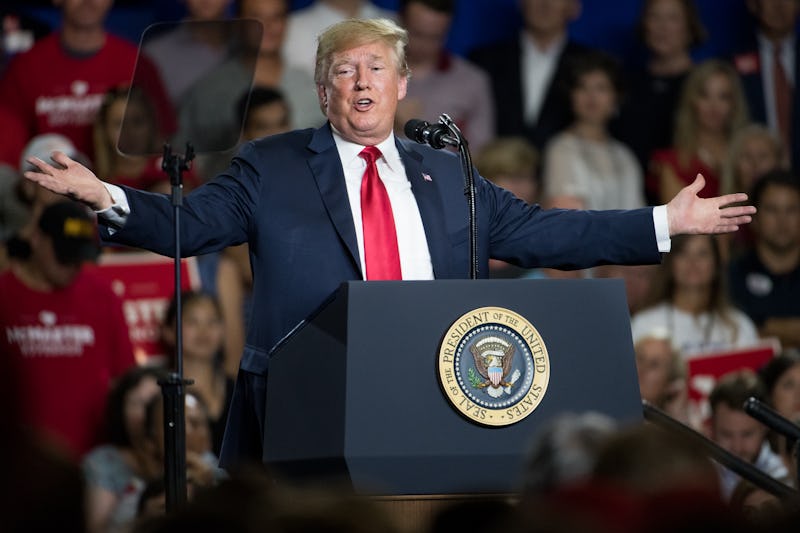 Sean Rayford/Getty Images News/Getty Images
A thunderstorm almost kept President Trump at bay, but in the end, not even Mother Nature could keep him quiet Monday night. He flew to South Carolina to support Gov. Henry McMaster who is facing a runoff Tuesday for the GOP nomination. But most of Trump's speech focused not on his host but whatever came to mind. It was a return to the endless and sincere non-sequiturs and topic roulette — one of which was his wife. Donald Trump spoke about Melania Trump and their relationship, saying they "have never done better."
After McMaster's introduction, topics veered left and right. From the weather conditions on his flight in to Jimmy Fallon and the conditions inside detention facilities for migrant families along the border. At some point, Trump made it to his former show, The Apprentice, and the host who replaced him, fellow celebrity and politician Arnold Schwarzenegger.
He told an anecdote from when the host changed in which Melania Trump told him, "There is nobody, darling, that can take your place." On President Trump's first mention of "my wife," the crowd went wild, cheering for the first lady. Trump agreed with her thinking. "Isn't she smart? Isn't she smart?" he said before veering again. "And she has got a great style."
Trump complimented how his wife looked during the king and queen of Jordan's visit and then said, "She has done a tremendous job as first lady." The crowd went wild again.
"And you know she had an operation a few weeks ago, a kidney operation, and she's going to be great; she's fine," he continued. And then he addressed the rumors as to where she's been. Trump said:
They had all kinds of projections. They said she got a facelift. No, I would let you know. They couldn't hide that one for long. They said she left me and moved to Virginia. They said she left me and moved to New York. She moved to Virginia, she moved to New York. The only thing they wouldn't say is what happened, and that's OK. She's private. She doesn't want to talk about things.
Trump called it "really unfair stuff" and then commented on their relationship before veering to polling. "We have never done better than we are doing now," Trump told the crowd. "We have never had a time like we have now. We never have. We've never had higher polls than we have now— even Gallup, who treats me horribly."
The other recent obsession with the first lady is what she may have meant by wearing the controversial Zara jacket she did on her way to see children who had been detained crossing the border and separated from their parents under a Trump administration "zero-tolerance" policy. The jacket read, "I REALLY DON'T CARE, DO U?" and had many wondering if there was a hidden message.
Donald Trump tried to clear that up not at the rally but on Twitter. "'I REALLY DON'T CARE, DO U?' written on the back of Melania's jacket, refers to the Fake News Media. Melania has learned how dishonest they are, and she truly no longer cares!" Trump posted.
He also attacked the news media during his rally speech — which was just about 50 minutes in length. During his comments on The Apprentice he attacked NBC, saying that he thought they were "even worse" than CNN. The crowd cheered.
Melania Trump's latest public appearance was during Monday's visit with the Jordanian royalty. She has been seen more frequently than she was during the weeks before and after her surgery, which according to her communications director went well.
Donald Trump is clear that things are going well for the two also.