Trump Had A Remarkable Response To Michael Cohen Pleading Guilty Again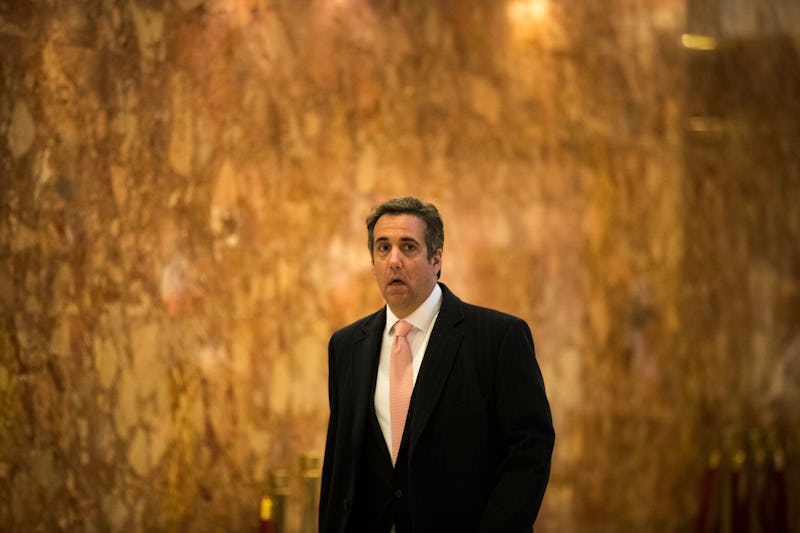 Drew Angerer/Getty Images News/Getty Images
President Donald Trump's former longtime personal lawyer and fixer, Michael Cohen, showed up in a federal district court in Manhattan on Thursday to enter a guilty plea for a criminal charge that had not been previously reported on. Going by Trump's response to Michael Cohen's guilty plea, the president is not pleased with the action that Cohen took or with the information he shared as part of his guilty plea.
Cohen already pleaded guilty to breaking laws surrounding campaign finance in August, according to The New York Times, but the guilty plea on Thursday came as a surprise to the public. On Thursday, Cohen pleaded guilty to making false statements to Congress, according to the plea documents as posted by Lawfare Blog. The false statements, according to The Times, came in Cohen's written testimony regarding his own efforts to build a Trump Tower in Moscow while the 2016 presidential campaign was going on. Cohen lied about both the negotiations themselves and the extent of his content with the Kremlin about the matter, per The Times.
In his Thursday morning response to his former lawyer's plea deal, Trump called Cohen a "weak person" and said that he was "lying" so that he could get a lesser sentence.
"He's a weak person and not a very smart person," Trump told reporters, according to USA Today. He also said that Cohen was "making up a story."
Prosecutors, however, said that Cohen had given false testimony in order to "minimize links between the Moscow Project and (Trump) and give the false impression that the Moscow Project ended before the Iowa caucus and the very first primary in hopes of limiting the ongoing Russia investigations," as USA Today reported.
Trump has repeatedly claimed that he has no connections to Russia, business or otherwise.
"Russia has never tried to use leverage over me," Trump wrote on Twitter in January 2017. "I HAVE NOTHING TO DO WITH RUSSIA - NO DEALS, NO LOANS, NO NOTHING!"
According to Cohen's plea and a lot of other reporting, however, Trump did in fact attempt to do business in Russia, and this was even going on during the 2016 election.
BuzzFeed released an extensive report in May 2018, for example, about Trump's continued negotiations for a potential Trump Tower in Moscow; it indicated they were taking place over the summer of 2016. Michael Cohen was one of the two key players in those negotiations, along with Felix Sater, a former Trump associate who regularly negotiated deals on behalf of the Trump Organization. Sater, according to BuzzFeed, testified in April 2017 that Cohen had been a major part of this push, and that Cohen had kept Trump informed on the matter.
When asked about his ties to Russia in July 2016, however, Trump said, "I will tell you right now, zero, I have nothing to do with Russia, yes?" according to CNBC.
In court on Thursday, Cohen made it clear that he made the false statements as an act of loyalty to Trump, who in court he referred to as "Individual-1," as The Washington Post wrote.
"I made these misstatements to be consistent with individual 1's political messaging and out of loyalty to individual 1," Cohen said on Thursday, according to a Reuters report.
"This was a deal that didn't happen," Trump also said in response to Cohen's plea, as CNN wrote. "There would've been nothing wrong if I did do it."