Trump Just Came Up With A New Nickname For Robert De Niro & It's A Doozy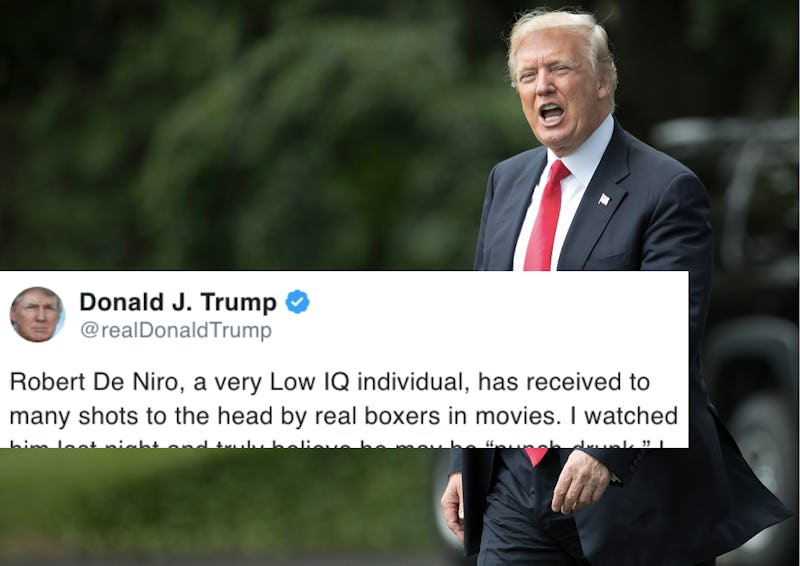 Win McNamee/Getty Images News/Getty Images
If you're a regular denizen of the internet, you might be aware of a certain Hollywood figure's disdain for President Donald Trump. Robert De Niro's recent criticism of the president has been met with an aggressive reaction from Trump. On Twitter on Tuesday, the president mocked De Niro's intelligence, saying that appearing in action movies may have harmed his thinking capabilities.
Trump's tweets came shortly after De Niro criticized him over the past few days, first during the Tony Awards and then later in Toronto. It was enough to rile the president up who tweeted on Tuesday, "Robert De Niro, a very low IQ individual, has received to [sic] many shots to the head by real boxers in movies. I watched him last night and truly believe he may be 'punch-drunk.' I guess he doesn't [...] realize the economy is the best it's ever been with employment being at an all time high, and many companies pouring back into our country. Wake up, Punchy!"
The Hollywood actor's criticism for the president first went on-air at the Tony Awards an elicited support and disagreement from observers. But it seems like De Niro hasn't changed his mind about Trump, regardless of what others think. At the Tony Awards, De Niro took Trump saying, "First, I wanna say, 'f*ck Trump.' It's no longer 'Down with Trump,' it's 'f*ck Trump.'"
The celebrity made his contempt for Trump known shortly before introducing the audience to Bruce Springsteen. Once he was done, he received a thunderous, standing ovation.
Later on, on Monday De Niro was present in Toronto for the opening of celebrity chef Nobu Matsuhisa's restaurant. The actor apologized for Trump while addressing the Canadian public, "I just want to make a note of apology for the idiotic behavior of my president. It's a disgrace. And I apologize to [Canada's Prime Minister] Justin Trudeau and the other people at the G7. It's disgusting."
De Niro's apology referred to Trump's diatribe against Trudeau after the G7 convention. The purpose of the summit is to bring Italy, Japan, France, Germany, Canada, the United Kingdom, and the United States on the same page when it comes to global energy policy, economic advancement, and more.
Relations between Canada and the United States had already been rocky after Trump's introduced tariffs on steel and aluminum against Canada. In response, Trudeau said that he would introduce tariffs for the United States, the dynamic between both countries seemed to worsen, which was most evident from Trump's tweet against Trudeau.
Trump went on a rant against Trudeau on Twitter and said, "[Prime Minister] Justin Trudeau of Canada acted so meek and mild during our @G7 meetings only to give a news conference after I left saying that, 'US Tariffs were kind of insulting' and he 'will not be pushed around.' Very dishonest and weak. Our tariffs are in response to his of 270 percent on dairy!"
The president may have thought his tweet about De Niro would win instant approval from his fans — similar to how De Niro's anti-Trump statement wowed his crowd. But Trump's tweet didn't land well for many, especially among those who pointed out his spelling errors.
Time and again, Twitter users responded to Trump's tweet on De Niro by reminding him that it is "too" — not "to" — that he should've used in his tweet. But beyond spelling mistakes, others had bigger questions. One wondered aloud, "Don't you have something better to do? Like, I don't know run a country or something?" Some Twitter users simply disagreed with Trump's verbal sparring with De Niro, including this user who said, "A real president wouldn't engage in a war of words like this."