What You Didn't Know About Trump's Surprisingly Long History With Saudi Arabia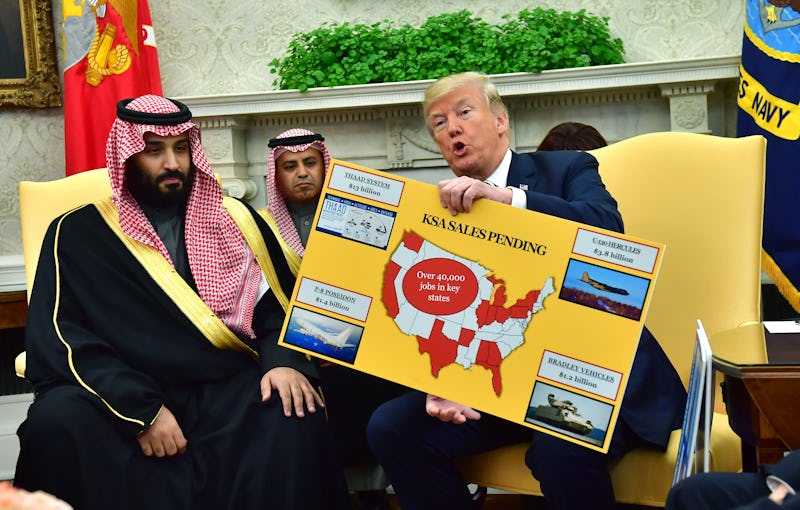 Pool/Getty Images News/Getty Images
In the wake of Washington Post columnist Jamal Khashoggi's disappearance, Donald Trump's ties with Saudi Arabia have been put under the spotlight. Khashoggi's disappearance on Oct. 2 has become an increasingly tense source of conflict between the two countries. In a 60 Minutes interview, Trump said of the crisis, "It's being looked at very, very strongly. And we would be very upset and angry if [Saudi Arabian involvement] were the case." But his extensive business ties to the nation have led some to believe that it might incite biased treatment of the country in situations like this.
Trump has repeatedly displayed a soft spot for the country, going so far as to declare, "I love Saudis," when announcing his bid for president in 2015. What's more, Saudi Arabia was the first country he visited as president. While visiting the country, he boasted of striking a deal between the two nations where the United States would sell $110 billion in weapons to the kingdom.
At an Alabama rally in 2015, Trump said, "Saudi Arabia, I get along with all of them. They buy apartments from me. They spend $40 million, $50 million. Am I supposed to dislike them? I like them very much."
The president's long history with Saudi Arabia prior to his presidency, though, reflects a series of investments and purchases on a multi-million dollar scale. Saudi investors helped save Trump's Plaza Hotel from going under in 1995, joining in on a $325 million deal to keep the hotel afloat. Then, in 2001, Trump sold the full 45th floor of the Trump World Tower to the Kingdom of Saudi Arabia for $12 million. Since then, Trump has registered at least eight companies with names tied to Saudi Arabia.
On a personal level, Trump's history with Saudi Arabian billionaires includes multiple purchases and sales of hundred-million dollar yachts; he bought one from a billionaire arms dealer who was related to Khashoggi, then later sold one to another billionaire years later, when he was teetering on the edge of bankruptcy in 1991.
Of course, some might point out that all of this happened prior to the 2016 election. But government officials and lobbying groups representing Saudi Arabia have continued serving as customers to Trump hotels. For example, The Washington Post notes that one PR firm working for the Kingdom of Saudi Arabia spent $270,000 at the Trump hotel in D.C. last March.
If Trump was receiving any form of compensation from a foreign government official, it would constitute a "gift," which would be unconstitutional. For this reason, attorneys general for D.C. and the state of Maryland are currently embroiled in a lawsuit with Trump, claiming that his ties to his businesses (and those subsequent ties between his businesses and foreign entities) represent "unprecedented unconstitutional violations." In response, the Trump administration has filed a 70-page legal brief arguing that the lawsuit should be dropped.
For now, Trump has confirmed that he is looking into the Khashoggi disappearance thoroughly. Most recently, he tweeted on Monday that the United States was working with Turkey (where Khashoggi disappeared) to get to the bottom of the matter. However, he also repeatedly claimed that Khashoggi's disappearance is not necessarily the United States' problem because it happened in Turkey and Khashoggi was "not a citizen."
Several sources have since confirmed that Khashoggi was a Saudi Arabian citizen, but he was also a confirmed legal resident of the United States at the time of his disappearance.