Trump's Potential Trade Bill Is Being Called The "FART" Act & Yes, People Are Amused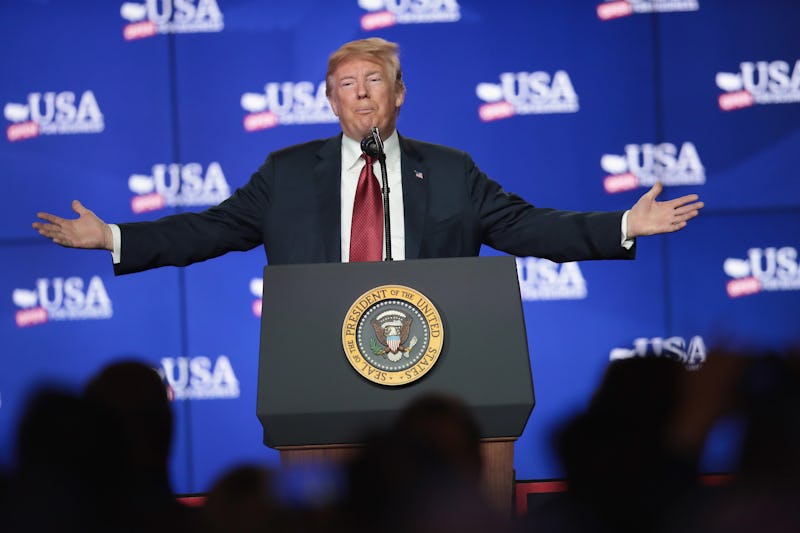 Scott Olson/Getty Images News/Getty Images
According to many observers, effectively pulling the United States out of the World Trade Organization is a stunningly bad idea. But on Twitter, the Trump administration's draft bill to do just that is drawing more ridicule because of its acronym. Either way, Trump's "FART Act" draft bill is getting a lot of attention, and not exactly for any positive reasons.
Axios originally obtained a leaked draft bill, which was titled the "United States Fair and Reciprocal Tariff Act." If passed, Axios explained, the legislation would essentially give Trump full power to levy import taxes on countries at will and negotiate his own trade agreements, ignoring the most important elements of the WTO rules. This, according to CNBC, would mean that the world's largest economy would effectively no longer be part of the WTO, which would severely cripple the organization.
However, Business Insider noted that online, the element of the draft bill that was getting the most attention wasn't its content, but instead its acronym — the "FART Act." And it's not just Trump critics who have emphasized that little piece of the draft — even former Trump director of communications Anthony Scaramucci brought it up in a tweet.
"WTO has its flaws, but the 'United States Fair and Reciprocal Tariff Act,' aka the U.S. FART Act, stinks. American consumers pay for tariffs. Time to switch tactics," Scaramucci wrote on Twitter.
The Mooch wasn't the only one to notice it. Some Twitter commentators suggested that it might have been the result of a trolling operation rather than a simple failure to consider the acronym.
"Did they name it the 'FART Act' to troll the president?" wrote Josh Barro, a senior editor at Business Insider. Others took the joke a step farther, ruminating on how, for example, "every member of Congress should be asked whether they would openly stand behind a FART act," as one Twitter user suggested. One man even noted how it would make his job a little easier, saying "As an editor who writes some headlines at the NY Post can I just say I'm really psyched about the FART Act."
The most common reactions to the FART Act, though, were ones of alarm. "My head hurts so much...Trump is pushing a bill that's literally called the US FART Act," wrote online educator Hank Green. "It's a terrifying over-reach of presidential power that would disintegrate decades of trade relationships with our allies and it's also called the US FART Act."
So far, though, it seems very unlikely that the FART Act will ever make its way through Congress to become a law. Axios reported that a source familiar with it told them that Congress would never authorize the bill.
"It's not implementable at the border," the source said. "And it would completely remove us from the set of global trade rules."
Axios' response from the White House, though, painted the drafted legislation as a "remedy" to what they called the "unfair imbalance of tariffs" that Trump has complained about recently.
"It is no secret that POTUS has had frustrations with the unfair imbalance of tariffs that put the U.S. at a disadvantage," White House spokesperson Lindsay Walters told Axios. "He has asked his team to develop ideas to remedy this situation and create incentives for countries to lower their tariffs. The current system gives the U.S. no leverage and other countries no incentive."
Walters also stressed that it was not, in any way, a final draft.
"The only way this would be news is if this were actual legislation that the administration was preparing to rollout, but it's not," she told Axios. "Principals have not even met to review any text of legislation on reciprocal trade."