This Photo Of The Lawmakers Who Created Trump's Tax Plan Will Infuriate You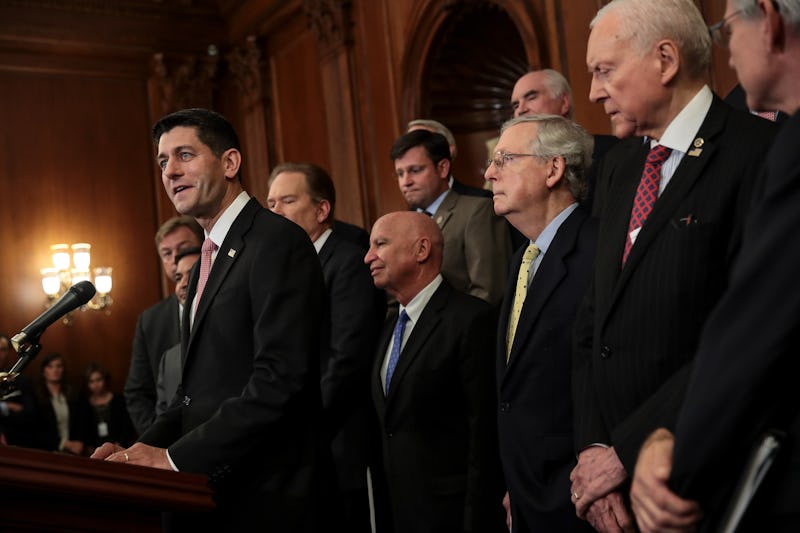 Drew Angerer/Getty Images News/Getty Images
Donald Trump's new tax reform plan is most likely to benefit "business owners who live in low-tax states, people who don't take deductions, and heirs of very large estates," according to The Wall Street Journal. This is not too surprising, however, given that Trump's tax plan was primarily crafted by white men.
Kasie Hunt, NBC News' Capitol Hill correspondent, shared a photograph on Twitter of the Republicans behind the plan. Although Tennessee Rep. Diane Black was part of this Republican group, most of the people in the initial photograph are white men. In fact, the six key players who negotiated the tax reform plan behind closed doors — known as the Big Six — were all white men: House Speaker Paul Ryan, Senate Majority Leader Mitch McConnell, Treasury Secretary Steven Mnuchin, Trump Economic Adviser Gary Cohn, Senate Finance Chairman Orrin Hatch, and House Ways and Means Chairman Kevin Brady.
This is not the first time that women and people of color have been insufficiently represented in GOP decision-making spaces. Back in March, Vice President Mike Pence came under fire after tweeting a photo of a meeting with the House Freedom Caucus about health care. The meeting was specifically called to discuss whether or not the GOP's plan to repeal and replace Obamacare would eliminate the Affordable Care Act's essential health benefits — but although these benefits required insurers to cover things like maternity care and pregnancy, not a single woman was present at the meeting. Indeed, that photo also featured a large group of white men.
Trump unveiled the GOP's new tax reform framework on Wednesday in Indiana, where he lauded it as historic.
"This is a once-in-a-generation opportunity, and I guess it's probably something I could say that I'm very good at," Trump said. "I've been waiting for this for a long time. We're going to cut taxes for the middle class, make the tax code simpler and more fair for everyday Americans. And we are going to bring back the jobs and wealth that have left our country and most people thought left our country for good."
According to USA Today's editorial board, a simplification of the tax code is long overdue, but Trump's new tax plan is nonetheless unlikely to help the voters who put him in office. Under the new plan, business owners might pay fewer taxes than some of their employees; this could also lead to high-income individuals seeking business owner status in order to avoid higher tax rates.
Despite this analysis, Trump framed the new tax plan as helping American workers and businesses, claiming it "will stop punishing companies for keeping their headquarters in the United States."
Trump also insisted that the GOP's tax reform plan would not help the country's wealthiest taxpayers, including himself — even though he still has not released his tax returns and can therefore not prove this claim.
"It's not good for me, believe me," Trump said. He added:
What is good for me, not only as president and legacy, what is good for me is if everything takes off like a rocket ship. Like it should have for 20 years. That's good for me. That's good for everyone. And that's what I think is going to happen. And a lot of very wealthy people feel the same way, believe me.
In addition to unveiling the tax plan, Trump took his presence in Indiana as an opportunity to essentially threaten the state's lone Democratic senator, Joe Donnelly. Trump told Donnelly — who had joined the president at the event — to expect a fierce campaign against him if he didn't vote in favor of the GOP's tax plan.
The new tax plan was unveiled after months of closed-door negotiations between the aforementioned white men. Despite the lack of representation in the team that crafted the plan, Trump nevertheless suggested that he expected to draw some Democratic support for it, arguing that "tax reform has not historically been a bipartisan issue."