Trump's 2018 Thanksgiving Day Plans Will Look Very Familiar To You — Here's Why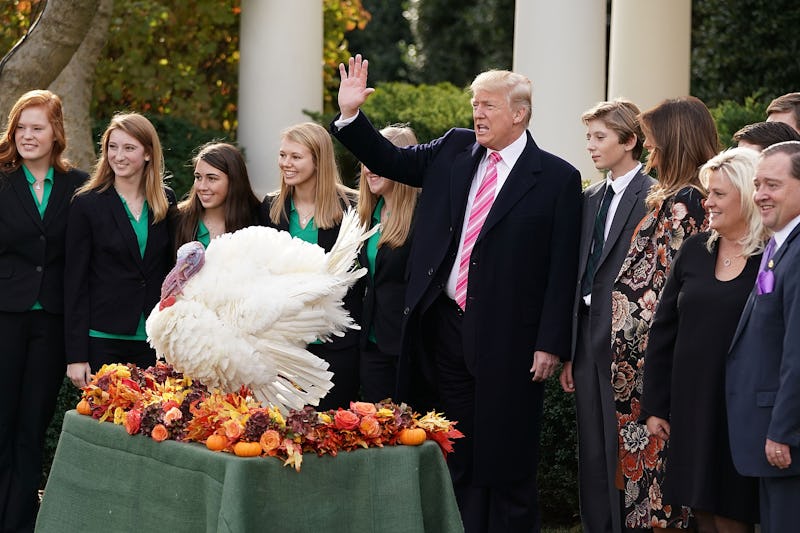 Chip Somodevilla/Getty Images News/Getty Images
The Thanksgiving holiday is rapidly approaching and many around the country are making plans to celebrate the occasion. For his part, Donald Trump's 2018 Thanksgiving Day plans look pretty much the same as they did last year. However, this year, they are drawing increased scrutiny.
As Newsweek reported, Trump plans to spend this Tuesday through Sunday at Mar-A-Lago, his resort in Palm Beach, Florida. Trump similarly headed to the resort for the holiday in 2017, indulging in a traditional Thanksgiving meal accompanied by some Florida seafood specialities.
Trump's Thanksgiving plans have drawn particular condemnation this year because of his decision to deploy over 5,000 active duty troops to the southern U.S. border, as Newsweek reported. The deployment of these troops is perceived as unnecessary by some, as there are already over 2,000 National Guardsman stationed at the border in anticipation of the arrival of the migrant caravan. The active duty troops are scheduled to remain at the border until Dec. 15, which eliminates the possibility of them spending Thanksgiving with their families, as Newsweek indicated.
In a Nov. 10 article, the New York Times described living conditions for the active duty troops on the border, characterizing them as bare bones. Troops reside in tents with no electricity and subsist off of MRE rations. They also are not provided with combat or hostile fire pay.
The paper noted that some military officials believe that the deployment of the troops to the border is bad for morale, particularly because the troops don't really have a concrete objective beyond assisting with logistics. As the New York Times explained, troops cannot legally enforce immigration law unless the president declares martial law. Anthony Brown, a Democratic representative from Maryland and a former Army helicopter pilot, highlighted some of these concerns when speaking with the paper:
When you give a soldier a real mission, you have less of a morale problem, even if it's Christmas or Thanksgiving ... But when you send a soldier on a dubious mission, with no military value, over Thanksgiving, it doesn't help morale at all.
Trump's Thanksgiving plans for this year have drawn particular attention because of his decision to deploy active duty troops. Trump's plans are perhaps also receiving attention because some may be curious as to how they may differ from those of his recent predecessors.
President Obama and his family typically spent Thanksgivings at the White House. They also often volunteered at shelters to serve Thanksgiving meals, as CNN reported. The outlet further noted that George W. Bush usually spent Thanksgivings at either Camp David, the official presidential retreat in Maryland, or at his family home in Crawford, Texas. Notably, over one Thanksgiving holiday (in 2003), Bush made a surprise visit to Iraq to dine with troops stationed there during the apex of the war.
It's certainly apparent that Trump's Thanksgiving plans have drawn scrutiny this year because of his troop deployment decision. Time will tell whether Trump will choose to respond to this criticism — and if he will continue the presidential tradition of contacting members of the military on Thanksgiving to express gratitude for their service.