Trump Just Announced A Gag Rule On Abortion In America — But Its Not Official Yet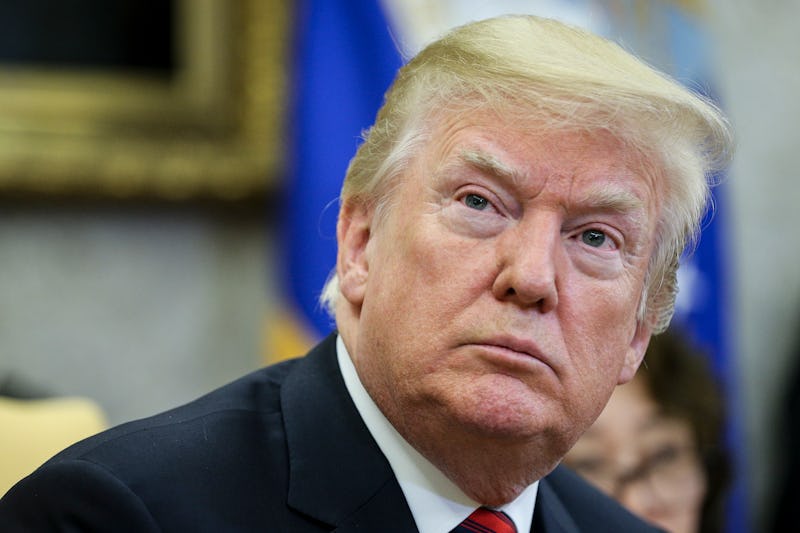 Pool/Getty Images News/Getty Images
In a much anticipated speech on Tuesday night, President Trump announced Title X funding changes to prohibit abortion providers from receiving grants through the program. His announcement was part of a speech delivered at the Susan B. Anthony List's 11th annual Campaign for Life gala.
A draft of the Title X update was shared by the Department of Health and Human services earlier on the same day, though it has not yet been posted to the Federal Register. According to a Planned Parenthood press release, there is expected to be a 60-day comment period after its posting.
"For decades, American taxpayers have been forced to subsidize the abortion industry through Title X funding," Trump said Tuesday. "My administration has proposed a new rule to prohibit Title X funding from going to any clinic that performs abortions."
Reports that the Trump administration would seek to narrow clinic eligibility for Title X grants have circulated for weeks. Pro-choice groups have largely classified the then-rumored proposal as a direct effort to restrict Planned Parenthood's access to federal monies. Indeed, while introducing Trump on Tuesday night, the president of Susan B. Anthony List, Marjorie Jones Dannenfelser, said that the group was specifically fighting to separate Planned Parenthood from federal dollars.
"President Trump has done everything in his power to protect unborn children and their mothers, and to get their tax dollars out of the abortion business for good," she said during her remarks.
Pro-choice groups immediately responded to Trump's announcement. "Everyone, regardless of their income or where they live, deserves the best medical care and information available," said Dawn Laguens, executive vice president, Planned Parenthood Federation of America, in a press release. "Under this rule, they won't get it. This is one of the largest-scale and most dangerous attacks we've seen on women's rights and reproductive health care in this country. This policy is straight out of The Handmaid's Tale — yet, it's taking effect in America in 2018."
Aside from demanding "financial and physical separation between Title X funded projects" and clinics and programs that perform abortions, the proposed changes seek to prevent doctors who receive Title X funding from directly referring patients to abortion services. Under the current draft language, doctors would be able to "counsel" patients about abortions, but if their facilities or projects receive Title X grants, those doctors would not be allowed to, "perform, promote, refer for, or support, abortion as a method of family planning."
Currently, Title X funding services about 4 million people, and approximately 41 percent of these recipients receive care at Planned Parenthood. However, Planned Parenthood maintains that it comprises only 13 percent of the health care centers who receive Title X funding across the country. While the proposed changes have been characterized as a direct swipe at the organization, they could potentially produce negative consequences well beyond Planned Parenthood's doors.
If clinics that perform abortions are no longer eligible for Title X funding, then other health care clinics and hospitals could potentially be forced to shoulder the burden of seeing patients who would otherwise go to health care centers like Planned Parenthood. And even though Planned Parenthood services a very large percentage of Title X recipients, almost 75 percent their public funding actually comes from Medicaid reimbursements — not Title X.
Additionally, Title X funds care for some of the most vulnerable populations. The Guttmacher Institute reports that two-thirds of people who receive care through Title X are at or below the federal poverty level. And, according to the institute, approximately six in 10 women who use federal monies to pay for contraception, do so through Title X-backed health care providers.
The proposed changes are not codified yet, but as evidenced in Tuesday night's speeches, anti-choice groups are tremendously intent on seeing them passed. What happens next will be key.