Trump Still Hasn't Responded To The Toronto Shooting & It's Not The First Time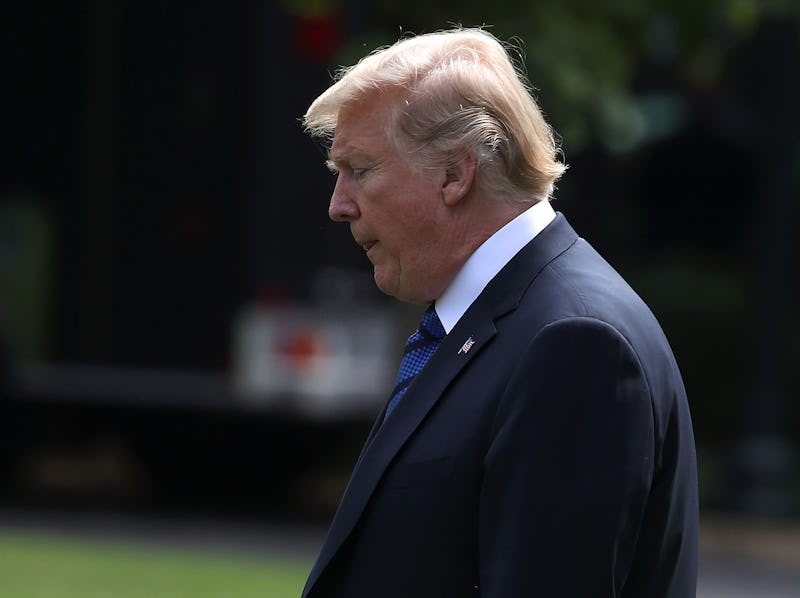 Mark Wilson/Getty Images News/Getty Images
A woman and child died after a gunman opened fire in a busy neighborhood in Toronto on Sunday night. By Monday morning, Canadian Prime Minister Justin Trudeau had sent condolence tweets in both English and French. But his American counterpart has yet to acknowledge it. Donald Trump's silent response to the Toronto shooting isn't the first time he's chosen not to comment on such tragedies though.
The Toronto shooting, which injured an additional 13 people, happened late on Sunday. Around then, Trump sent an all-caps tweet to Iranian President Rouhani, but nothing about the shooting.
Instead, the official Twitter account for the Trump administration (@WhiteHouse) has tweeted about the Made in America showcase, United Nations Ambassador Nikki Haley's CNN op-ed on Gaza, and the president's all-caps tweet to Iranian President Rouhani. The official Twitter account for the office of the president (@POTUS) retweeted five tweets from @WhiteHouse and @realDonaldTrump.
From the far more active Twitter account, @realDonaldTrump, President Trump tweeted at least nine times on Monday. The tweets mention Amazon, Jeff Bezos, The Washington Post, North Korea, "Crooked Hillary Clinton" and the DNC, the Steele Dossier (referred to as "Fake Dirty Dossier"), and a tweet urging his followers to tune into a conservative activist's appearance on Fox & Friends. Trump also sent three tweets quoting the activist, Tom Fitton. None of the tweets were about the Toronto shooting.
The administration's lack of a response is pretty similar to how it's failed to offer condolences after other shooting incidents in America. Using shootings where three or more people died (a standard defined by a mandate issued in 2013 by then-President Barack Obama), Insider pooled the president's responses to mass shootings.
When he was briefed on the shooting at the Capital Gazette newspaper in Maryland in June, Trump sent a tweet from his personal account. "My thoughts and prayers are with the victims and their families," Trump wrote. He added a thank you to first responders as well.
But in the months before that shooting, Trump didn't tweet about mass shootings in Bloomington, Illinois (three dead); Orlando, Florida (five dead); Jacksonville, Florida (three dead); or Timmonsville, North Carolina (three dead). Before that, Trump sent a brief tweet about the Santa Fe high school shooting in Texas, which made national headlines when 10 people died. "School shooting in Texas. Early reports not looking good. God bless all!" Trump wrote.
Trump's responses to mass shootings weren't always so diplomatic. Before he was president, Trump caught flack for his tweet about the Pulse Nightclub shooting in Orlando in June 2016. Forty-nine people died at the night club.
"Appreciate the congrats for being right on radical Islamic terrorism, I don't want congrats, I want toughness & vigilance. We must be smart!" Trump tweeted hours after the shooting.
Celebrities like singer John Legend and actor George Takei as well as conservatives such as pundit Ana Navarro and View host Meghan McCain criticized Trump's tweet about the Pulse shooting.
Now Trump frequently invokes religion when sending his tweets about mass shootings. For example, after 27 were killed at a small church in Sutherland Springs, Texas, he tweeted, "May God be w/ the people of Sutherland Springs, Texas. The FBI & law enforcement are on the scene. I am monitoring the situation from Japan."
It remains to be seen if Trump will respond to the Toronto shooting, or if it will join the numerous incidents of gun violence on which the presidents chooses not to comment.