Trump Took A Swipe At San Juan's Mayor In A Tweet Supposedly About Hurricane Florence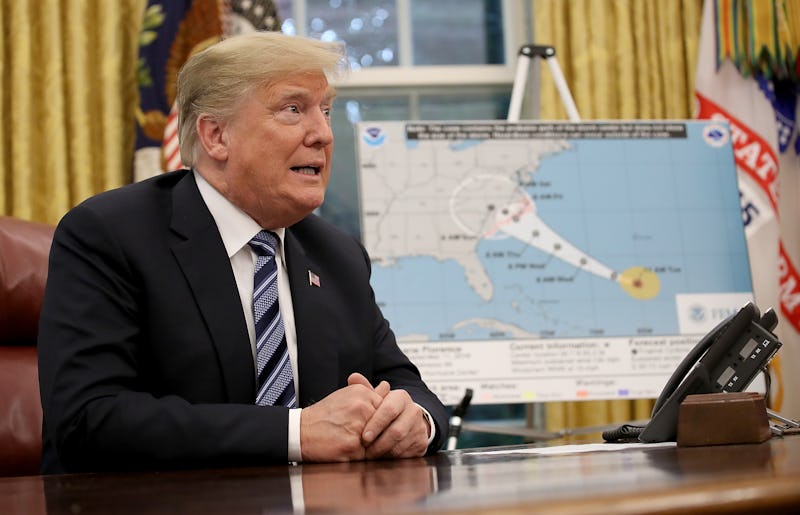 Win McNamee/Getty Images News/Getty Images
As Hurricane Florence heads toward the Carolina coasts, the president took to Twitter Wednesday morning to stoke his feud with San Juan Mayor Carmen Yulín Cruz. President Donald Trump's tweet about the impending hurricane praised his administration's response to the storm that devastated Puerto Rico last year despite "an inaccessible island with very poor electricity and a totally incompetent Mayor of San Juan," as he wrote. His comment coincided with reports that millions of water bottles meant to provide relief for Puerto Ricans after Hurricane Maria sat on an airport runway for over a year, adding to criticisms from Cruz and others that the island was largely left to fend for itself.
The official death toll for Hurricane Maria rose to nearly 3,000 following an independent study commissioned by the Puerto Rican government released last month. Trump responded by telling CNN's Jim Acosta: "I think we did a fantastic job in Puerto Rico."
His tweet early Wednesday morning continued to praise the White House for its response to Maria while simultaneously warning the nation that a dangerous storm is currently forming off the East Coast. The National Weather Service predicts that Hurricane Florence will reach the Carolinas early Friday morning, with the potential to become the strongest hurricane to ever make landfall that far north in the United States.
"Hurricane Florence is looking even bigger than anticipated. It will be arriving soon. FEMA, First Responders and Law Enforcement are supplied and ready. Be safe!" Trump said in a later tweet Wednesday morning.
But as the nation prepares for Hurricane Florence, details about the response to Maria continue to surface. A report from the U.S. Government Accountability Office (GAO) released on Sept. 4 found that more than half of the workers sent to Puerto Rico by the Federal Emergency Management Administration (FEMA) were unqualified for the job, CNN reported.
Numerous reports have also pointed out that the federal government was quicker to send aid to Texas following Hurricane Harvey that hit weeks before Maria destroyed much of Puerto Rico. Six days after Harvey, U.S. Northern Command had deployed 73 helicopters over Houston (which are critical for saving victims and delivering emergency supplies), while it was three weeks after Maria before 70 helicopters were flying above Puerto Rico, according to Politico.
"We died because bureaucracy and inefficiency took hold of things," Cruz said in an interview on MSNBC in August. "We died because many in the political class in Puerto Rico decided to dance to Donald Trump's tune, rather than doing what everybody aught to do, which is: tell the truth no matter how mighty the person you're telling the truth seems."
The same day Trump praised himself and swiped at Cruz on Twitter, CBS News' David Begnaud reported that photos show millions of water bottles sitting on a runway in Ceiba, Puerto Rico — more than a year after Maria hit. Begnaud tweeted that FEMA told him that the water bottles were delivered and turned over to the Puerto Rican government, thus placing the blame on local officials. FEMA nor the Puerto Rican government have publicly addressed the issue, however.
As for Trump, his feud with Cruz wages on as he refuses to acknowledge any of the negative reports regarding the government's response to Hurricane Maria.