"Millions" Of Water Bottles Are Sitting On A Puerto Rican Runway — Well After 3,000 Died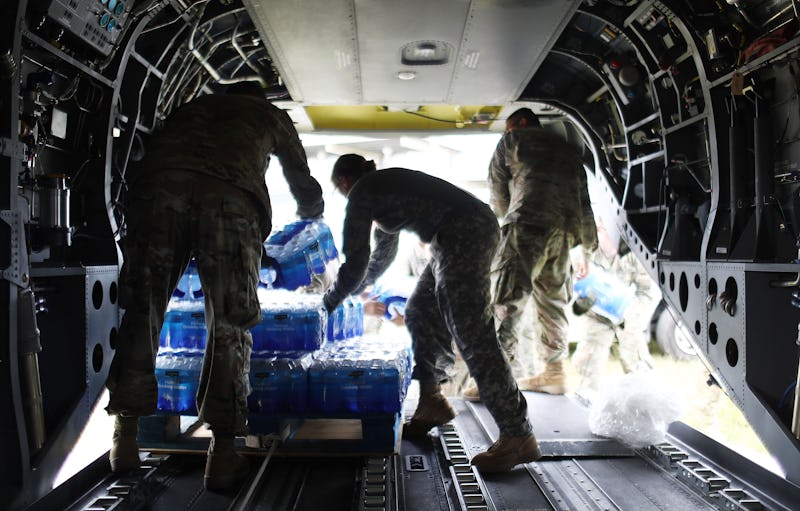 Mario Tama/Getty Images News/Getty Images
As the U.S. prepares for another hurricane — and the president praises the response to Hurricane Maria — a Puerto Rican photographer captured a shocking site at an airstrip on the island: what could be millions of bottles of water from FEMA left sitting on a runway. The bottles are in Ceiba, Puerto Rico, one of the areas hardest hit by Hurricane Maria, and where clean water was desperately needed. Bustle has reached out to FEMA and the Puerto Rican government for comment.
The water was discovered by Abdiel Santana, who first noticed them about a year ago and saw them when he returned to the airport this week, according to CBS News correspondent David Begnaud.
Santana wrote on Facebook, in Spanish, "Even though you won't believe it... almost a million boxes of water were never distributed to the Puerto Rican people in the face of Hurricane Maria. Is there anyone that can explain this?" His post has been shared 16,000 times.
Begnaud reported in a Twitter video that FEMA told him that the water bottles were delivered and turned over to the central Puerto Rican government, and that from there the distribution broke down. Some 3,000 people are now believed to have died from the storm, up from an initial government count of 64.
This is not the first instance of emergency relief and supplies being left undistributed. In August, The New York Times reported that several containers of donated food and non-perishables were left to sit and rot for 11 months at a government facility. The National Guard was meant to distribute those supplies, but never did so — at least partially because some supplies arrived after their mission on the island officially ended.
The timing of the water bottles' discovery could not be worse for President Trump, who doubled down on the "tremendous" job the U.S. government did in Puerto Rico in a tweet Wednesday morning. He argued that his government "did an unappreciated great job in Puerto Rico, even though an inaccessible island with very poor electricity and a totally incompetent Mayor of San Juan."
San Juan Mayor Carmen Yulín Cruz criticized Trump and his administration for their response to the storm in the immediate aftermath of Hurricane Maria, and she hasn't stopped. Yesterday, after Trump called the Puerto Rico response an "incredible, unsung success," she tweeted her thoughts on how things went.
"Trump simply does not get it," Cruz wrote. "Thus his neglect towards Puerto Rico cost about 3,000 lives. Unfortunately, it seems he will never get it." At the time of the storm, Cruz focused on the inefficiency of the aid distribution being one of the largest problems.
In an interview on CNN's Anderson Cooper, Cruz went on to warn that this lack of preparation could affect even more Americans as Hurricane Florence heads to the East Coast. She said that if Trump doesn't start to acknowledge his mistakes and learn from them, "people are going to continue to die."
"He says he's done a good job when 3,000 people have died," Cruz told Cooper. "Well God bless us all if this man continues on this path."
Trump has bet — at least on Twitter — that the government has things under control this time.