Trump Finally Addressed The Roseanne Racism Debacle & Made It About Himself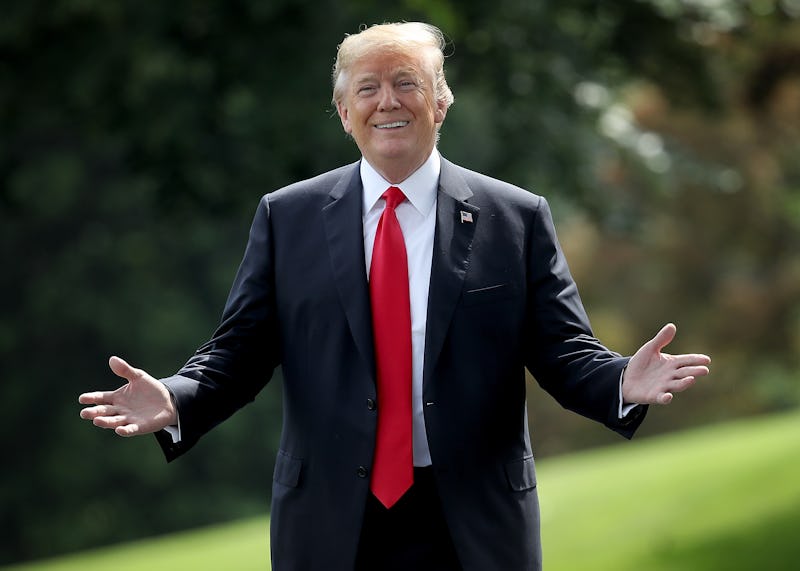 Win McNamee/Getty Images News/Getty Images
President Trump finally addressed the cancellation of the Roseanne reboot by making the controversy about himself. Trump tweeted about Roseanne Barr's Twitter scandal Wednesday morning, asking why ABC never apologized for the "horrible" things said about him on the network. "Maybe I just didn't get the call?" he asked.
If you missed the beginning of this saga, ABC cancelled the reboot of Barr's sitcom on Tuesday after the actress made a racist comment apparently directed at Valerie Jarrett, a former Obama adviser. "Muslim brotherhood & planet of the apes had a baby=vj," Barr wrote.
ABC said Barr's comment was "abhorrent, repugnant and inconsistent with our values" in a statement, and Disney CEO Bob Iger called Jarrett to apologize. "He said he had zero tolerance for that sort of racist, bigoted comment and he wanted me to know before he made it public that he was canceling his show," Jarrett said during MSNBC's "Everyday Racism in America" town hall on Tuesday.
Iger's phone call to Jarrett had the president wondering why he had never received a call from the Disney CEO. "Gee, he never called President Donald J. Trump to apologize for the HORRIBLE statements made and said about me on ABC," Trump posted.
Although Trump didn't specify which "horrible" comments he was referring to, ABC shows such as The View and Jimmy Kimmel Live! have been critical of the Trump administration.
The president appeared to be a fan of Roseanne, which cast the main character as a Trump supporter in new episodes. The White House confirmed in March that Trump called Barr to congratulate her on the show's success and thank her for supporting his presidency after the reboot aired.
Donald Trump Jr. joined his father in congratulating Barr on the resurrection of her sitcom, tweeting in March: "Wow amazing. Congrats @therealroseanne. If you're not too busy already maybe work in a late night show too... seems there's some demand for an alternate viewpoint."
The president's oldest son also retweeted part of a Twitter rant Barr directed at Chelsea Clinton not long before the tweet about Jarrett caught the internet's attention. Barr called Clinton "Chelsea Soros Clinton" and falsely claimed she was married to a nephew of George Soros, a billionaire investor. After apologizing for the falsehood, Barr went on to post another correction that said Clinton's husband, Marc Mezvinsky, is the son of a "corrupt senator."
The rant didn't stop there, either. Barr later called Soros a "Nazi" (he's not) and claimed he wants to overthrow the American republic by "buying/backing candidates 4 local district attorney races who will ignore US law & favor 'feelings instead.'"
Barr apologized multiple times for the comment about Jarrett and initially said she was leaving Twitter, though she's continued to retweet other accounts. "Thanks for all your kind comments, everyone! Love u all goodnight," she posted Tuesday night.
Although Trump didn't specifically comment on Barr's controversial tweets, he apparently felt he deserved the same recognition Jarrett received from ABC. Jarrett, on the other hand, said on MSNBC that Trump was partially to blame for Barr's ugly words.
"The tone does start at the top, and we like to look up to our president and feel as though he reflects the values of our country," Jarrett said. "But I also think every individual citizen has a responsibility too, and it's up to all of us to push back. Our government is only going to be as good as we make it be."
Trump did not respond to Jarrett's accusation that his rhetoric since taking office has encouraged racist and bigoted behavior in America.