Trump Wants NFL Players Protesting Police Violence To Just "Be Happy, Be Cool"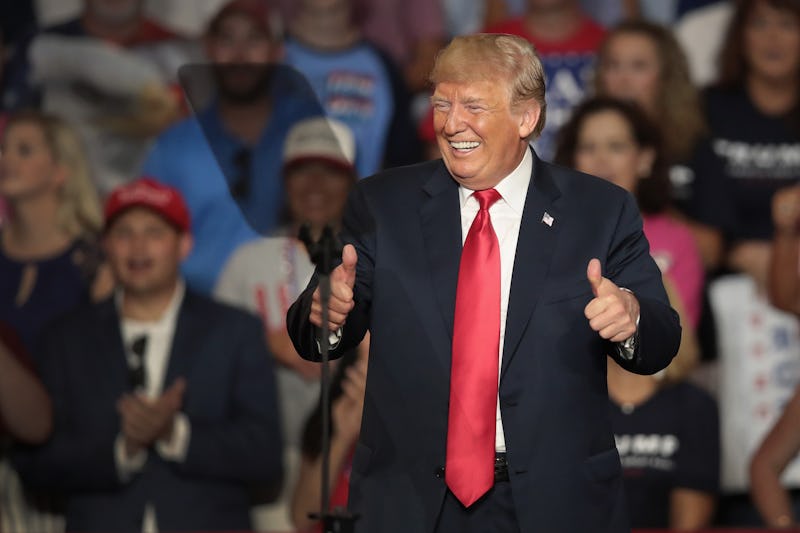 Scott Olson/Getty Images News/Getty Images
President Donald Trump lashed out at NFL players who used the national anthem to protest social or racial inequality or police brutality in a series of tweets on Friday, Aug. 10. Following protests from a handful of players at preseason games across the country Thursday night, Trump urged NFL players to "be happy, be cool" and stand when the national anthem is played or face unpaid suspension.
"The NFL players are at it again — taking a knee when they should be standing proudly for the National Anthem," Trump wrote in two tweets Friday morning. "Be happy, be cool! A football game, that fans are paying soooo much money to watch and enjoy, is no place to protest." He went on to claim that most of what fans pay to attend a game "goes to the players."
In his tweets, the president also appeared to dismiss NFL players' protests of police brutality and inequality, claiming they were outraged about "something that most of them are unable to define."
He urged players to "find another way to protest."
"Stand proudly for your National Anthem or be Suspended Without Pay!" he tweeted.
According to NBC News, several players knelt, raised a fist, or stayed off the field altogether during the national anthem at the 12 NFL preseason games played Thursday. Those protesting players included Kenny Stills, Albert Wilson, and Robert Quinn of the Miami Dolphins; Jalen Ramsey, Telvin Smith, Leonard Fournette, and T.J. Yeldon of the Jacksonville Jaguars; Duane Brown, Quinton Jefferson, and Branden Jackson of the Seattle Seahawks; and Malcolm Jenkins and De'Vante Bausby of the Philadelphia Eagles.
Although the NFL is said to be crafting a new policy regarding players' behavior during the national anthem, the league said Thursday that players protesting at preseason games would not be penalized, The Washington Post reported. Players were, however, "expected to stand" for the national anthem or remain off the field while it is played, the league said.
While Trump claimed Friday that players "are unable to define" what it is they're protesting, a number of athletes have been quite clear about their reason for protesting. In a tweet posted just before game time Thursday, Jenkins highlighted the fact that people of color continue to be disproportionately incarcerated. "Before we enjoy this game lets take some time to ponder that more than 60% of the prison population are people of color," Jenkins wrote. "The NFL is made up of 70% African Americans. What you witness on the field does not represent the reality of everyday America. We are the anomalies."
This isn't the first time Trump has criticized athletes for using their public platforms to protest social issues. According to USA Today, Trump's tweets Friday mark the 39th and 40th time he's tweeted about standing during the national anthem in the past year.
In fact, Trump's repeated condemnation of protesting athletes spurred NBA star LeBron James to accuse the president of attempting to use sports to divide people in a recent interview with CNN.
"This whole race thing has taken over because I believe our president is kind of trying to divide us," James told CNN's Don Lemon. "He's dividing us and what I noticed over the last few months [is] that he's kind of used sport to divide us."
The Los Angeles Lakers player went on to characterize sports as a unifying force, crediting it with giving him, and many others, the opportunity to meet and learn about people from different races, nations, and cultures. "Sports has never been something that divides people, it's always been something that brings someone together," he said.
In 2016, former San Francisco 49ers quarterback Colin Kaepernick was the first player to protest social inequality and police brutality by refusing to stand when the national anthem was played at NFL games. Since then a number of players have followed suit as a means of protesting systemic oppression.