You Probably Missed This Completely Bonkers Trump Interview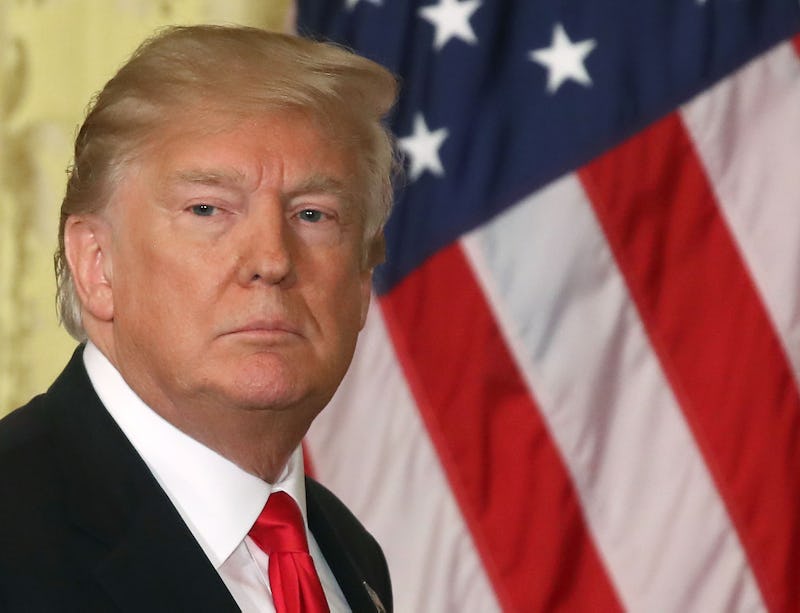 Mark Wilson/Getty Images News/Getty Images
President Trump has been known to make some pretty shocking statements in interviews with news organizations. In an interview with the Associated Press in July, he even admitted to calling NATO "obsolete" because he didn't know what the agency is. Still, the President continues to top himself each time he sits down with reporters for extended interviews, and Trump's latest interview with the Wall Street Journal is no exception.
When asked if his relationship with former White House Chief Strategist Steve Bannon — who recently sent shockwaves across Washington for calling Trump's son "treasonous" — is permanently severed, Trump responded in true Trump fashion: by boasting about his own intellect and success. Averting the question, Trump claimed that he is "successful, successful, successful," and "the best" at everything he has ever done, before eventually stating that he "[doesn't] know what the word permanent means."
"You never know, you know again, the word -- I don't know what the word permanent means, OK?" Trump told Journal reporters Rebecca Ballhaus, Michael C. Bender, Peter Nicholas and Louise Radnofsky. "I never know what the word permanent means. We'll see what happens, but Steve had nothing to do with my win. Well, certainly very little."
Another statement from this interview that's been attracting a lot of attention — and confusion — is Trump's claim that he "probably" has "a very good relationship Kim Jong Un of North Korea." The President notoriously has the exact opposite of that, and has in fact carried out a very public feud with the North Korean leader over Twitter.
In November, Trump essentially called Kim "short and fat" in an angry Tweet, and just last month, Trump shot back at Kim's claims that North Korea has a nuclear button available at all times, stating that America has "a much bigger & more powerful" button at its disposal.
When asked by the Journal is he speaks directly with Kim, Trump stated, ""I don't want to comment on it. I'm not saying I have or haven't. I just don't want to comment." Trump's refusal to answer directly opens up the possibility that he may indeed be in contact with the North Korean leader, which would be an unprecedented break from decades of U.S. foreign policy.
In the interview, Trump also repeated a number of claims that he has made in the past, however strange they may be. For starters, he defended his decision to fire former FBI Director James Comey, stating that "everybody hated Comey." He also reiterated that Mexico will pay for his proposed border wall, renewed his threat to change libel laws in America, and spent a startling amount of time talking about how incredible it was that he won the 2016 presidential election.
"I had vanquished 17 governors, senators, plus a couple of very smart people," Trump said. "I had vanquished them easily. I won every debate based on the polls ... I don't think you'll find one poll that I ever lost in any of the 14, 15 debates."
For the record, the presidential election was over a year ago. Still, Trump's insistence on making false statements, repeating himself, and boasting about his own excellence and electoral victory is a topic that has received renewed interest since the publication of journalist Michael Wolff's tell-all book, Fire and Fury: Inside the Trump White House was published last week. A number of journalists and mental health professionals have since come forward to publicly assess the president's fitness for office, and whether or not those armchair assessments are ethical, they have certainly gotten the president's attention.
In the Journal interview, Trump seems to offer what seems to be his own explanation for why his erratic behavior and controversial statements are entirely acceptable.
"The difference is I'm President," he told reporters. "Other people aren't."