Trump's White House Totally Ignored LGBTQ Pride Month For The Second Year In A Row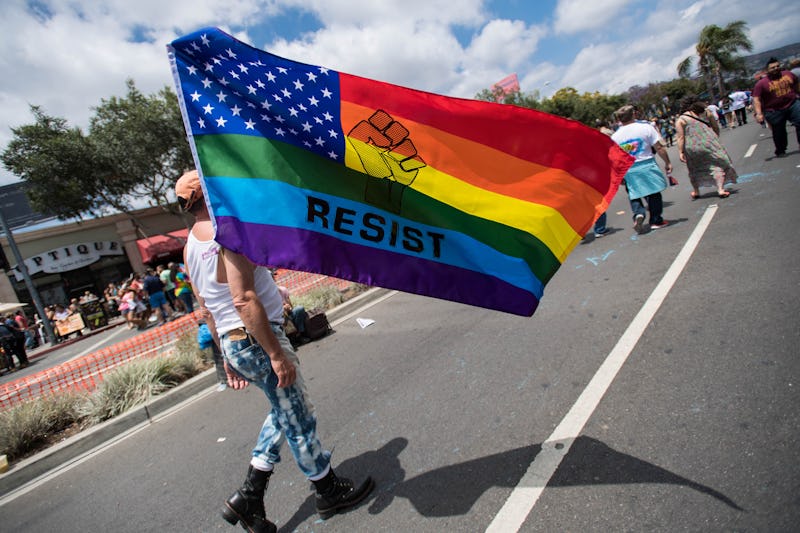 Emma McIntyre/Getty Images Entertainment/Getty Images
Despite issuing a handful of presidential actions for the month of June, the White House remained deafeningly silent on one particular celebration. For the second year in a row, the Trump White House failed to recognize LGBTQ Pride month; meanwhile, the State Department issued a fairly benign celebratory notice.
In his statement, Secretary of State Mike Pompeo made reference to countries were queer and transgender persons are targeted, but did not give specific names. Then-Secretary of State Rex Tillerson issued a similar pro-LGBTQ statement in 2017.
"LGBTI persons – like all persons – must be free to enjoy their human rights and fundamental freedoms, including freedom of expression, peaceful assembly, and association, without fear of reprisal," Pompeo said in a statement. "As Americans, we place a high value on these rights and freedoms, which all persons deserve to enjoy fully and equally."
Pride is celebrated in June to coincide with the annual anniversary of the Stonewall Uprising in New York City at the end of June 1969. The big events are usually parades, and the one in New York goes right by the site of the original action at the Stonewall Inn.
Instead of recognizing the important work and contributions of LGBTQ Americans during this month, the White House issued presidential actions for a number of other groups and persons. According to the White House, June is Great Outdoors Month, National Ocean Month, National Homeownership Month, African-American Music Appreciation Month, and National Caribbean-American Heritage Month. The White House's failure to acknowledge LGBTQ Americans as Pride celebrations begin across the country, however, was stark.
One potential reason for the lack of recognition is the influence of Vice President Mike Pence, the anti-LGBTQ former governor of Indiana. While a congressman in 2010, Pence was asked by CNN about his stance on the repeal of Don't Ask, Don't Tell, a policy enacted by President Bill Clinton to allow LGBT people to serve in the armed forces as long as they stayed in the closet. Pence said, "We ought not to use the American military as a backdrop for social experimentation or debating domestic policy issues."
In 2015, while he was governor of Indiana, Pence signed the Religious Freedom Restoration Act, which would open the door for potential discrimination against LGBTQ Hoosiers. The bill's signing saw quick rebuff from all walks of life from gig cancellations from bands like Wilco, a cancelation of headquarters expansion by Angie's List, a front-page newspaper editorial decrying the bill's passage, and immediate rebuff from the NCAA, which was hosting the prosperous Final Four basketball tournament that weekend in Indianapolis.
At one time, Pence supported using federal funds to treat those "seeking to change their sexual behavior," according to fact-checking sites Snopes. Many have interpreted that as support for conversion therapy. Pence's spokesman told the New York Times that the vice president does not support conversion therapy.
In an October 2017 article, the New Yorker published a quote from Donald Trump where the president reportedly joked that his vice president wanted to "hang them all," referring to LGBT people. (The White House told The Indianapolis Star that the quote was untrue.)
Those directly within the West Wing have also declined thus far to mention Pride. Last year, Ivanka Trump, daughter and special adviser to the President, tweeted her support for Pride, writing: "I am proud to support my LGBTQ friends and the LGBTQ Americans who have made immense contributions to our society and economy." It sparked a massive wave of backlash from queer people and organizations given her father's administration's positions and policies that have stripped protections from LGBTQ communities.
Clinton was the first president to recognize Pride month, while George W. Bush did not recognize it (and actively campaigned against gay marriage). Barack Obama was the first president to regularly recognize the celebratory month. But with Trump in the White House, it seems like the trend has reversed once again.