Peter's Women Tell All Special Turned Into A Total *Finasco* Within 5 Minutes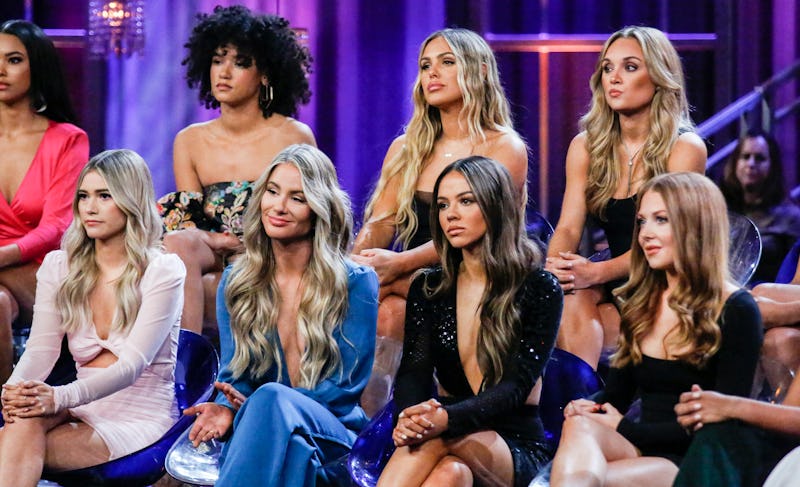 ABC/Kelsey McNeal
As was to be expected, things were especially heated between Alayah and Victoria P. during Peter's Women Tell All special on March 2. While they were both vying for the Bachelor's heart, Victoria P. accused Alayah of being fake, eventually causing Peter to send her home (which, as we know, didn't stick). So when the two women took their differences to the Women Tell All stage, Bachelor Nation had...a lot to say about it.
Some fans compared the ensuing argument (which grew to involve several other contestants, who each took their respective sides) to the Democratic Debates, which only speaks to what a clusterf*ck it eventually devolved into. In fact, so many of the women were yelling at each other that even the unflappable Chris Harrison looked taken aback (resulting in an instantly iconic GIF) and was forced to declare a timeout.
Indeed, much of this season has centered around Peter consoling different contestants, listening to them stab each other in the back, or breaking up fights (remember when he physically sat between Tammy and Mykenna?).
The Women Tell All was no different and Bachelor Nation was rightfully bemused on Twitter.
Some audiences, however, were amused — including former Bachelor and BiP contestant, Demi Burnett. "[C]all me chaotic evil, but this is entertaining and hilarious as sh*t," she tweeted. Brett S. Vergara also had a novel idea: "Women Tell All Pitch: Instead of screaming over each other for hours – each of the women should get to tell all... to a therapist," he wrote on Twitter. "ABC foots the bill. Doesn't even get filmed. The rest of us go knit a sweater or sum."
But while Alayah and Victoria P. may not have buried the hatchet, each of them got to say her piece, which is all anyone in Bachelor Nation could have hoped for. This is Peter's season we're talking about, after all.