Twitter Is Condemning Trump's Charlottesville Speech For What It Didn't Say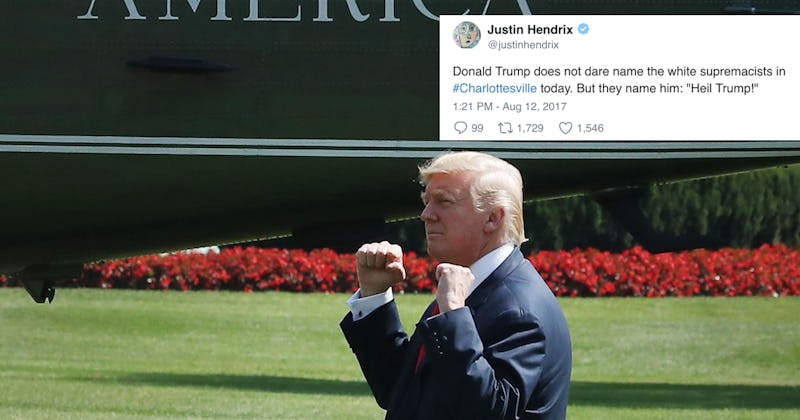 Mark Wilson/Getty Images News/Getty Images
On Saturday morning, a rapidly growing cultural tension from racist members of the alt-right came to a violent head. Thousands of white nationalists from disparate alt-right groups gathered in Charlottesville for a Unite The Right rally to protest the city's decision to remove a statue of the Confederate Gen. Robert E. Lee. Following violent outbreaks, president Donald Trump made a speech that had people on Twitter furious.
In the hours leading up to the rally, Virginia Gov. Terry McAuliffe declared a state of emergency and urged constituents to keep their distance from the scene.
"In advance of (Saturday's) rally there have been communications from extremist groups, many of which are located outside of Virginia, who may seek to commit acts of violence against rally participants or law enforcement officials," wrote McAuliffe in a statement. "In the event that such violent or unlawful conduct occurs, I have instructed state public safety officials to act quickly and decisively in order to keep the public and themselves safe."
Throughout the morning and afternoon, white nationalist protesters marched with torches and chanted slogans such as "white lives matter" and "we will not be replaced by the Jews." While there were small gatherings of peaceful anti-racist counter-protesters, Trump's speech placed blame on "all sides" for the violence, refusing to single out the white supremacists.
"We condemn in the strongest possible terms this egregious display of hatred, bigotry and violence on many sides ― on many sides. It's been going on for a long time in our country, not Donald Trump, not Barack Obama, it's been going on for a long, long time," Trump said at a ceremony to reform the Veterans Affair health care system. "It has no place in America. What is vital now is a swift restoration of law and order and the protection of innocent .lives."
Understandably, Trump's unwillingness to directly condemn the gathering of thousands of white nationalists had Twitter on fire with critique. Here are just a few of the responses to Trump's speech.
Silence As A Nod Of Approval
Bringing It Back To Obama
Trump Ignores A Question
The Scary Conflation Of Antifa And The Alt-Right
When White Nationalists Heil Trump
Getting Straight To The Point
Critiquing The Broad Way His Speech Could Be Interpreted
Pointing Out The Terrorism
Pulling Up Old Tapes Of Trump
A Shout Out To Steve Bannon's White Nationalism
A Nod To The Violent People In MAGA Hats
Calling The Rally Unpatriotic
The KKK Gives Trump A Shout Out
Calling Out Trump's Voting Base
A Critique Of Trump's Tangent About The Economy
Pointing Out How Trump's Presidency Emboldened Racists
There Are Nazis In The White House
Calling Out To Silent Representatives
We are still waiting for Donald Trump to repudiate the racist sentiments that fueled Saturday's violent events.