Kevin Is Winning Over 'Bachelor In Paradise' Viewers, If These Tweets Are Any Indication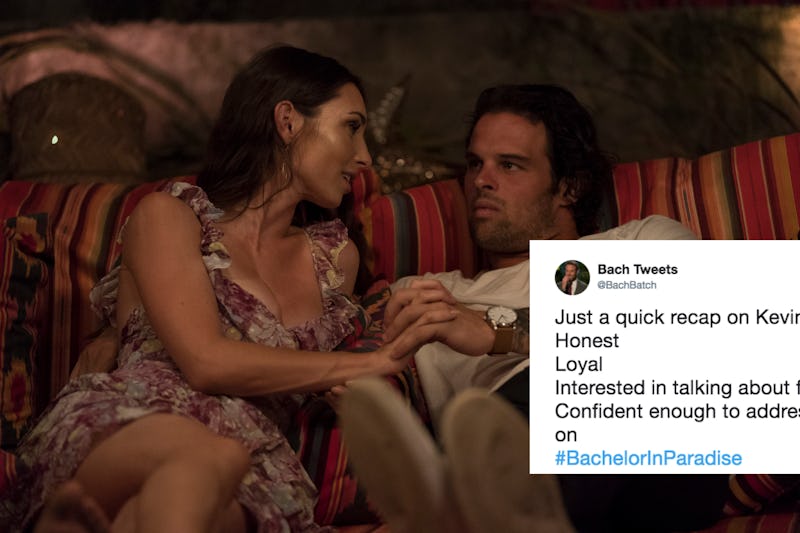 Paul Hebert/ABC; BachBatch/Twitter
With a seemingly endless amount of cast members on Bachelor in Paradise, it can be tough for contestants to stand out. It's just impossible to show everything, and honestly, not all stories are equally entertaining. During Monday night's episode, Kevin Wendt came out of the woodwork. And as a result, Bachelor in Paradise viewers tweeted about Kevin — a lot.
At first, it wasn't looking like a good episode for Kevin. Kevin told Astrid he wished other guys asked her out on dates so she would know what it's like to "miss" him. The viewers couldn't help getting vicariously offended for Astrid regarding Kevin's audacity to knock their relationship for essentially being "too good," even though they've only been dating for seven days.
Then he went to her, explained exactly where he was coming from with previous reality TV dating experience on The Bachelorette Canada and The Bachelor Winter Games, and admitted that he gets a lot out of going to therapy twice a week. After his initial slip-up in the episode, Kevin redeemed himself when he and Astrid were able to maturely work through their differences and get to a better place in their relationship.
Kevin was also the only person in the entire cast who told Kendall that Leo kissed Chelsea on the same day he had a date with her. He even confessed to Leo that he was the one who said something, insisted that he wasn't trying to cause additional drama, and emphasized that he felt like it was wrong that Kendall was out of the loop when she had some major decisions to make. He even ended up quoting Canadian Prime Minister Justin Trudeau and winning the audience over even more.
Kevin went from having a stable relationship in the background of the show, away from the dramatic stories, to offending the viewers for a second, to getting the fandom on his side. And this was all in one episode. The fans definitely had a lot to say about Kevin on Twitter.