Ashley & Kevin Got Real About Why The Broke Up After 'Bachelor Winter Games'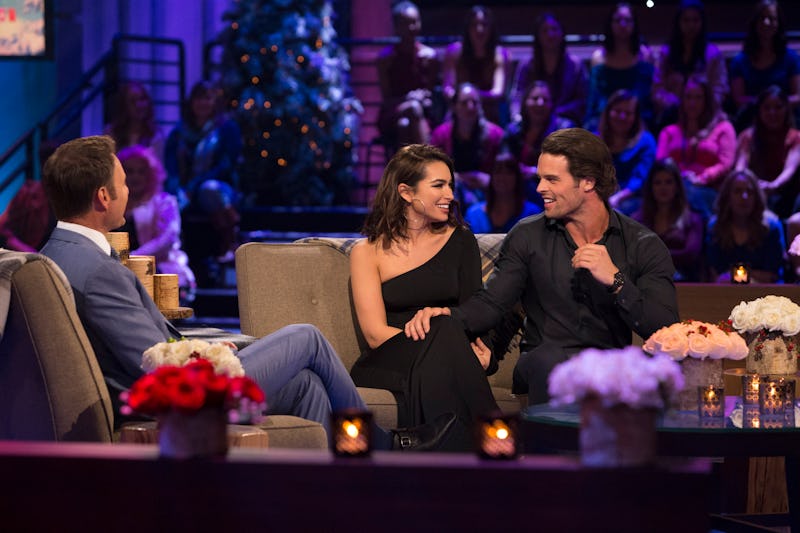 Paul Hebert/ABC
If you've been busy celebrating Ashley Iaconetti and Jared Haibon's engagement (true love is real), you might have missed the heartbreak on the other end of that new relationship. Bachelor Nation fans shouldn't forget that Kevin Wendt and Ashley were once a Bachelor couple, although they ultimately couldn't make things last. Since then, Ashley found love with Jared and Kevin is looking for his own relationship redemption on Bachelor in Paradise. But why did Kevin and Ashley break up after Bachelor Winter Games anyway?
They ended the winter spinoff show as the winning couple, and things seemed to be going strong for them... until they weren't. Less than a month after the finale of Winter Games aired, Ashley and Kevin's breakup was announced on March 12, according to Us Weekly. It came as a surprise to viewers who had seen the seemingly happy couple posting together on social media just days before with mushy captions like, "The way @kevin.c.wendt wants to take care of his lady's heart is so beautiful. ☺️💗 "
So where did it all go wrong for this international pair? Well, it wasn't necessarily the distance. Kevin may have lived in Canada and Ashley was in California, but the pair was making that part work — even secretly meeting up before the show had finished airing, per Us Weekly. But, in the end, Ashley just wasn't feeling it.
People reported that she and Kevin explained their breakup on the Ben and Ashley I. Almost Famous Podcast. As Ashley bluntly put it, "It sounds a little harsh, but it's just that lack of — there's magic. We get along very well, it's just there's a little something missing and you can't really pinpoint what it is. That's just how I feel."
For his part, Kevin seemed a little more upset that things didn't work out, and said on the podcast that he'd wanted to keep trying.
"I'm very hard at giving up on things. And I'm not saying that we gave up on it … I'm saying I was still ready to come there again. And I know her birthday, I wanted to be there when I had to work and I was planning on coming out as of that week or she was going to come here. I knew we definitely had an uphill battle. I wasn't 100 percent in yet, but I also knew I wanted to see her again."
Eventually, he came around to what seemed to be more her decision. "Now that a few days have passed and we both kind of collected our thoughts and emotions and stuff, I know she made the right call and I know this is the way it should be," he said on the podcast.
And, even though she started dating Jared shortly after their split, there's no bad blood between the former couple. Kevin even positively commented on her Instagram post where she announced her new relationship with Jared. "You deserve it Ash," he wrote, according to another Us Weekly article. "Congratulations to you both."
"He's such a sweet guy," Ashley gushed to People even after their split. "Perfect husband material. Just not my husband."
Bachelor in Paradise fans know that Ashley and Jared get engaged on the upcoming series, and with Ashley building Kevin up to be a great husband (for someone else), perhaps he'll leave Mexico with a fiancée too. If he does, though, hopefully that relationship will stick.