The Trump-Kim (Kardashian) Summit Is Finally Happening & Oh, Twitter's Got Jokes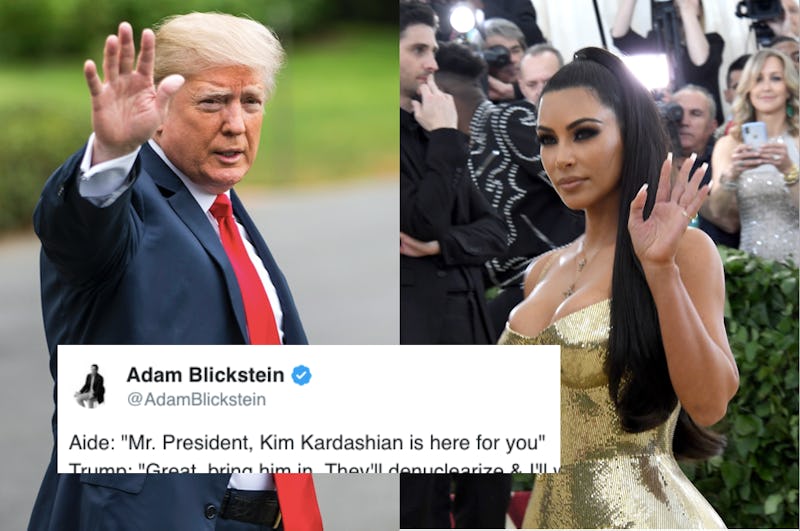 Zach Gibson/Getty Images News; Noam Galai/Getty Images Entertainment/Getty Images
On Wednesday, President Donald Trump has a high-profile meeting with a world famous Kim, but not the one you might be thinking about ― that's right, it's reality TV star Kim Kardashian. And it comes as no surprise that Twitter roasted Trump's meeting with Kardashian, noting (among other things) that the commander-in-chief might have wished he were meeting with a foreign head of state instead.
For months, you might remember, Trump and his administration had touted a possible meeting with Kim Jong Un, the leader of North Korea, as part of a diplomatic process aimed at denuclearizing the country and reducing the risk of war on the Korean peninsula. Those plans apparently fell through last week, however, as Trump announced the summit had been cancelled, dealing a decisive blow to his self-proclaimed Nobel Peace Prize chances. This week, Trump has reportedly renewed his effort to arrange a meeting.
Now, though, he'll be meeting face-to-face with, well a Kim, although not the one he'd initially hoped. Kardashian, 37, is paying a visit to the White House in the hopes of swaying Trump's attitudes relating to the prison system and incarceration, as well as towards his use of presidential pardons. Kardashian has been a vocal advocate for the release of Alice Johnson, a 62-year-old woman currently serving a life sentence on a first-time, non-violent drug conviction.
Here are some of the funniest and sharpest tweets going around about the Trump-Kardashian "summit" on Wednesday, which back during Trump's heyday as the host of The Apprentice would've probably been a major TV event.