14 Tweets About Bibiana That Show How Much The 'Bachelor' Contestant Will Be Missed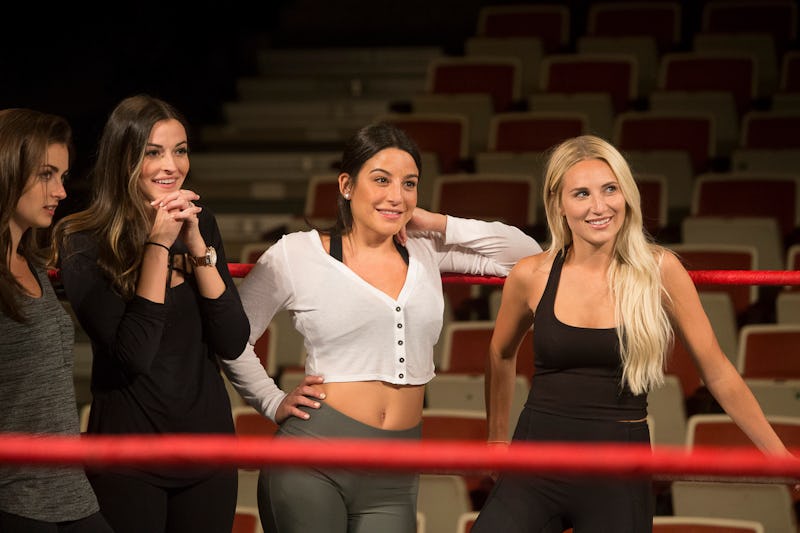 ABC/Paul Hebert
At this point in the season, there are still so many women left on The Bachelor that it can be tough to keep track of everything that's going on. Even so, there's one person who stood out and fans of the show had a lot of love for her on Twitter. Tweets from Week 3 of Arie Luyendyk Jr.'s Bachelor Season prove that everyone will miss Bibiana next week.
Bibiana really went through it on Monday night's episode. She got stuck on another group date. She got antagonized by wrestlers for the spelling of her name, and she ended up taking a cry break on the side. She also once again got the short end of the stick when it came to part two of the group date. It felt like Bibiana was always waiting for her time with Arie and getting anxious about it.
At the cocktail party she stepped up her game with a cabana bed and telescope setup to get some quality time with Arie. And she waited patiently for her time with Arie, only to find out that he was hanging out with (and making out with) the other ladies on her bed. She didn't even get to hang with him on it at all, so it was inevitable that she was going home.
Bibiana deserved more, and thankfully, she will get more. Robert Mills, SVP Alternative Series, Specials & Late-Night Programming for ABC Entertainment, confirmed that Bibiana will be a cast member on The Bachelor: Winter Games next month
As of this moment, there's no word on how Bibiana fared on Winter Games, but she definitely won over Bachelor Nation this season.
1. She Had A Relatable Struggle
Unfortunately, so many people have been there; doing all of the work and getting zero credit and none of the benefits. Arie making out on that daybed after Bibiana set it up and then sending her home was just tough to watch.
2. How Does Arie Feel?
Bibiana should have told Arie that she was the one who set up that daybed. Arie also should have asked about who set it up. Does he feel bad that he used her date setup on everyone but Bibiana? He really should.
3. She Had A Memorable Setup
She didn't get that final rose, but she definitely delivered some memorable moments.
4. She Had The Most Hilarious Ending To Her Prayer
"Love you bye" sounds more like the end to a text message conversation than a prayer, but it was pretty endearing nonetheless.
5. She Deserves All Of The Shoulders To Cry On
It seems like nothing went Bibiana's way this season, but Bachelorette and Bachelor in Paradise contestant Diggy has nothing but love for her.
6. She Is Already Missed
What is the left to look forward to now that the main source of humor is gone from this show?
7. Criticizing Bibiana's Name Was Not Acceptable
Those wrestlers took the "role-playing" way too far when they decided to make fun of Bibiana's name, its spelling, and even mentioned her mother. There was nothing at all constructive associated with that criticism.
8. She Was Treated Poorly On That Wrestling Date
There was nothing beneficial that came from picking on Bibiana and making her cry.
9. The Season Might Be Doomed
Bibiana was a constant source of entertainment and endearing moments. Her elimination is a major hit to the season.
10. She Wasn't Meant To Be With Arie Anyway
Her match is still out there. She has nothing to worry about.
11. She Was Meant For Paradise
Sure, she's doing Winter Games, but let's hope that she just makes it a trifecta and comes through for Bachelor in Paradise this summer, as well.
12. She Is Not Broken
Bibiana referred to herself as "broken" when she didn't get a rose. That is far from the truth.
13. A Daybed Conspiracy
It is definitely possible that she was encouraged by production.
14. She Should Be The Bachelorette
That would definitely be an entertaining season.
Bibiana was upset when she didn't get a rose, and viewers were devastated to see her so upset, but she is definitely the real winner here. She didn't get that final rose and a ring from Neil Lane, but she is loved by Bachelor fans for her sense of humor, genuine nature, and her ability to keep it real.