Twitter Can't Take Britney Spears' Lip-Syncing Anymore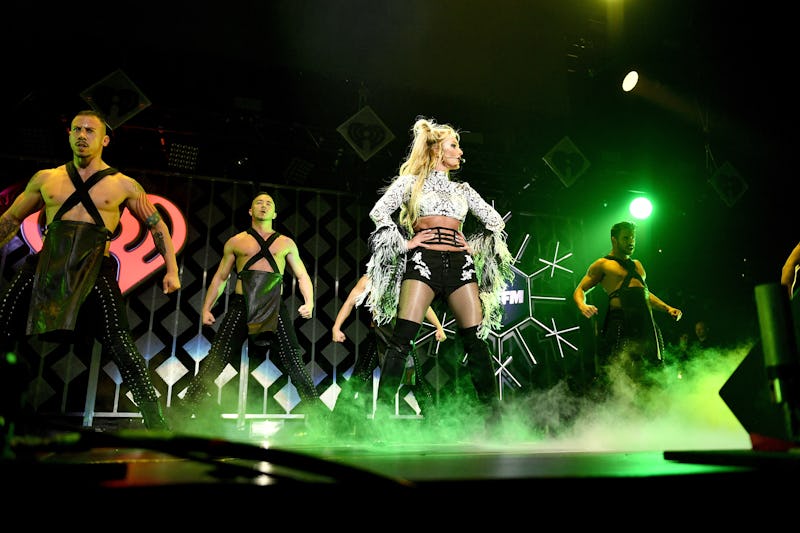 Mike Windle/Getty Images Entertainment/Getty Images
No one will deny that she's a certified pop princess, but social media has about had it with Britney Spears' lip-syncing, especially after her performances at 2017's New Year's Rockin Eve. Performing live from AXIS at Planet Hollywood Resort & Casino in Las Vegas, Spears (questionably) sang "Work B*tch" and "Toxic" (which was very VMAs' "Slave 4 U" circa 2001) before and after the iconic ball dropped in Times Square. She never disappoints in putting on an entertaining show, but Twitter users are pretty unanimous about the fact that her lip-syncing jig may be up once and for all.
Don't be mistaken, lots of fans were definitely psyched to see Spears take the stage from her "Piece of Me" Vegas residency. Plenty of Twitter users flooded the feeds to tip their hats to the "queen" and her classic song choices. But unfortunately, it wasn't enough to prevent Brit from being dragged on Twitter by a ton of audience members pointing out her obvious lip-syncing (especially when she performed "Toxic" after Mariah Carey redeemed herself on the show from her 2017 performance with killer live vocals).
Viewers weren't necessarily surprised that Spears danced to the obviously pre-recorded tracks — but that in itself may be just the problem. Spears' lip-syncing is all too predictable, and it's unfortunate.
Some people called it right out:
Most knew what to expect and were just so over it:
For the most part, the amusement about it seems to be gone:
Others questioned why she performs at all:
A few viewers gave pretty harsh input:
Meanwhile, this guy said what everyone else was thinking:
Although the lip-syncing didn't come as a surprise, it would've been pretty cool to see Spears prove everyone wrong and sing live while dancing, especially since the show was the last of her three-year Vegas residency. And New Year's Eve, of all nights, is the time to create a defying moment.
Over the summer, Spears argued against the general consensus that she lip-syncs, telling Rolling Stone, "Because I'm dancing so much I do have a little bit of playback, but there's a mixture of my voice and the playback. It really pisses me off because I am busting my ass out there and singing at the same time and nobody ever really gives me credit for it." These performances were the perfect opportunity to show the world what she's really capable of, which is why viewers may have also just been disappointed.
Still, people should give the artist a little more credit. There was a lot riding on this night and it sure as hell wasn't a walk in the park. Not only was it Spears' final Vegas show, but it was the very first U.S. televised performance of 2018 (not to mention the millions of people watching New Year's Rockin' Eve from home). That's a lot of pressure. Obviously, it's nothing the seasoned vet can't handle and the woman's clearly still got some hardcore stamina.
Sure, she may not have been fully singing, but that doesn't mean her stage presence and commitment weren't explosive. Regardless, the haters haven't seemed to affect Spears in the past and it looks like they certainly won't get the best of her at the brink of a new year. "Saying goodbye both to Vegas and 2017! It's bittersweet, but I'm looking forward to an amazing 2018!!" Spears optimistically wrote on Twitter New Year's Eve.
Whether or not audiences appreciate how Spears entertains, she'll keep doing her thing just as she always does. 2018, she's coming for you.