Twitter's Ready For Kylie Jenner's V-Day Surprise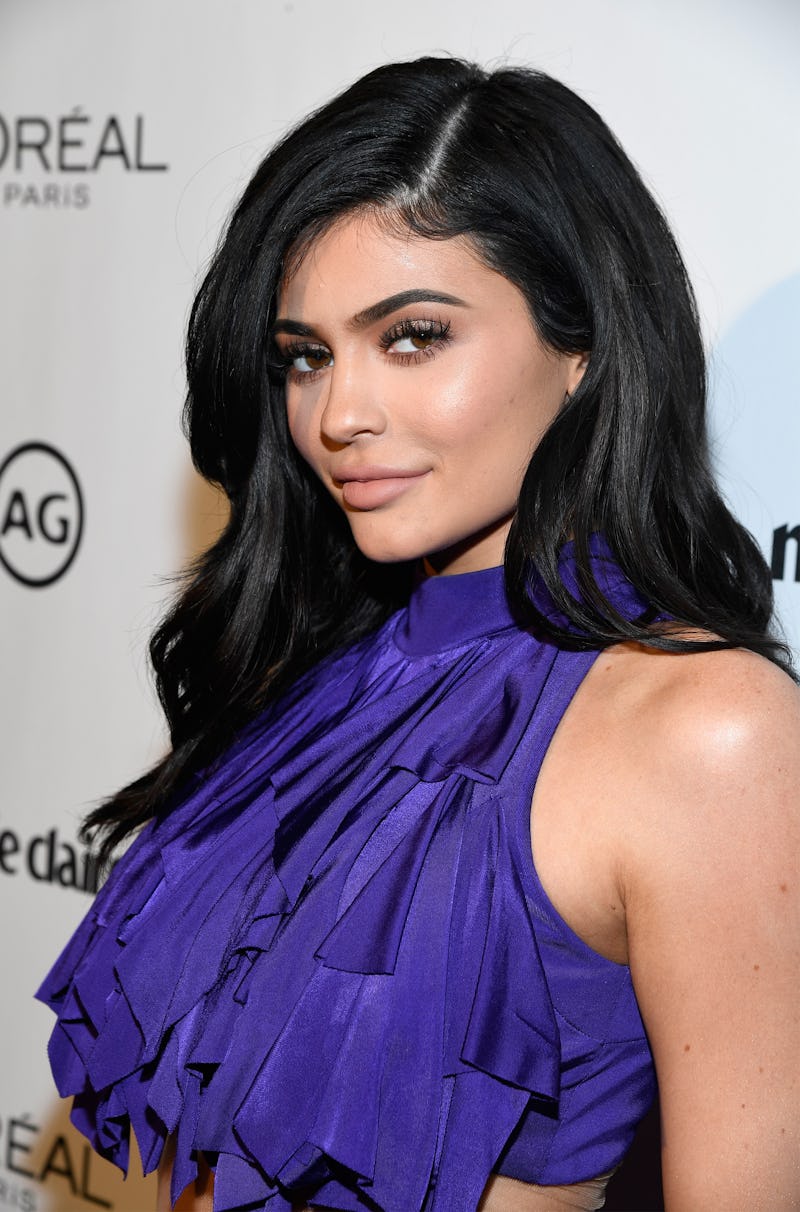 Matt Winkelmeyer/Getty Images Entertainment/Getty Images
Kylie Jenner is a huge fan of the holidays. I mean, she really goes all out for Christmas, her birthday, you name it. So, why would Valentine's Day be any different? Based on a recent Snapchat, Jenner appears to have Valentine's Day products for Kylie Cosmetics in the works, and people are dying to know what she has in store for the big day!
It's not entirely clear if the products she's teasing are her infamous Lip Kits or something different entirely. The only thing you can really see from the photo is the corner of the packaging, which has gotten a bright red upgrade for the day of roses, chocolates and now, gifts from Kylie Cosmetics.
According to her Snapchat, she'll post more information about these goodies on Jan. 25, and the day seriously can't get here quickly enough! No one has any idea what the products she's releasing will be, but that doesn't stop the online world from freaking out. Because no matter what this next launch contains — it's worth getting excited over.
Jenner never disappoints, so get ready to add whatever's coming in time for Feb. 14 to your list of must-haves. Go ahead and warn your sweetheart that the key to your heart can be found on the Kylie Cosmetics website.
What is this, exactly? People can hardly wait to find out!
1. Requests
Some folks already know exactly what they want from this launch.
2. Bankrupt
You're going to be broke, but looking good. Priorities, am I right?
3. Kylighter
Could this be the first-ever highlighter from the brand? Only time will tell!
4. The Deets
Fill us in on the details, already!
5. Convincing
They make a strong argument.
6. True Love
You know it's real love when they gift you Kylie Cosmetics.
7. V-Day Surprises
The world's loving that Jenner's always full of surprises.
8. Guesses
Hmm... what could it be? The suspense is killing me!
9. Timing
This girl's always got a plan and timing is everything. So, I know I'll love whatever she's got in store for V-Day.
10. Waiting...
If I can wait long enough to find out what it is, that is.
11. Amazing
I can already tell it's going to be amazing.
Stay tuned into Jenner's Snapchat and the Kylie Cosmetics social media accounts to see the big reveal!