Twitter Reactions To Morphe X Jaclyn Hill Prove The World Is More Than Ready For This Palette — PHOTOS
jaclynhill/Instagram
Jaclyn Hill is right up there with Kylie Jenner as far as her creating-suspense skills are concerned. She's been generating a lot of hype about a mystery collaboration, dropping subtle clues along the way. First, we knew she was creating a palette. Amazing. Then, she showed us the packaging. Even better. But now, she's finally announced who she collaborated with. We're getting so close to having all of the details now! These Twitter reactions to Morphe X Jaclyn Hill prove that her fans can not handle how excited they are for this palette to launch.
According to Hill's Instagram, she's been working with Morphe Brushes to make this dream palette a reality for two years. It's going to be available to shop in March, according to the post. And seriously, the month can't get here soon enough! Fans haven't even seen what the packaging holds inside, and they're still dying to get their hands on whatever it is. Honestly, who could blame them?
Hill is known for her makeup skills, and her other collabs, like, I don't know, that major one with BECCA, for example, was a huge hit. So, expect nothing less than greatness from this next product launch.  
If the shadows are anywhere near as amazing as the photo shoot, prepare to fall in love.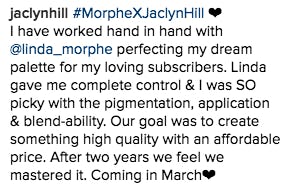 March really can't get here soon enough!
I need my eyes looking like this, girl. Come thru!
1. Need
I need to get my hands on that Jaclyn hill morphe palette 😛

— Katy (@KatyTrudel) January 20, 2017
People don't know what it looks like, but still know they need it.
2. Saving Up
I gotta hustle so that I can buy the Jaclyn Hill x Morphe palette in March

— Alexa (@galexaaa) January 20, 2017
In fact, they're already saving up so they can snag it, no matter the price.
3. Tears Of Joy
Folks are on the verge of tears. Happy tears, of course!
4. Hyped
I'm not a big fan of getting hella palettes cause I can't do my eyes for shit but this morphe and Jaclyn Hill collab got me hyped!

— Nay❁ (@ReneeCakees) January 20, 2017
Even those who don't wear a whole lot of eye product still can't wait to get their hands on this.
5. Ready
Jaclyn hill x morphe palette. My body is READY!!!!!!¡¡!!!¡!

— 🖤 (@Sarahduhh_) January 20, 2017
Come to mama!
6. Screaming
Jaclyn Hill X Morphe!!!!!!! Can you hear me screaming?!?!?!

— Marlee Barrett (@marleebarrett20) January 20, 2017
Let the cheers begin.
7. Hallelujah!
Jaclyn Hill collaborating with morphe a to the men hallelujah 🙌🏼🙌🏼

— jordyn❁ (@jordyndamario) January 20, 2017
Praise.
8. Excuse Me
I'm just going to freak out for a minute.
9. Launch Date
OK, but exactly what hour on what day in March will it be available?
10. Not A Drill
Hold on tight, everyone.
11. Must-Have
I've only seen the top of the palette and @Jaclynhill gorgeous photo shoot Snapchat sneak peek and I already know it's a must have #need 😩😍

— Alyssa Lalonde (@alyssalalonde10) January 20, 2017
Hill's worked hard to create an incredible range of shadows, so whatever she puts out, you've got to have it! Her fans obviously know what's up.