Twitter Reacts To The Lupita Nyong'o & Rihanna Movie News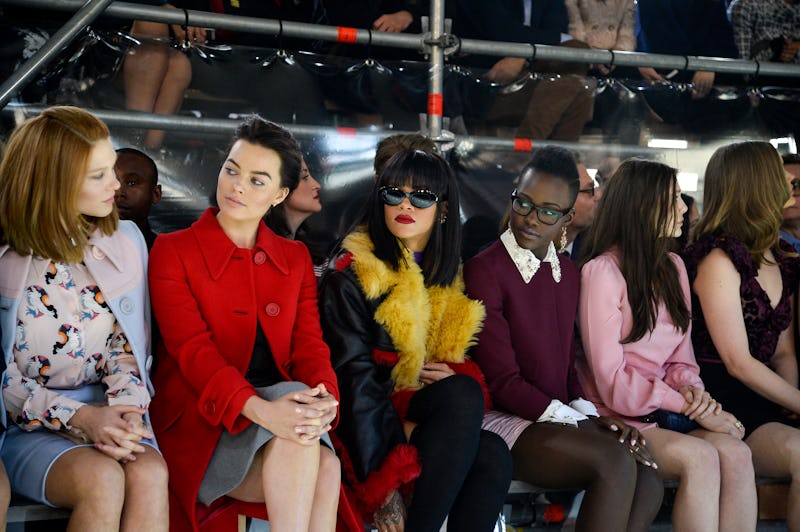 Pascal Le Segretain/Getty Images Entertainment/Getty Images
It would seem that the universe has decided to be kind to us and make sure that we'd all live to see at least one miracle in our lifetime. Turns out, miracles look like the viral tweet about a Rihanna and Lupita Nyong'o movie actually happening. That's correct and this is not a drill. The Rihanna and Lupita Nyong'o buddy movie that was, just weeks ago, a dream created on the internet, is now actually and legitimately happen, reported Entertainment Weekly. I. Am. Dead.
According the the lore around this viral tweet which spawned a genuinely great movie idea, Tumblr user elizabitchtaylor posted a photo of Rihanna and Nyong'o at a fashion show and captioned the photo, "They look like they're in a heist movie with Rihanna as the tough-as-nails leader/master thief and Lupita as the genius computer hacker." Bustle reached out to "elizabitchtaylor" for further comment but has not heard back at this time. According to Vanity Fair, it sounds like elizabitchtaylor may get credit for spawning the idea because reps for Issa Rae (who is in talks to write the movie, because she is a treasure to us all) told the magazine that "the original Twitter users who imagined the concept for this film will be credited and included in some form."
As it happened, this Tumblr post spread like wildfire across the internet. Soon, it landed on Twitter, where fans pleaded with Rihanna and Nyong'o to make this happen. After some time, people began suggesting Rae write the script and DuVernay direct. Now, it's all really happening. To mark the occasion, let's all bask in the glory of the fans' reactions to the news, shall we?
Ava DuVernay Confirmed The News
Bless you, Ms. DuVernay.
Dreams Are Coming True
This movie is going to make everyone (and I mean everyone) the happiest humans that ever lived.
The World Is Kind To Us
The world knew we needed a pick-me-up and gave us something ten times better than we deserve.
This Rihanna & Lupita Nyong'o News Is Good For Us
Seeing the news everywhere only reinforces the fact that it's a good idea.
Still Processing The News Because It's That Freaking Amazing
I'm still in disbelief myself that this is real, so I understand this woman's shock and excitement.
Looks Like It's Worth It To Create A Viral Tweet
Get that paper, fam.
The Excitement Is Palpable
Same, girl. Same.
There's Only One Good Movie In Production Right Now
And it stars Rihanna and Lupita Nyong'o. Make a mental note.
Real Talk: How Can I Get Cast As An Extra?
I, too, am looking to jump start my acting career and would love to have the opportunity to do it on this film.
One Last Request For The Universe
Since we know good things can happen, can the universe please make this movie happen next.
Happy Monday to us all.